Hands-on shopping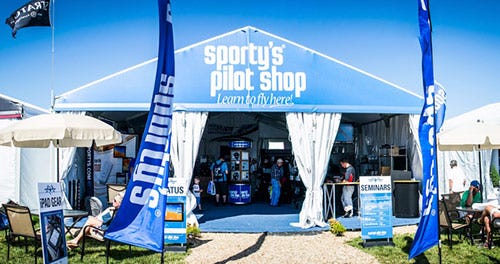 Located north of the main exhibit hangars in outdoor space N100, Sporty's tent provides a shopping hub with hundreds of products that can be touched and tried. A customer favorite – a headset demo station – makes a return appearance in Sporty's 1200-square foot tent. Here customers can make side-by-side comparisons of headsets to test for fit and comfort. The usual favorite products – portable avionics, flight bags, RAM mounts, iPad accessories and more – will be available for inspection as well. If you've been thinking about some new gear, there's no better place to visit.
Talk to our experts
Learning to fly? Considering a new iPad? Talk to Sporty's team of product experts and pilots for honest opinions and practical advice. In addition, Sporty's flight instructors will make themselves available in a Learn to Fly department of the tent to discuss flight training. If you have questions, we can help.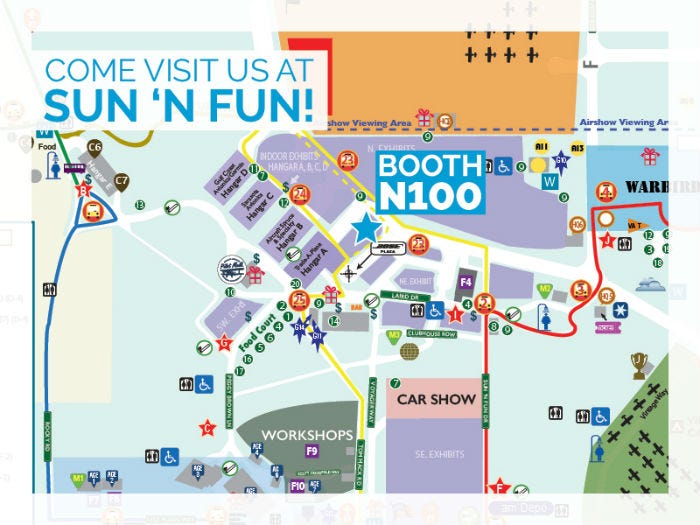 Seminars - at SPorty's booth!
New this year, Sporty's will have a full schedule of seminars right next to our main shopping tent. Stop by for fast-paced, half-hour presentations on some of the hot topics in aviation.
Show Specials
We'll have plenty of show specials, including:
10% off Sporty's training courses
Rebates on Yaesu and Icom radios
Special savings on Flight Gear and Flight Outfitters bags
One week only specials on popular aviation headsets
Plenty of show-only specials we can't announce yet!
Snapchat filter
If you're using Snapchat around the show, don't forget to use our filter! If you can't make it to the show, follow sportyspilot on Snapchat for all the news from Sun 'n Fun.