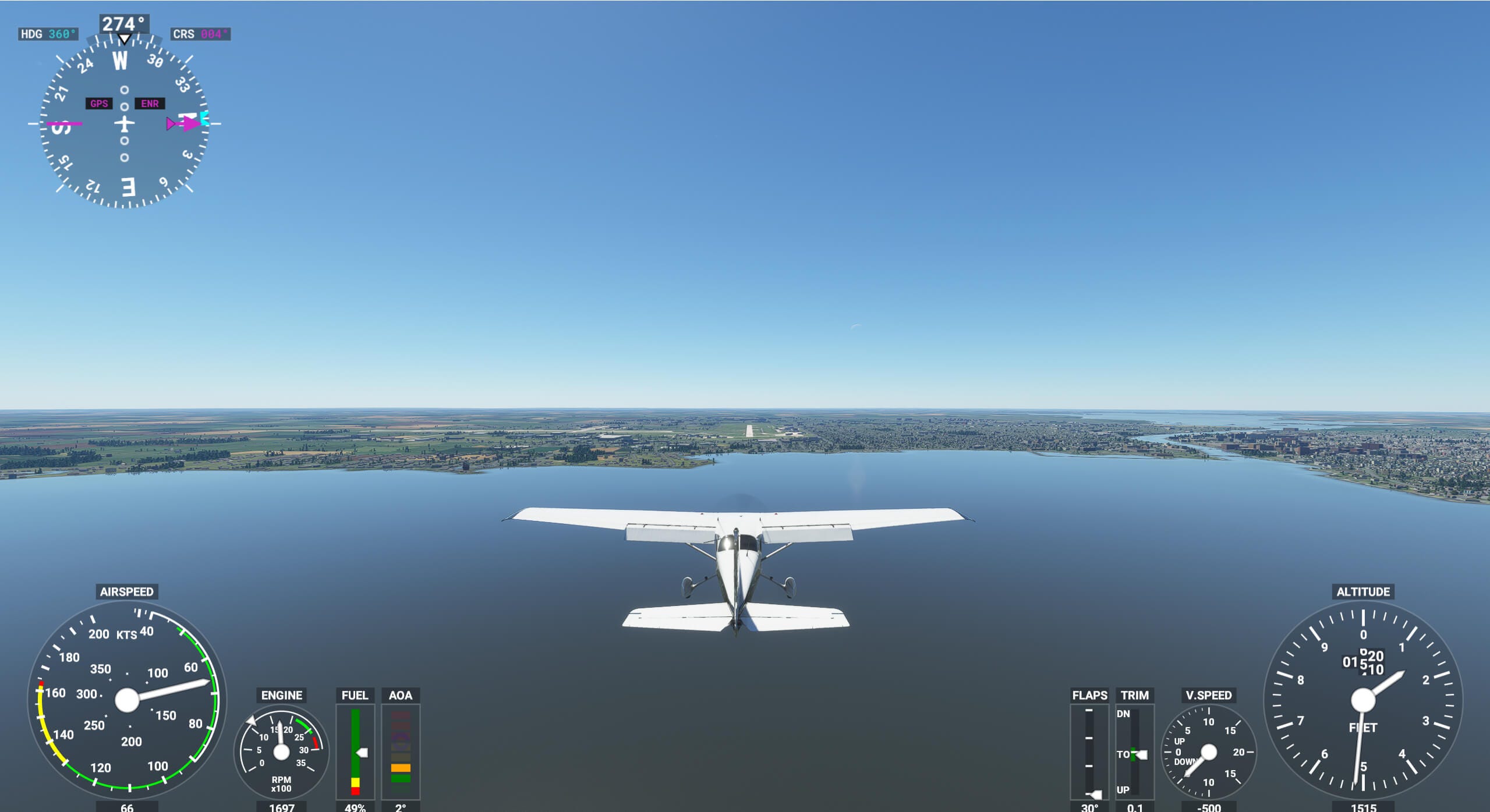 Reaching your destination doesn't mean you have to leave your location.
Flight simulators are hot right now. In just the last year, Microsoft has introduced an all-new simulator program, Honeycomb has launched a new suite of flight controls, and a number of realistic accessories have hit the market. All of these tools can make your home training more fun, more realistic, and more valuable for keeping your flying skills sharp. Let the team of pilots at Sporty's be your guide through this sometimes-confusing world, with honest advice and tips for better flying. Here are some resources to get you started.
Sporty's is proud to offer a wide variety of products to bring training into the home or flight school. With controls from Honeycomb, Thrustmaster, CH Products, Logitech/Saitek, or Redbird you can build the perfect system for you. From a single flight simulator yoke to a complete system with rudder pedals and a throttle quadrant, it's all here. We also offer X-Plane 11.
Email Newsletter
Want to stay up to date on flight simulators? Sign up for our monthly Flight Sim Update email newsletter. This newsletter is specifically for flight simulators and flight sim software. Signing up for this newsletter will not subscribe you to any other Sporty's email newsletters and we never share your information with outside companies. We'll send about one email a month and you can unsubscribe at any time.
---
Need to ask a question?
Talk to our expert, Chris McGonegle of Sporty's Pilot Shop. Chris is a Commercial Pilot with his Instrument Rating. Chris uses his knowledge of aviation and piloting to shape the best way to utilize flight simulators. Chris has set up all our simulators here and can help you with your flight sim questions.
---
Flight Sim Videos
Choosing the right hardware.
Flight simulator software.
How to configure your flight simulator.
---
Webinars
Upcoming Webinars:
Flight Simulators - Tools or Toys for Pilots Wed, August 25, 2021 3:00 PM - 4:00 PM EDT.

Flight Simulators have been a popular topic over the past year. Partially because of the new Microsoft Flight Simulator program, but also because new lines of professional equipment have debuted along with training programs. Through all the increased interest, can we qualify an at home flight simulator as a tool or a toy? In this webinar Sporty's own Chris McGonegle will discuss how pilots can best use a simulator at home, what programs are beneficial to the pilot community, and the resources we have to increase our abilities in the airplane. Chris will cover what pieces of hardware work best for different experience levels, he'll also cover the one year old Microsoft Flight Simulator program, in addition to an in depth review of X-Plane 11, Prepar3d, and Infinite Flight.

Topics include:
Popular flight simulator software and hardware options
How to choose the right system to fit your needs
How to use flight simulators to learn effectively
Mistakes to avoid when flying at home
Advantageous scenarios to fly with a simulator
Microsoft Flight Simulator 2020
X-Plane 11
Prepar3d
Infinite Flight
Chris McGonegle is a Commercial rated pilot and a graduate of the University of Cincinnati Aviation Academy. Chris is the New Product Manager with Sporty's Pilot shop and is hands on with all new simulator hardware Sporty's adds to their offering.
---
Past Webinar Recordings: