Sporty's Fly July Celebration
During the month of July, Sporty's will be hosting a celebration of general aviation, across our website, social media, at Oshkosh, and at our store in Batavia, Ohio—what we're calling Fly July. The goal is to get out and fly this summer, whether it's to start flight training, get current, or take that big cross country you've been dreaming of. Sporty's has the gear and tools to help you achieve your goals and have fun.
Fly July includes:
Product specials—save on the best pilot gear, with new specials every week
Free webinars—get current or learn something new
Live stream sessions—tour Sporty's store and flight school
New products—see our latest creations in action
Fly-in events—meet other pilots at Sporty's or Oshkosh
Week 1—July 1 to July 7
Webinar: a pilot's guide to headsets.
Headset technology has advanced rapidly and the features and choices in aviation headsets can be downright overwhelming. ANR, passive, panel-powered, Bluetooth, TSO'd? You can become an informed consumer without hours of boring research. Join Sporty's Doug Ranly as he demystifies the world of aviation headsets, shares what's new, and highlights the features important to you. Watch the recording here >>
Flying mission: visit Sporty's.
Sporty's headquarters is on the runway at the Clermont County Airport (I69) in Batavia, Ohio. It's a great weekend destination and a convenient fuel stop on your way to Oshkosh. Fly into Sporty's this month for in-store only specials and free hot dogs on the grill, every Saturday from noon to 2pm. Details in our fly-in guide >>
__________
Week 2—July 8 to July 14
Webinar: iPad proficiency check.
This presentation from Sporty's and iPad Pilot News covers a wide range of practical topics on flying with the iPad and the ForeFlight Mobile app. Led by Bret Koebbe, an active pilot at Sporty's Pilot Shop and head of the video department, this info-packed presentation will explore topics applicable to pilots of all iPad experience levels. Topics include: iPad buyer's guide for pilots, developing your own standard operating procedures, how ForeFlight can improve your preflight planning, in-flight weather on the iPad (ADS-B & SiriusXM), and must-have iPad accessories for the cockpit. Watch the recording here >>
Flying mission: flight simulator visit to Sporty's.
If you can't fly to Sporty's headquarters at the Clermont County Airport (I69) in Batavia, Ohio, the next best option is to fly there in Microsoft Flight Simulator. We've developed a free scenery pack that adds Sporty's building, flight school, hangars, and even our hot dog grill to the popular simulator. Once the scenery is installed, you can enter our contest: fly in on Saturday between noon and 2pm and take a screenshot of your airplane on the ramp by the grill—email it to flightsim@sportys.com and you'll be entered to win a prize. Download the scenery here >>
__________
Week 3—July 15 to July 21
Webinar: quiz hour—20 questions to test your aviation knowledge.
How much do you know about weather, airspace, aerodynamics, and flight planning? You'll find out in this popular webinar format. Sporty's John Zimmerman will present 20 questions on a variety of topics, let you answer on screen, then explain the correct answer and discuss the implications. A little competition is always fun, but we'll also share plenty of valuable tips for safer flying. It's a great way to review important topics and learn some interesting trivia too. Presented live on Wednesday, July 21, at 3pm eastern. Sign Up >>
Podcast episode: Patty Wagstaff.
Stay tuned for the latest episode of Sporty's Fast Five podcast, where you get to hear authentic conversations with some of aviation's most interesting people. We have a special guest for Fly July: world famous airshow performer (and all-around interesting person) Patty Wagstaff. You'll hear about her early days flying in Alaska, what it's like to fly an aerobatic routine at Oshkosh, and how riding horses made her a better pilot. Listen online or wherever you get your podcasts >>
Check back for product specials, live stream events, and more.
__________
Week 4—July 22 to July 31
Product specials: Oshkosh show specials!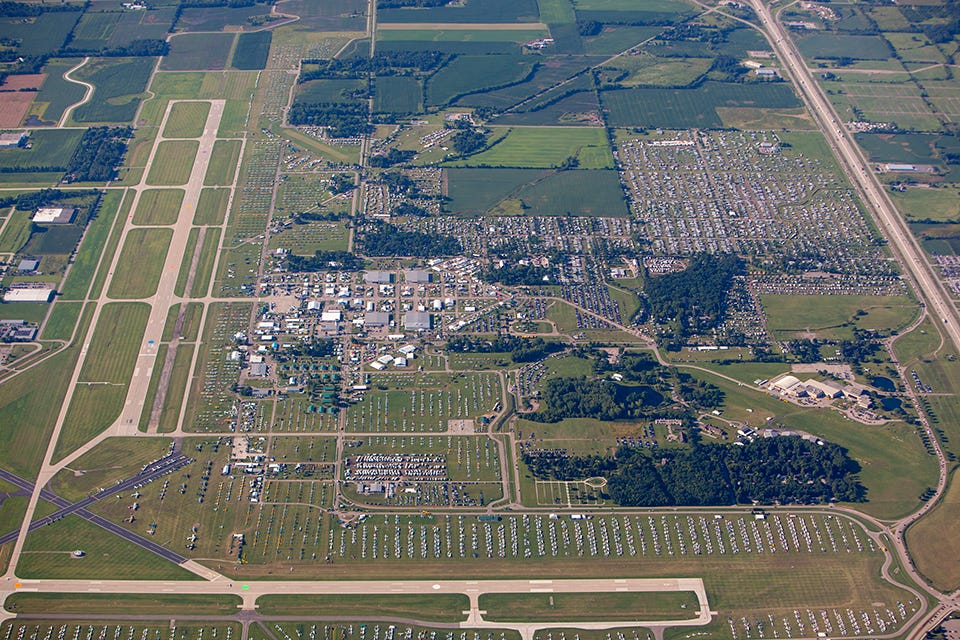 There are always plenty of savings on the hottest pilot supplies during the week of Oshkosh. We can't tell you what they are, but check our Specials page often to see the latest deals >>
Flying mission: visit Sporty's tent at AirVenture.
There's just nothing like EAA AirVenture in Oshkosh, Wisconsin. It's a celebration of all things aviation, and a great chance to see new products, meet other pilots, enjoy spectacular airshows, and do a little shopping. Make plans to be there, and visit Sporty's big tent in front of Hangar B. More information >>
Check back for product specials, live stream events, and more.