Garmin is well known in the fitness world for creating high end smartwatches that can track all your activities. Biking, hiking, swimming, running, gym workouts… if you can move, a Garmin watch can track it. Of course there's another activity that can be tracked, and it's very close to our hearts: flying. Garmin's line of D2 pilot watches includes all the fitness features you'd expect, plus powerful aviation tools like built-in GPS and a pulse oximeter.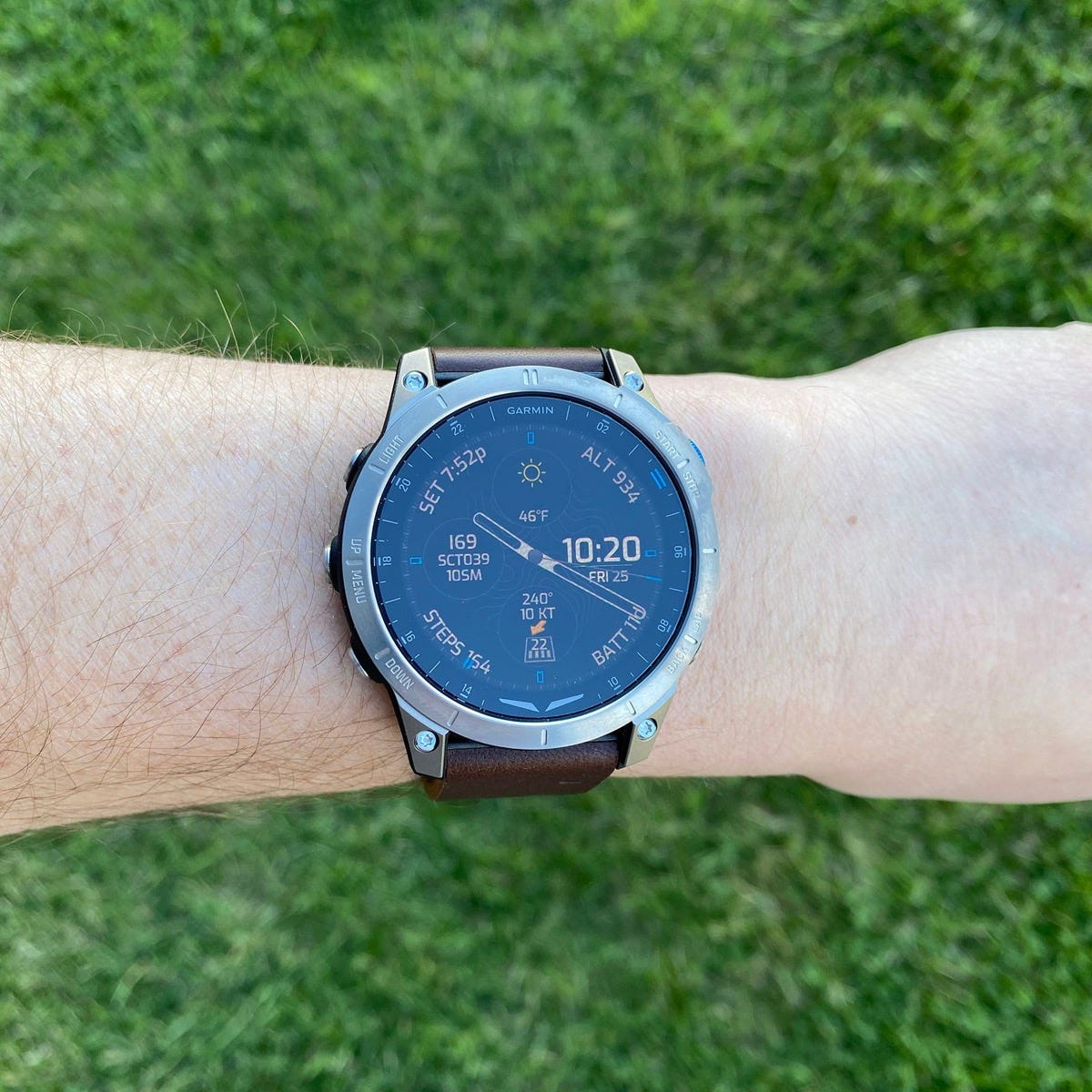 Before we dive into the amazing capabilities of the D2 Mach 1, we first need to admire the build quality of these watches. Lots of smartwatches, some Garmin versions included, are built with minimal size and weight in mind. But is that really the center of the bullseye for pilots? Many of the old school captains will reminisce on the days when a pilot watch was a right of passage—the bigger the watch, the better. There is even an old saying about high time captain having one arm longer than the other due to the weight of their watch. The D2 Mach 1 feels like a captain's watch: heavy-duty construction with titanium front and back casing, along with a scratch-resistant sapphire face. You can get either a leather or titanium band, and both include a silicon sport band.
I've had the pleasure of using the Garmin D2 Mach 1 every day for the last few months. There are many things I love and a few things I'm not too fond of. Let's start with the good—here are the 10 things I love about the D2 Mach 1.
It's a really great tracking smartwatch. Garmin makes amazing fitness watches, and they put all of that cool tracking stuff into the D2 Mach 1. Choose from over 30 different exercises to track and your favorites are easily found with a press of the Activities button.
The companion Garmin Connect app is really easy to use. It's an easy fitness tracker with lots of graphs. I really like how you can access the settings on the watch via the app.
The METAR of my home airport is on the home screen, so I always know the weather at a glance. I really like the active runway displayed at the bottom of the screen, too.
The color AMOLED screen is sunlight readable. Whether you are flying, running, walking, or hiking, the screen is easily viewable.
Lots of extra data is quickly available. My favorite screen layout has UTC, steps, altimeter, and battery life displayed around the outside of the screen. Touching one of these will bring up more information on it.
Automatic flight activity tracker. This is just neat—the watch knows when you take off and automatically will start the flight activity. You then have access to a multitude of flight data through the many screens.
Impressive battery life. If you are a convert from an Apple Watch like me, you will appreciate not having to charge your watch every day. Garmin claims a 11 day battery. Realistically, I can normally get 5-7 days. Still pretty good compared to the competition.
Additional medical data. I didn't realize how much I would use the heart rate monitor and oximeter. Those two items are really nice to have and the D2 Mach 1 makes it easy to access. It also has a stress meter and a body battery.
Watch bands are easy to switch out. I find myself using the sport band (included with both models) pretty much all the time. But it's nice to have the option of other bands for other occasions.
Barometric altimeter. To get an accurate barometric altitude, you need a barometer setting, right? Garmin automatically gets the baro reading from the nearest METAR and inputs it into your watch's barometric altimeter.
All is not sunshine and lollipops with the D2 Mach 1 smartwatch. Seldom is anything perfect, so here are 3 things that I wish were better.
Setup and sync are buggy. It took a while for my phone and the Garmin watch to play nicely together. It took me several times to get it to pair, and some power cycles of both the phone and watch until it started working well. Even months later, I will occasionally lose the METAR on the home screen and have to open the Connect app to get it to match back up.
Moving maps are way overrated. The screen is tiny. While it makes a great party trick to show other pilots the moving map on the watch, I don't think this is very usable in the cockpit.
Custom charging cable. While it holds a charge for a long time, I find myself searching for the charging cable when I need it. I wish it had the standard wireless charging capability of other watches on the market.
Overall, I really like this watch. It's great to see Garmin evolve into a premium smartwatch company. This leverages their ability to make great, pilot friendly devices with unmatched build quality.
Garmin D2 Mach 1 - leather band >>