The first big aviation event of the year is about to kick off, and Sporty's will be there in a big way. The annual Sun 'n Fun Aerospace Expo, which takes place in sunny Lakeland, Florida (LAL), runs from April 5-10 this year. Stop by Sporty's big tent - just outside Hangar A on the main ramp - for new products, interactive demos, product experts, and much more.
Hands-on shopping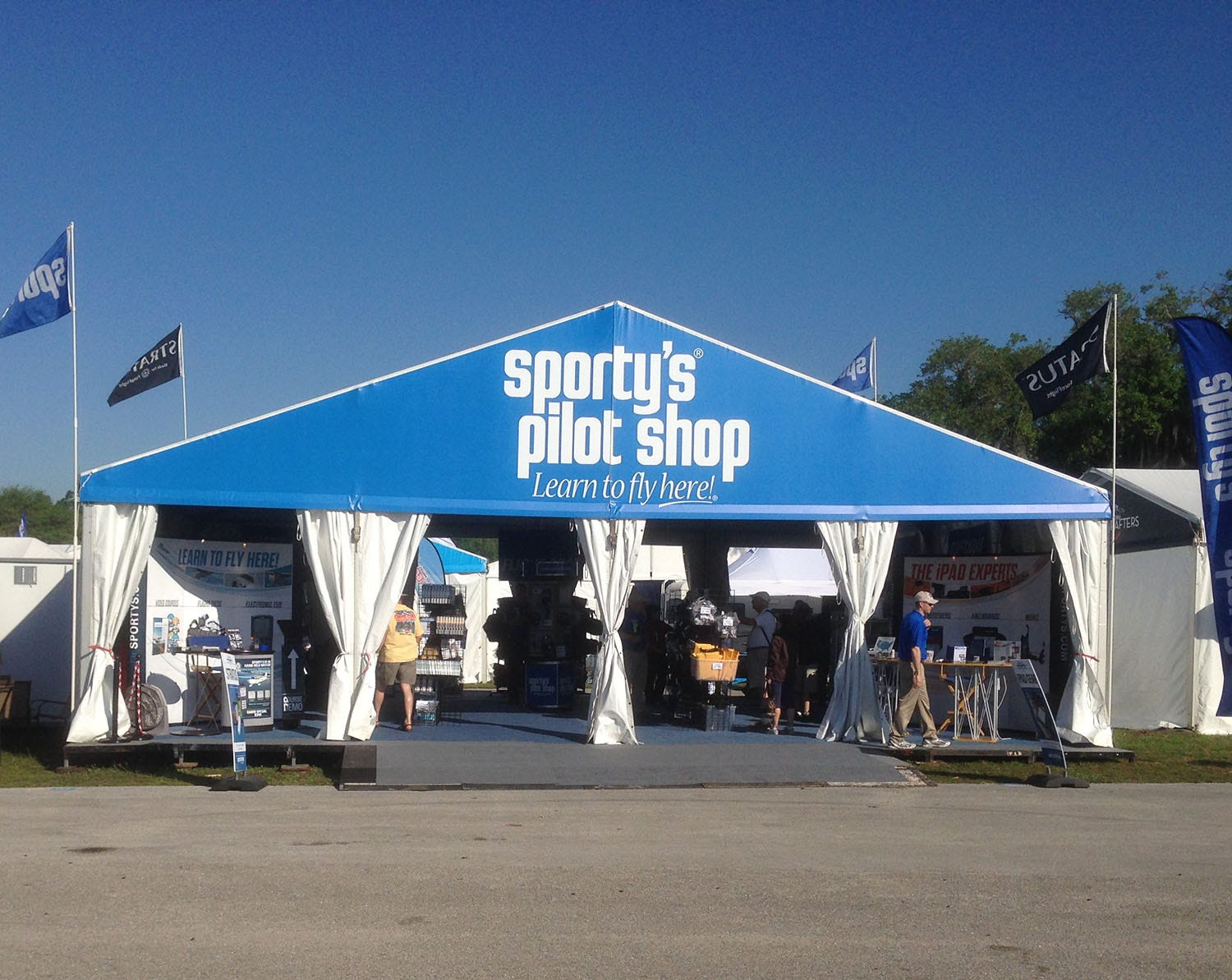 Located north of the main exhibit hangars in outdoor space N100, Sporty's tent provides a shopping hub with hundreds of products that can be touched and tried. We'll have the latest flight simulator gear from Honeycomb and Logitech, headsets from Bose and Lightspeed to compare side-by-side, new flight bags, and Garmin's latest D2 smartwatches. If you've been thinking about some new gear, there's no better place to visit.
Talk to our experts
Learning to fly? Considering a new iPad? Upgrading your home flight simulator? Talk to Sporty's team of product experts and pilots for honest opinions and practical advice. In addition, Sporty's flight instructors will make themselves available in a Learn to Fly department of the tent to discuss flight training. If you have questions about earning a pilot license, getting current, or adding a rating, we can help.
Shop our show specials
We'll have plenty of show specials, including:
Sporty's pilot training courses
Flight Gear bags
Aviation radios
Funny pilot t-shirts
Show-only specials we can't announce yet!
Meet Patty Wagstaff
Patty Wagstaff is one of the most famous airshow pilots in history: she's a six-time member of the US Aerobatic Team, the first woman to win the title of US National Aerobatic champion, and one of the few people to win it three times. What you may not know is that Patty runs a busy flight school in Florida, teaching everyday pilots how to fly with more precision and airshow performers how to compete at the highest levels. She has partnered with Sporty's recently on two highly regarded online courses: Basic Aerobatics and Tailwheel Checkout.
Meet Patty at Sporty's tent for an autograph session: Friday, April 8, at 12:30pm.
Meet Natalie "flyGIRL" Kelley
Natalie Kelley founded flyGIRL to encourage and inspire women and young girls to open their hearts and minds to their potential and to help their dreams take flight. A portion of every flyGIRL sale goes to support the group's scholarship fund, which awards multiple scholarships to women (young or old) who are pursuing flight training. You can shop the latest flyGIRL gear in our tent, from t-shirts to hats
Plus, you can meet Natalie in the booth! She'll be there Thursday, April 7 from 11am - noon.
Learn more about Sun 'n Fun >>