TOP FEATURES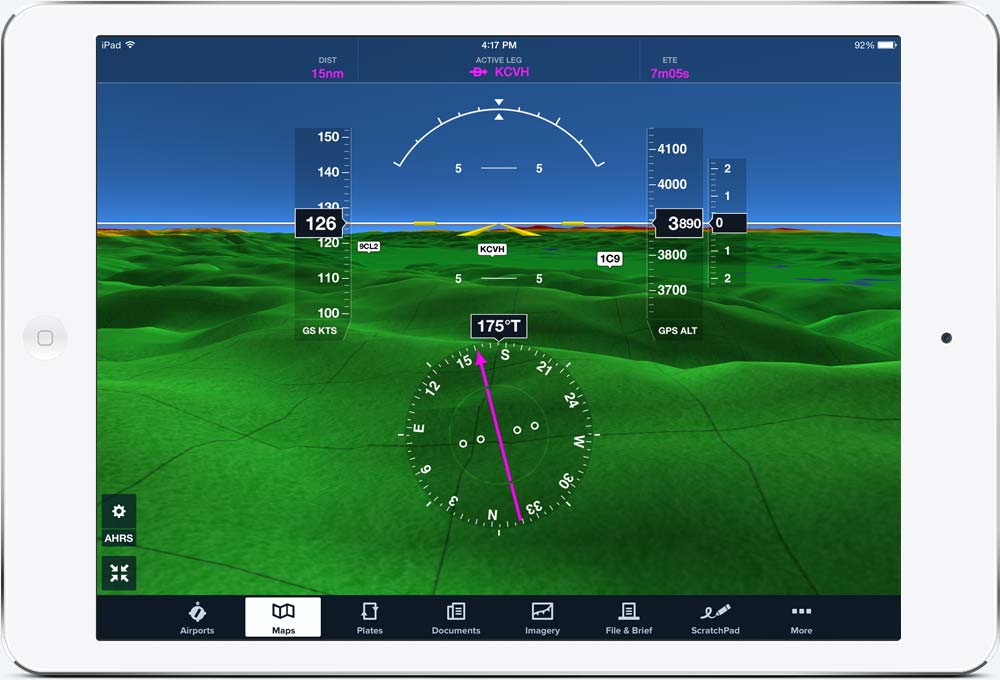 1. Backup Instruments - ForeFlight Synthetic Vision provides a backup glass cockpit on your iPad that can help you stay aware of your position and surroundings in normal and emergency operations. With Stratus 2S, our Synthetic Vision feature really comes alive. Stratus 2S's built-in AHRS drives a super responsive pitch and bank instrument in the center of the Synthetic Vision view.
---
2. Plates Side by Side - Combine Synthetic Vision with a Plates on Map view for great situational awareness during an instrument approach. This is especially helpful for managing the workload during single pilot IFR operations.
---
3. Obstacles and Runways- Airport markers, obstacles, and runways automatically fade in and out of view based on aircraft altitude and distance to those objects.
---
4. Terrain - We've refined the terrain contrast for a luminous effect that improves the viewing experience inthe cockpit. Shading from peaks to valleys gives depth and realism. East/West and North/South grid lines provide directional awareness and clearly define the ups and downs of rolling terrain.
---


---
Go Behind the Scenes
Go behind the scenes with Malcolm Toon, lead developer of ForeFlight's Synthetic Vision. Learn about the technical challenges, attention to detail, and some of the unique features that make ForeFlight's Synthetic Vision best-in-class and the most widely used iPad Synthetic Vision system in the world.