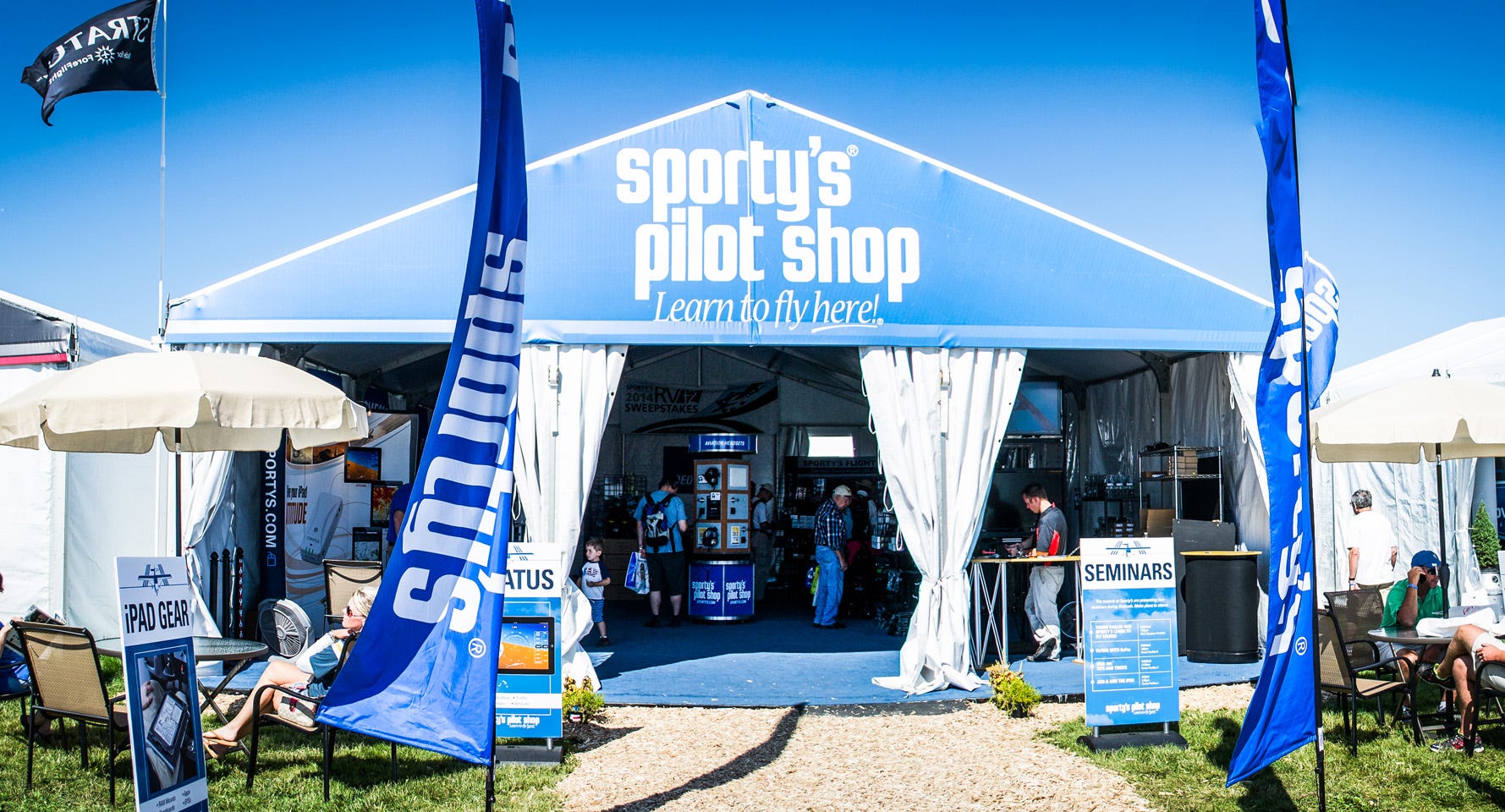 Sporty's presence at EAA AirVenture Oshkosh has increased again. Sporty's tent is bigger than ever and will provide a unique and interactive Oshkosh shopping experience for attendees. Located outside Hangar B in Outdoor Space #260, Sporty's will set up its Oshkosh retail store chock-full of products to see and try and buy, from headsets and flight bags to t-shirts and flight training courses.
"A popular feature of Sporty's tent is our headset demo area," says Sporty's Vice President John Zimmerman. "We've expanded the headset experience this year with both Bose and Lightspeed having on-site company representatives to demo their headsets and to answer shoppers' questions."
Sporty's can be found in two other locations: the line of Stratus portable ADS-B receivers has its own booth, #3147 in Hangar C, located across from ForeFlight. Wright Bros. Collection, offering aviation-themed gift items, is located at booth #2159 in Hangar B.
"For us, AirVenture is like a family reunion where we see our long-time customers and meet the new ones," says Zimmerman. "Our customers are active pilots and aircraft owners and that makes them experts as well, so we welcome the feedback we get at Oshkosh."


Show Specials
As always, we'll have plenty of show specials. Save on Stratus, Garmin GPSs and watches, aviation radios, flight bags and more. Stop by our tent to see our full selection.
Sporty's is hosting seminars at AirVenture
Tuesday, July 24, 11:30 A.M.
iPad Proficiency Check
Forum Stage 10
Thursday, July 26, 10:00 A.M.
iPad Proficiency Check
Forum Stage 7
Thursday, July 26, 2:00 P.M.
iPad Proficiency Check
AOPA Tent
Video - Flying to Oshkosh
For more information about EAA AirVenture Oshkosh and to buy tickets to the World's Greatest General Aviation Celebration, visit http://www.eaa.org/en/airventure