Wireless
The most interesting feature is obviously the wireless connection, and this is where Lightspeed has done some impressive work behind the scenes. Each Tango includes a wireless headset and a panel interface, which is the "base station" that plugs into the panel. This panel interface is fairly large, but it weighs only 7 ounces and it can be mounted out of the way - it features an adjustable length cable to plug into the airplane panel, a metal mounting clip and fabric loops. Owners may find creative places to hide this box, whether it's in a side pocket or under the panel. We stuck it in the side pocket of the 182 and forgot about it.
Once the panel interface is plugged into the airplane's intercom, there's not much for the pilot to do - just turn on the headset and the panel interface. There is no pairing procedure, no passwords to worry about and no hassle. Within about a second of turning both on, you are connected and ready to fly. It really is that simple, and we completed the entire flight without reading the manual.
The actual wireless link is a proprietary combination of analog and digital signals, referred to as Lightspeed Link. It's not Bluetooth, which is actually a fairly fragile connection and not suitable for the cockpit in our opinion. We had no issues with interference or audio quality throughout the flight. In addition, the latency (or the lag between when you speak and when you hear it in the headset) is almost imperceptible. This is a major weakness of some wireless headset designs, and while it will never be zero, we couldn't notice it in normal operations.
The range of this wireless link seems to be at least 25 feet - certainly enough for even large airplanes, and even far enough that some helicopter operators could keep their headsets on during hot loading, when a crew member may be outside the aircraft. Up to six Tangos can be operated in the same airplane, although each headset is paired from the factory with a specific panel interface. Color-coded plastic chips in both units help pilots maintain the right pairings.
Battery considerations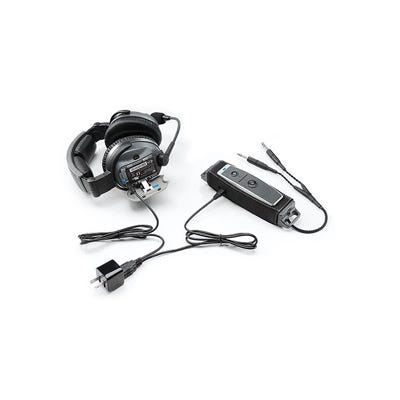 One of the (few) drawbacks of a wireless headset is the need to have batteries at both ends of the connection. Tango offers a 12-hour battery life, with lithium ion rechargeable batteries in the left earcup and the back of the panel interface. In a thoughtful touch, these two batteries are interchangeable, so you don't have to worry about keeping them separate.
The batteries can be removed and charged independently, or they can be charged while they're in use - simply plug in the headset and/or the panel interface using the included mini-USB plug. This can be done in flight, but it's not easy. We would suggest buying some extra batteries to keep on hand, and putting "charge Tango batteries" on your preflight checklist. The batteries can be charged to 75% in less than an hour, so a quick top-up goes a long way.
There is also the option for a panel-powered (or LEMO plug) option, which would eliminate the need to charge the panel interface. However, you would still need to charge the headset in this case.
Redundancy
Of course things can and will go wrong, so Lightspeed has a backup cable for wired operation should one of the batteries die. This is conveniently stored right on the side of the panel interface, so all the pilot has to do is pull the cable out and plug it into the bottom of the Tango's earcup. While the Active Noise Reduction (ANR) won't work without a charged battery in the headset, full communications is automatically enabled as soon as you plug in. The headset certainly isn't as quiet without the ANR, but it's still perfectly usable for 30 minutes or so while you find an airport - we tested it in flight and were pleasantly surprised.
Comfort
The Tango is based on Lightspeed's Sierra platform, which is their mid-range ANR headset. That may be slightly disappointing for some pilots who are looking for a super premium headset, but we found the Tango to be quite comfortable in flight. At about 18 oz., it's heavier than the Zulu.2 and quite a bit heavier than the Bose A20, but that's mostly a factor of the built-in battery and all the electronics. In practical use, we didn't find the weight to be an issue, especially since there is no long cable or battery box to pull on the headset. The ear seals and headband are soft and comfortable, which helps.
Quiet
The Cessna 182 is a fairly noisy airplane, so we put the Tango to work right away. We would put its ANR performance on par with the Zulu.2 - that is, better than the Sierra but not quite as good as the Zulu PFX. If that means it's not record-setting in its ANR, it does mean it's a very quiet headset that you could wear all day. It's also a decent passive headset (as mentioned above) in case of a battery failure, which we think is an important safety feature.
Bluetooth options
Like all Lightspeed headsets, the Tango features full Bluetooth phone and music connectivity. This pairing process is the same as all other Lightspeed headsets, and we had no trouble playing music off our iPhones. Sound quality was quite good - perhaps not as rich and loud as the Zulu PFX, but still good enough for regular passenger use. ComPriority automatically mutes the external audio source when the intercom or radio becomes active, which makes is a helpful feature for single pilot operations. Tango also includes the typical plug-in connection for non-Bluetooth devices.
Final thoughts
At the end of our test flight, the highest praise we can offer is, "It just works." That may sound like faint praise, but it's actually quite the opposite. The other wireless headsets we've tried all forced unacceptable compromises on the pilot in exchange for the wireless connection. The cure was worse than the disease, you might say. That's not true with Tango; it's a high quality ANR headset that just happens to be wireless.
It is heavier than some other high end ANR headsets, and there are two batteries to keep charged. These are both real considerations, but neither is a fatal flaw. In exchange for those limitations, you get a comfortable, wireless headset that can be a reliable everday flyer. Aggressively priced at $800, Lightspeed is clearly aiming to dominate the emerging wireless headset market. We think Tango is a good value.
The Lightspeed Tango is available in the traditional twin plug configuration that fits most general aviation airplanes, as well as LEMO plug and helicopter models. For more information, or to buy, click here.