Six New products that can save you money
Less expensive FAA textbooks. The price of textbooks for college has gone up over 500% since 1999, but we're trying to fight that trend in aviation. This spring, we introduced new versions of two essential FAA books, the Airplane Flying Handbook and the Pilot's Handbook of Aeronautical Knowledge, at prices 35% lower than before. We didn't do this by reducing the quality; these books are printed on heavyweight paper and feature full-color graphics throughout. By working directly with printers and buying in large quantities, we can pass the savings on to you.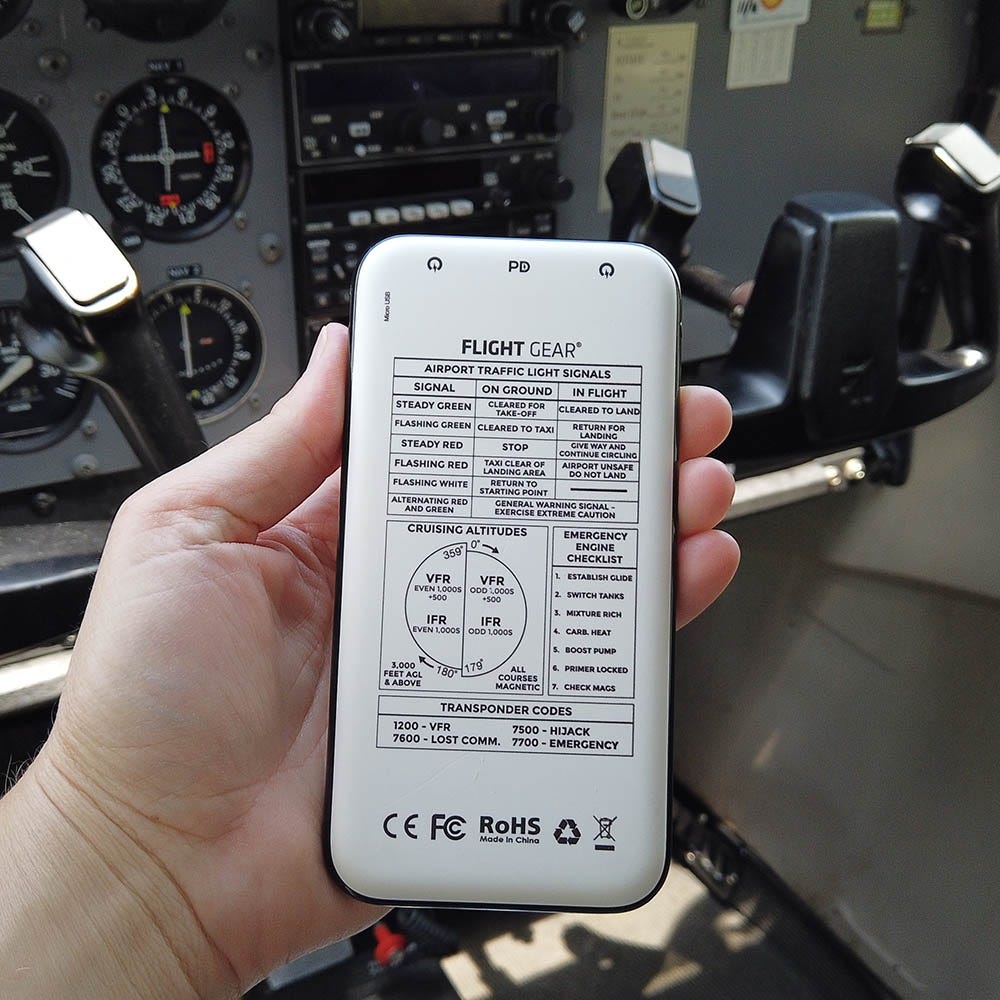 Small iPad Battery Pack. Backup power for your electronic devices is essential these days. Whether it's recharging an iPad, powering an ADS-B receiver, or keeping a GoPro going, it just makes sense to carry a battery pack. But too often the choice is between cheap batteries that don't work in the cockpit or high quality packs that cost well over $100. That's what makes the new Small Flight Gear Battery Pack such a great value - it costs only $39.95, but still packs 10,000 mAH of power in its small size and features multiple high amp USB ports. It's designed just for pilots, but at a price that anyone can afford. We take one on every flight, whether we're in the left seat of a Cessna or the last row of a Boeing.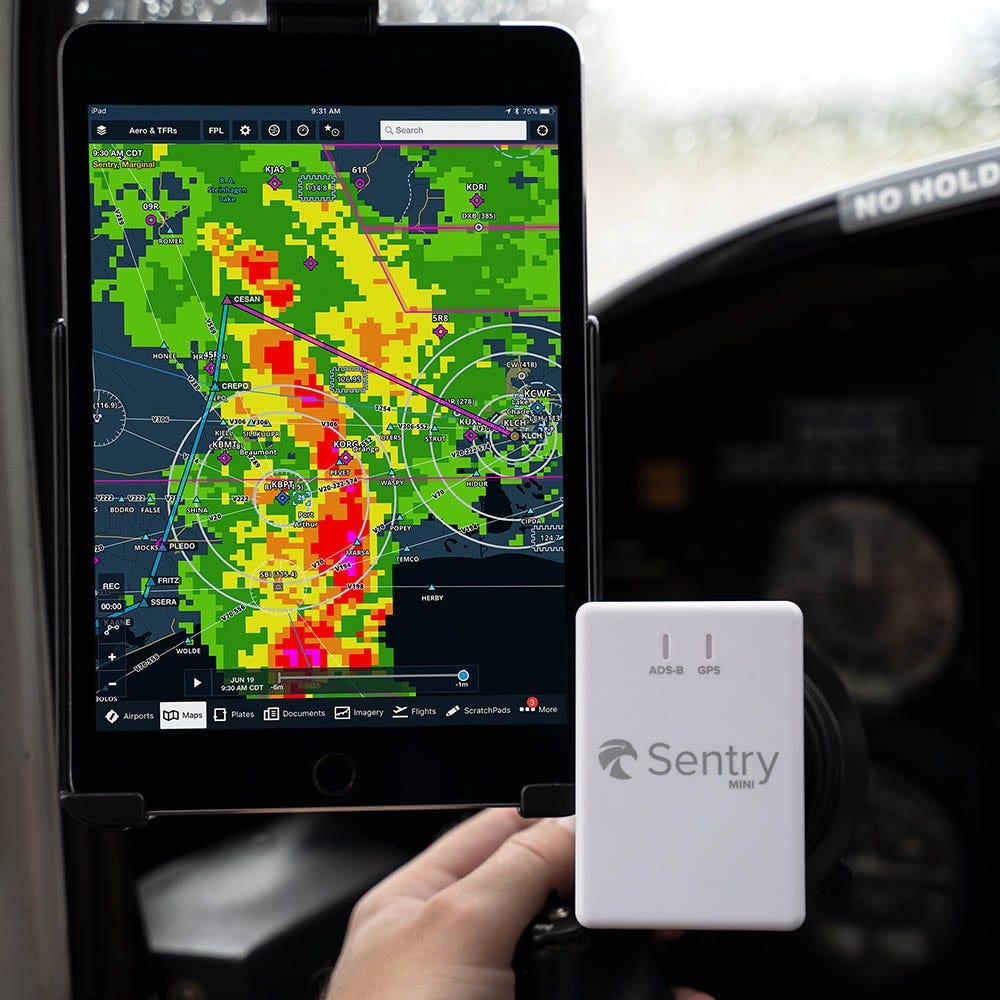 Subscription-free weather for under $300. Access to datalink weather on your tablet can make flying much safer, helping you avoid thunderstorms, low clouds, and high winds. The best value is ADS-B weather, which requires no monthly subscription, and the new Sentry Mini from ForeFlight cuts the cost of hardware to just $299. It weighs less than two ounces, but still provides GPS position, subscription-free weather, and dual band ADS-B traffic to the ForeFlight app. Pair it with an iPad and a Flight Gear Battery Pack (above), and you have a powerful portable avionics package for an incredible price. Since it's portable, you can take it with you no matter what you're flying.
Handheld radio for under $200. A portable radio is a great way for student pilots to improve their communication skills - you can listen to the pros talk even when you aren't flying. It's also a great idea for backup in the cockpit, in case of an electrical system failure. But many radios are frustratingly complicated and expensive, so we created the PJ2 to be simple and affordable. It's only $199 - over 50% less than many other radios - but includes a large screen, backlit keypad, last frequency flip-flop button, and a rugged aluminum chassis. Plus, it's the only radio with built-in headset jacks, so you don't have to worry about clumsy adapters in an emergency. Once again, by designing a product just for general aviation pilots, we can offer more features for less money.
Affordable headsets with Bluetooth. The latest headsets from Bose and Lightspeed are excellent products, but not everyone wants to pay over $800 for a headset. For pilots who need modern features at a great price, the next generation Stealth 2 headsets from Faro are a great choice. They feature soft ear seals, high quality construction, and a built-in Bluetooth interface. This is ideal for listening to music, getting app alerts from your iPad, or talking on the phone when you're on the ground. At just $249.95 for the passive model (the only passive headset with Bluetooth) and $449.95 for the active noise reduction model, they won't break your flight training budget.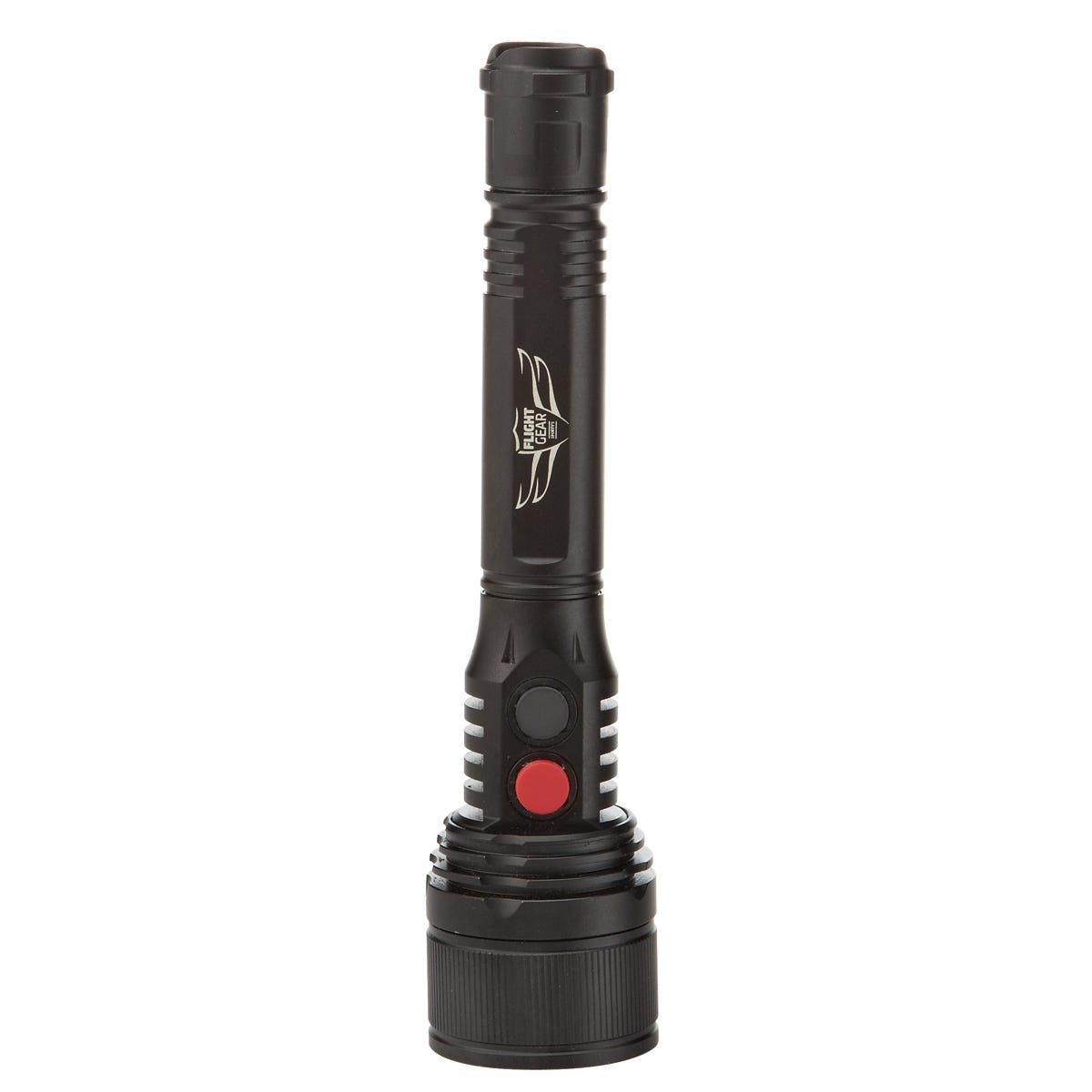 Flight Gear Flashlights. A good flashlight (or two) is an essential part of any flight bag, but pilots have specific needs when it comes to cockpit lighting. A bright white light is best for preflight inspections, so you can see the top of the tail, but a dim red light is the right answer in the cockpit to preserve night vision. We designed the new Flight Gear Flashlight and Headlamp with these needs in mind, and added independent buttons (so there's no need to scroll through a bright white light to get to the dim red setting). We even printed the FARs for night flying on the body of the flashlight! Best of all, the headlamp is just $19.95 and the flashlight is only $32.95 - far less than expensive "tactical" lights found online.
Three More Popular Products
These new products join a long list of other Sporty's products that can help you learn faster and save money. Here are three that every new pilot should consider: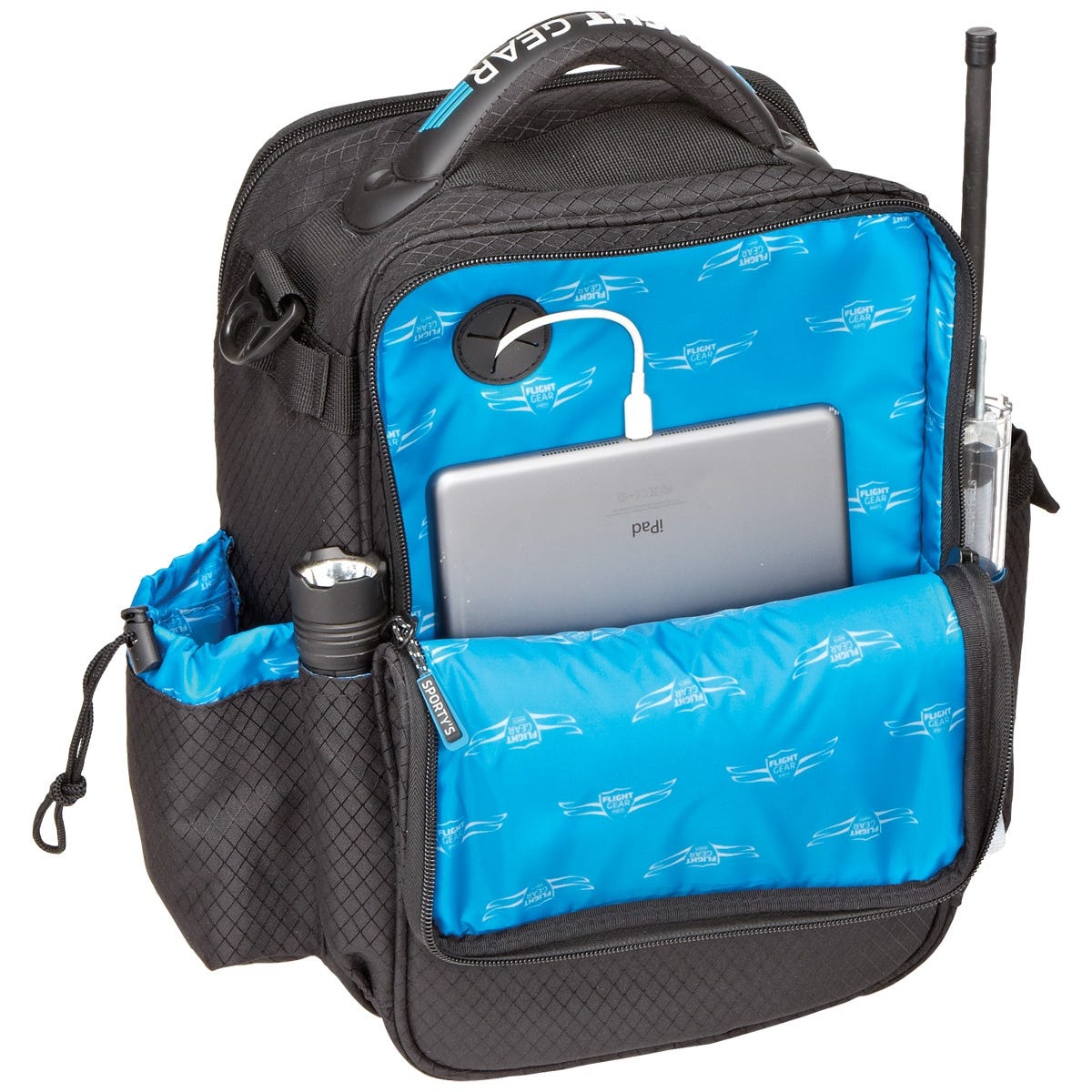 All Flight Gear bags are under $100. A good flight bag is essential for organizing and protecting your aviation gear, and for that our Flight Gear bags can't be beat. With six different designs, there's a size and shape to match every pilot's needs, from brand new student pilot to experienced airplane owner. Best of all, every one of them is less than $100. Each one includes thoughtful design features just for pilots, from padded headset pockets to quick-access chart sections to external fuel tester holders. Each bag is backed by Sporty's legendary service and a 3-year warranty. There's also a complete line of Flight Gear kneeboards, for iPads or for paper charts, all for less than $35.
Electronic E6B. A smartphone app is a great tool for calculating aircraft performance or weight and balance, and nothing beats ForeFlight on your iPad. Unfortunately, you won't be allowed to use any type of phone or tablet on the FAA Knowledge Test. That doesn't mean you have to learn how to use those "whiz wheel" computers; our Electronic E6B Flight Computer is far easier than the old slide rule and it's approved for use on the FAA test. You'll be able to handle any problem on the test, from wind correction angle to crosswind component, but you'll also have a handy backup for in-flight calculations. It includes 24 aviation functions, 20 aviation conversions, and complete timer features. At only $69.95, Sporty's E6B costs 30% less than other models.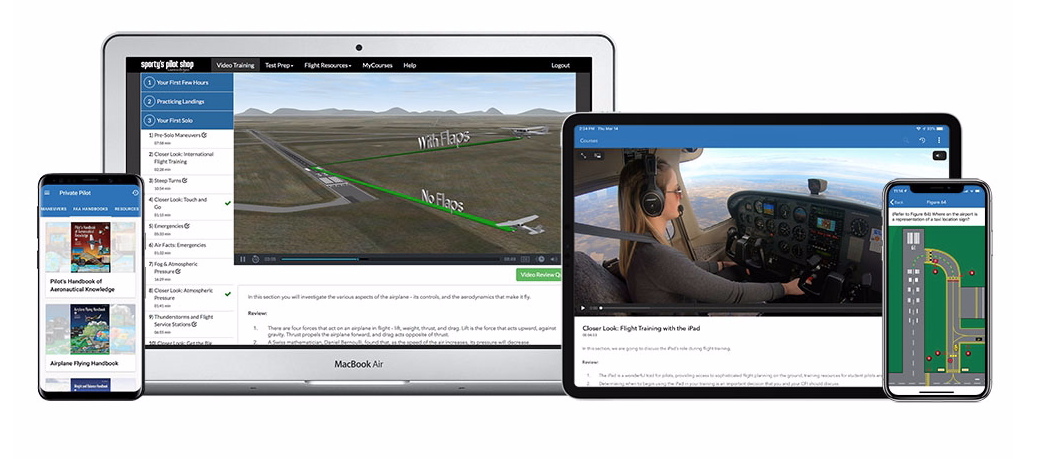 Learn to Fly Course. Our award-winning Learn to Fly Course is a complete flight training companion, with over 15 hours of HD video, powerful written test prep tools, a complete FAA document library, and a complete training syllabus. For the price of a single flight lesson, it will save you time, money, and frustration. The course works on your laptop, iOS devices, Android devices, and even your smart TV. You get access to all formats for one price - and there are no upgrade fees, no subscriptions, and no expirations. Just buy the course once and enjoy it for life.