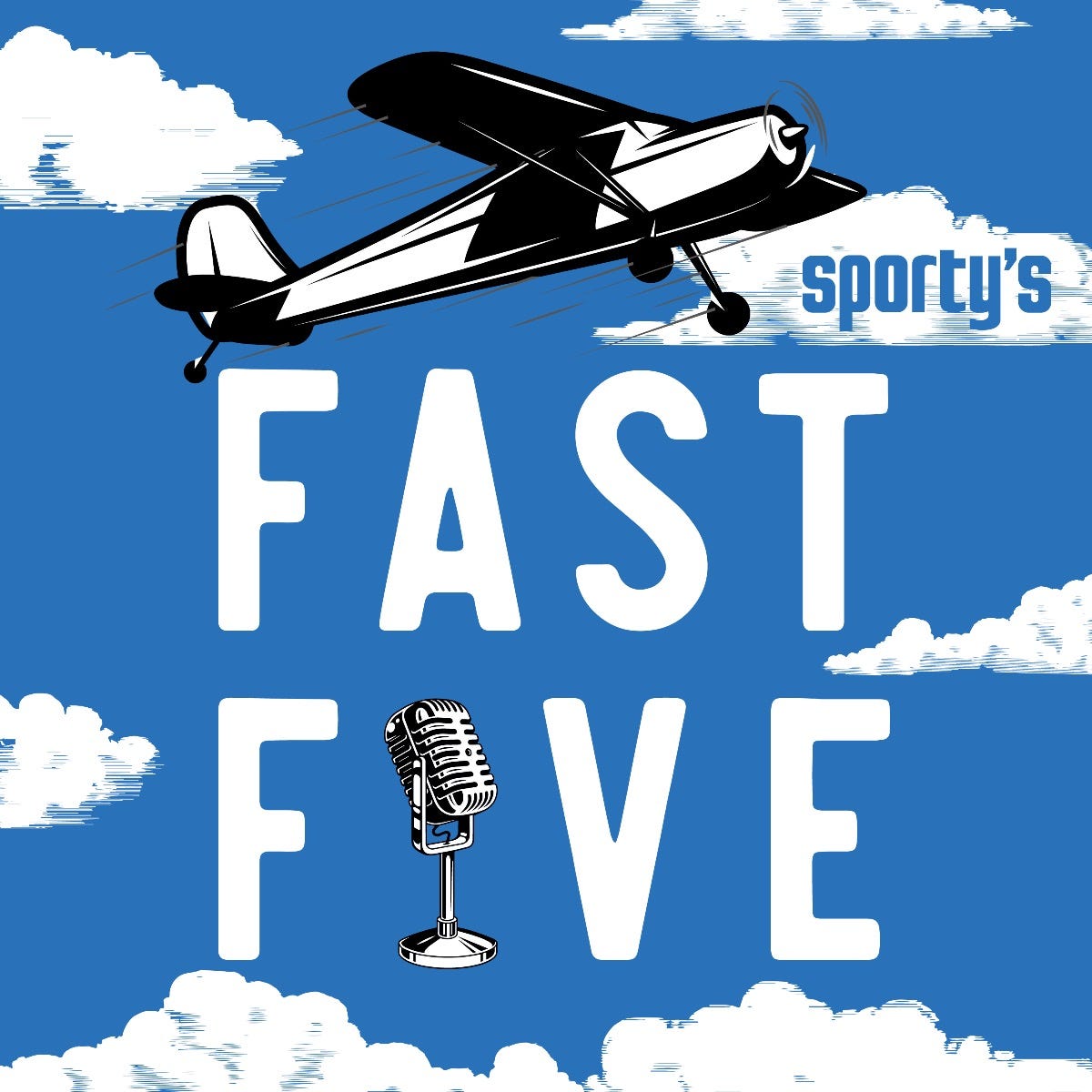 Sporty's Fast Five Podcast
30 minutes, 1 pilot. Fast Five brings you authentic conversations with some of aviation's most interesting people. From honest discussions about flight training to fascinating stories from world famous airshow pilots, this podcast is for anyone who loves to fly. No news or fluff, just thought-provoking conversations. Stay tuned for our rapid-fire "ready to copy" segment at the end of every episode, where we ask about everything from favorite airplanes to favorite music groups. Fast Five is hosted by Sporty's John Zimmerman. Have a question or a guest suggestion? Email us: podcast@sportys.com
---
Episode 11: GA trends and urban air mobility hype, with Mac McClellan
As Editor-in-Chief at Flying magazine for 20 years, Mac McClellan flew just about every new airplane delivered after 1976. In this episode he shares his favorite ones and some that he wished he'd never flown. As a keen observer of general aviation trends, Mac also explains why pilots are flying fewer cross countries (except for Cirrus owners), why personal flying inevitably means tradeoffs between safety and efficiency, and what the future holds for urban air mobility/eVTOL proposals. In the "ready to copy" segment, Mac shares why he thinks personal minimums are a bad idea, the best places to fly in Michigan, and what sailing and flying have in common. You might disagree with some of Mac's opinions, but he'll definitely make you think.
Show links:
Listen in your favorite apps:
Listen online:
---
Episode 10: Aviation families and rusty pilot dreams, with Flight Outfitters' Mark Glassmeyer
Mark Glassmeyer has a simple plan for his student pilot son: "We're gonna talk about aviation for the rest of our lives." He understands the power of these multi-generational connections because his grandfather, a B-24 pilot in World War II, first introduced him to aviation at age 7 with a trip to Oshkosh. But even with that memorable start and some lessons as a teenager, it would take more than 25 years for him to actually earn his license. In this episode, he explains why shaking the rusty pilot label meant he had to get a little selfish and take control of his life. Other topics include: why aviation can look surprisingly affordable compared to youth sports, how being a pilot helped him overcome a learning disability, and why Flight Outfitters' tagline is "pilot your own adventure."
Show links:
Listen in your favorite apps:
Listen online:
---
Episode 9: Flying around the world and embracing adventure, with JP Schulze
"A real adventure is never just roses... it's a genuinely challenging experience." That's what JP Schulze (aka the_candourist on YouTube) believes, and he should know—he's flown around the world with over 2 million people watching live, he's biked across the United States solo, and he grew up flying in Africa. In this wide-ranging episode, he explains what he learned from his around-the-world adventure, why he's doing it again in an experimental airplane, and what it's really like to make YouTube videos. He also shares why being a pilot can make you a more self-aware person, his favorite place to fly, and what he thinks about the future of general aviation.
Listen in your favorite apps:
Listen online:
---
Episode 8: Controversial aviation opinions, with AOPA's Dave Hirschman
Flight instructors should talk less. Experimental airplanes are clearly better than certified ones. Waterskiing an airplane is a terrible idea. Dave Hirschman, a well-known writer for AOPA and a pilot with a wide range of experience in everything from taildraggers to jets, doesn't think these are controversial opinions. He believes them because the facts support them, and more people should just admit it. This episode of Fast Five covers all of these interesting topics, plus many more: why he uses a video camera on most flights, why pilots need to be good at both technology and manual flying, and what the most important trait is for safe flying. He also shares some stories from his time as a flight instructor and ferry pilot, and some of the personalities he's met along the way—some good, some bad.
Show links:
Listen in your favorite apps:
Listen online:
---
Episode 7: Backcountry flying and family airplanes, with the RAF's John McKenna
Flying in the backcountry means "dispensing with the direct-to button," says Recreational Aviation Foundation Chairman John McKenna. The rewards for doing so include true adventure and stunning views—far beyond the $100 hamburger. He explains why you don't need big bushwheels to fly these trips, how his organization preserves remote landing strips all over the US, and what he has learned from over 6,000 hours in tailwheel airplanes. He also shares his tips for including family in your flying adventures. In the "Ready to Copy" segment, John picks his favorite backcountry airport, describes how to make great cowboy coffee, and explains why he once loaded over 60 dogs in a single airplane.
Show links:
Listen in your favorite apps:
Listen online:
---
Episode 6: Life as an EMS helicopter pilot, with Matt Johnson
Are helicopters harder to fly than airplanes? What's it like to fly an instrument approach to a parking lot in an EC145 helicopter? And how has the iPad changed the air medical pilot's job? Professional helicopter pilot Matt Johnson takes us inside the fascinating world of rotary wing flight in this episode, from the basics of helicopters to the latest advances in technology. He's also an FAA designated pilot examiner, so he shares his tips for applicants—including why he wants you to pass! In the rapid-fire "Ready to Copy" segment, Matt shares his favorite helicopter, the strangest place he's ever landed, and whether he would ride on an autonomous air taxi one day.
Show links:
Listen in your favorite apps:
Listen online:
---
Episode 5: Behind the scenes at air traffic control, with Eddie Albert
Air traffic control and pilots work together every day, but often the two sides don't fully understand each other. In this episode, longtime controller (and pilot) Eddie Albert takes us behind the scenes. You'll hear why "roger" is not a read back, what kind of weather ATC sees on their radar screen, and why declaring an emergency usually isn't a big deal. Eddie also explains how he picks an IFR route to file and how to manage weather deviations with a controller. In the fast-paced "Ready to Copy" segment, Eddie shares whether controllers prefer IFR or VFR flight following, what advice he gave to his son as a new controller, and what the best movie is with air traffic control.
Show links:
Listen in your favorite apps:
Listen online:
---
Episode 4: Aerobatics and flying in Africa, with Patty Wagstaff
Patty Wagstaff is one of the most famous airshow pilots in history, but her aviation story includes so much more than just aerobatics. In this wide-ranging podcast episode, Patty talks about what's going through her mind during an airshow, what pilots can learn from an upset recovery course, why she chose to fly as a wildfire spotter for Cal Fire, and why she loves flying in Africa. As you'll hear, she has flown an incredible variety of airplanes. In the fast-paced "Ready to Copy" segment, Patty shares her favorite warbird, what pilots can learn from horses, and what it was like to grow up in Japan.
Show links:
Listen in your favorite apps:
Listen online:
---
Episode 3: iPad apps and legal weather briefings with iPad Pilot News Editor Bret Koebbe
Has the iPad made flying safer? What counts as a legal weather briefing these days? And what are the latest trends in aviation apps? Nobody knows the world of electronic flight bags better than Bret Koebbe, a corporate pilot, active flight instructor, and Editor at iPad Pilot News. He shares his tips for integrating an iPad into primary flight training, flying with datalink weather, and using flight simulators to learn a new app. In the fast-paced "Ready to copy" segment, Bret shares his favorite app, what it's like to fly Sporty's 1963 Piper Aztec, and his best tip for smoking meat.
Show links:
Listen in your favorite apps:
Listen online:
---
Episode 2: Airshow life and movie auditions with Rob Reider
Rob Reider is a renaissance man: he's a well-known airshow announcer, honorary Blue Angel, Van's RV-7A owner, 5-time Emmy award winner, and an accomplished musician. In this wide-ranging episode, Sporty's John Zimmerman asks Rob about all of these topics, from the behind-the-scenes world of airshow performers to commuting by light airplane to his brief role in a legendary movie. In the fast-paced "ready to copy" segment, Rob talks about his favorite airshow food, the best banjo players, and his idea of the perfect flight.
Show links:
Listen in your favorite apps:
Listen online:
---
Episode 1: Flight training trends with Eric Radtke
Why is flight training so strong, even after a pandemic that stopped airline pilot hiring? What do flight instructors wish students knew about learning to fly? Eric Radtke answers these questions and many more, in the first episode of Sporty's Fast Five Podcast. Eric and host John Zimmerman also talk about what it's like to be an airline pilot, why flying with family is the best, and whether YouTube is good or bad for student pilots. In the "ready to copy" segment, Eric talks about the best Cincinnati chili restaurants, whether he prefers steam gauges or glass cockpits, and his favorite airplane.
Show links:
Listen in your favorite apps:
Listen online: