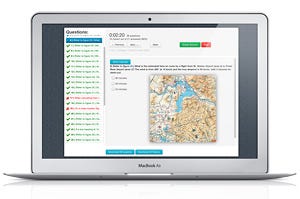 Welcome to Sporty's Study Buddy™ – the comprehensive FAA Knowledge Test Preparation Program that comes with your Complete Pilot Training Course.
The Premium Study Buddy™ features three modes of operation, all with answers and complete explanations for the ultimate learning experience:
Learning Mode – build custom study sessions on specific topics to identify weak knowledge areas
Test Mode – take simulated practice exams just like the real thing and monitor your progress
Flashcard Mode – test your knowledge by viewing questions without answer choices
Please activate your account using the activation code provided with your DVD course on the "Important Online Access Information" insert. If you are not able to locate your activation code or are having difficulty accessing your account with the code provided, please contact Sporty's Customer Service at 513-735-9000 or email support@sportys.com.