About Sporty's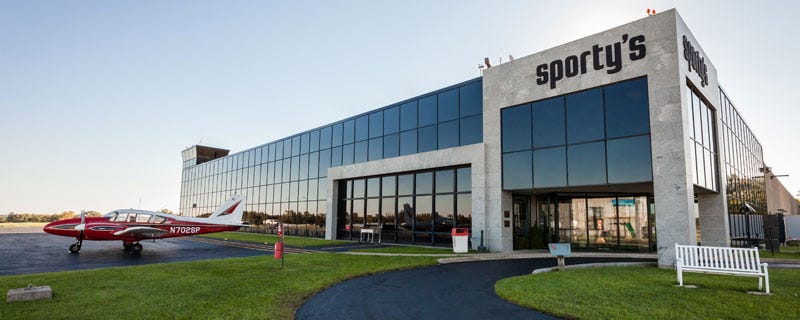 Who we are
Sporty's, the world's largest pilot shop, has been offering high quality aviation products and supplies for more than 50 years. Many of these products are designed in house by our staff of pilots and tested in our flight school. Our experience as pilots, as educators, as airport managers, as aviation advocates–along with our many other endeavors–affords us a unique qualification to provide only the products and services that are the best value to our customers.
What we believe
You have the RIGHT to same-day shipping at no extra charge.
You have the RIGHT to a one-year guarantee on the products you buy.
You have the RIGHT to speak to a knowledgeable, cheerful customer service rep rather than pressing digits on your phone.
You have the RIGHT to pay the lowest published price on all items, and we back that up with Sporty's price guarantee.
You have the RIGHT to expect quality products that have been pilot-tested and pilot-approved.
Visit Us
Fly in to the Clermont County/Sporty's Airport (I69) and visit our retail store – we're right on the runway. We serve free hot dogs, Noon to 2 pm, every Saturday, all year long.
Free Webinars
Want to learn about the latest technology or improve your skills as a pilot? Sign up for one of our live webinars. These multimedia presentations are informative and interactive.
Customer Reviews
With over 25,000 reviews online, Sportys.com is the place to find honest opinions about pilot supplies. Every review is written by verified buyers.
See our top-rated products here »
Virtual Tour of Sporty's
Walk around Sporty's from your computer – visit our headquarters, including our store and flight school.
Online Magazines
Sporty's publishes three entertaining and informative online magazines, and they're all free.


iPad Pilot News
shares real world tips on flying with the iPad, plus app reviews how-to videos.

Air Facts
was first published in 1938, and today it still champions, educates, informs and entertains pilots worldwide.

Learn to Fly Here
is an all-in-one resource for new pilots, with a flight school database, getting started guide and much more.