The X-Naut is a precisely engineered mounting cradle with four built-in fans (two on the iPad Mini model) and holes in the back. By directing airflow over the back of the iPad, targeted at specific hot spots, then sending that hot exhaust air out through the holes in the cradle, the iPad stays cooler and will not shut down in flight. On-board batteries power the fans, and make the X-Naut a completely wireless product.
To test how well it works, we mounted an iPad Air in the X-Naut cradle, turned the fans on, then set up a test chamber around it. The iPad was running flat out: Bluetooth, WiFi and Cellular on, ForeFlight open, and screen brightness at max. The temperature started at 100 degrees Fahrenheit, then we applied a heating lamp to it. We had temperature probes at the front and rear of the iPad.
Here's what it looked like: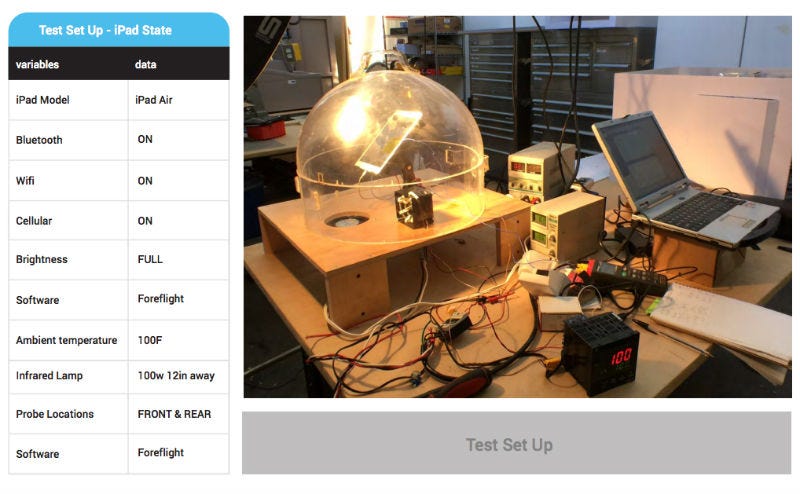 Next, we ran the test for one hour, with the cooling fans off and then for one hour with the cooling fans on. The difference was remarkable. With the cooling fans on, the iPad got hot, but never above 120 degrees. It never shut down due to overheating. With the cooling fans off, the iPad shut down after less than 25 minutes.
The graph below shows the dramatic difference. Also note the thermal map, showing just how hot the iPad got without fans.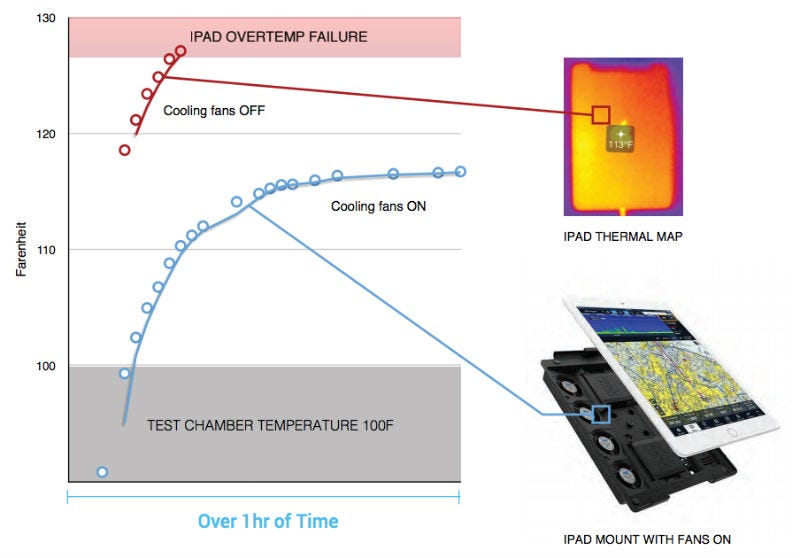 The X-Naut Cooling Case is available for the iPad Mini 1-4 and the iPad Air 1/2 and iPad Pro 9.7". These cases are compatible with all RAM Mount systems, includingi yoke and suction cup. There's also a kneeboard kit for using it on your leg.