Sporty's Flying Club Rebate Program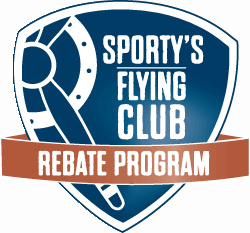 Earn 5% cash back for your club
Sporty's Pilot Shop is a proud supporter of flying clubs and the great work they do to keep flying fun and affordable. To give back, we are happy to announce our Flying Club Rebate Program, a no-strings attached way for your flying club to earn a cash rebate on everything members buy from Sporty's.
5% rebate on all purchases made by flying club members from Sporty's Pilot Shop
Includes all products, even chart subscriptions*
No charge to sign up – it's free!
No special codes required at checkout
Existing Flying Club Rebate members can email updated roster to mark.w@sportys.com
*
Certified avionics are excluded from the rebate
Want to sign up? Have your flying club administrator fill out the form below
For more information, contact Mark Wiesenhahn.
mark.w@sportys.com
513.735.9100 ext. 338
The fine print
Valid for Sporty's Pilot Shop orders only (does not include other Sporty's catalogs.) Flying clubs must be open to and accepting new members and submit bylaws for review. No partnerships or FBOs permitted. Flying club administrator must submit a list of all members, including name, address and email. Rebate will be issued to the flying club, via check, on a quarterly basis and is based on merchandise sales (no shipping or handling). Dealer orders are not eligible. Maximum rebate of $5,000 per year. Should your club rebate for any given quarter be less than $5.00, the earned rebate will be carried over into the next quarter(s) until the amount reaches at least $5.00. Valid for Flying Clubs based in the United States only.
Want to make even more money for your club?
Become a Sporty's dealer!