How much does shipping cost?
Shipping charges are calculated based on the weight of the package and the destination. To determine the charges for your order, go to Checkout and enter your shipping address. You will be presented with three options for shipping.
How long will it take for me to receive my order?
We offer the fastest shipping in the business, so you won't have to wait for your important charts or a last-minute gift. Since we stock almost everything we sell, we offer same day shipping: in-stock orders placed by 5pm Eastern (weekdays), will be shipped that same day, often within minutes of ordering.
Orders placed on weekends or holidays will ship the next business day. You can calculate the transit time of your package beginning on the day it ships.
Orders shipping to the United States have three shipping options: ground (which typically takes 3-5 days), 2-day air, or overnight. Note that these are days in transit are business days, so Saturday and Sunday are not included. We ship by UPS and US Mail.
Below is a map showing estimated shipping time by ground.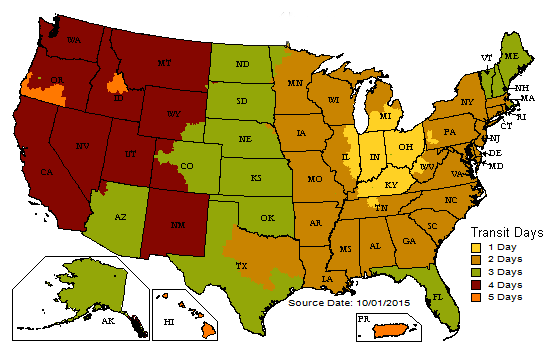 To track your order, click here.
Do you ship internationally?
Sporty's Pilot Shop gladly ships orders outside the United States. There are two options for international shipping.
I-Parcel
This option allows you to know the fully landed cost of your international shipment including all duties, taxes and shipping charges up front. With I-Parcel, all of those fees are collected during checkout, and you will not owe anything more. Your package will arrive in an average of 4-8 business days, and tracking is available from the time it leaves Sporty's until it is delivered to your door. You will be charged the actual shipping, duties and taxes during checkout. I-Parcel is currently available in 90 countries. If I-Parcel does not show up as a shipping option during checkout, the service is not available to your country.
International airmail
This option is less expensive, but is slower and does not offer tracking. You will be charged for international airmail shipping plus an additional $14 for international packaging, documentation and guaranteed delivery. Any customs duties and taxes will be due upon receipt of the package. Your package will arrive in an average of 10-14 business days.