Bose practically invented Active Noise Reduction (ANR) headsets in the 1990s, and since then they have remained the top-selling ANR headset brand in aviation. What makes their headsets so popular? In a word, balance. We just finished about three months of flight testing with the latest version of the A20, and found a satisfying mix of quiet, comfort, clarity and features. Here's our pilot report.
Superb comfort, not just quiet. The best aviation headsets combine a few key features, most notably noise reduction, comfort, and audio clarity. For decades, headset manufacturers have battled over the first feature, trying to cancel more noise than the other guys with a variety of impressive technologies. This often led to a battle of Noise Reduction Ratings (NRR), where it was assumed that 30 dB was automatically better than 25 dB. That's too simplistic.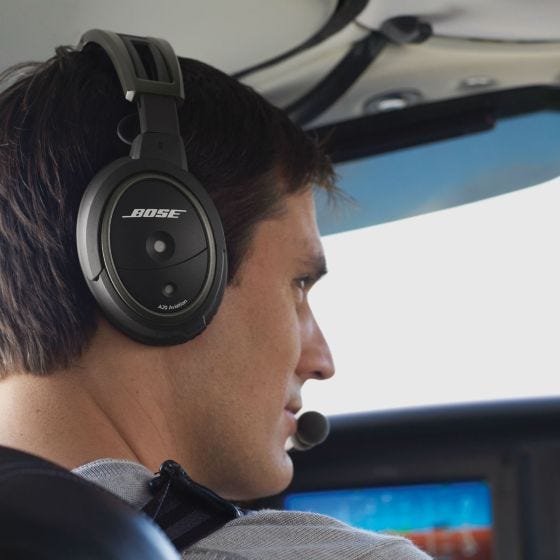 In recent years, there has been an evolution in pilot preferences and headset technology. The reality is that almost all high-end ANR headsets do a fantastic job of reducing engine and prop noise. How much quieter do they need to be? And at what cost? After all, it would be easy to make a nearly silent headset that weighed 25 lbs. and had 10 minutes of battery life.
Bose certainly makes a very quiet headset, but the company also focuses on comfort. This isn't an easy thing to measure, but it's noticeable. The spring in the headband keeps the A20 secure on your ears, but with less squeeze than almost every other headset we've flown with. In addition to side pressure, weight is the other main determinant of comfort, and the A20 is lighter than most aviation headsets. Besides the raw weight, we noticed that the headset has better weight distribution, so there aren't any hot spots on your head or ears. As a 737 pilot said in a recent review, "I never really notice it's there. I wish I had started wearing one 20 years ago."
Excellent audio options. Another area where Bose has really stepped up its game lately is with Bluetooth phone and audio features. The latest A20 model allows you to wirelessly connect to your smartphone, which is ideal for calling Flight Service for a clearance on the ground. Passengers love the Bluetooth connection for audio since they can enjoy music throughout the flight without bothering the pilot - only the headset that is paired with the music source hears the audio. And the audio sounds great, with famous Bose clarity.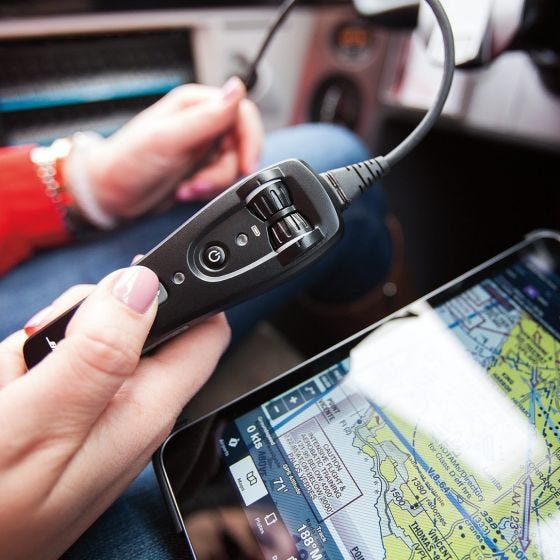 It's worth noting that Bluetooth isn't just for phone calls and music. Increasingly, aviation apps are sending out audio alerts for important warnings, whether it's a potential runway incursion or a traffic alert. We've found this to be incredibly helpful, especially during single-pilot flights, so we always pair our headset to our iPad before engine start.
The Bose A20 also offers a helpful audio prioritization switch on the control box. You can choose to mute all external audio (music, app alerts, or phone) when communicating, mix external audio and communications, or turn off external audio completely. This can change during a flight (mix during cruise, mute during arrival, off during landing), so the simple switch is quite convenient.
Reliable. The lightweight and high-tech features might suggest a weak headset, but that hasn't been our experience. We still occasionally fly with Bose X headsets that are over 10 years old, and they perform flawlessly. If anything, the A20 appears to be more solidly built than the X series. Bose headsets are TSO'd, meaning they meet minimum performance standards set by the FAA.
If anything should go wrong, every Bose headset is backed by great service. We know from previous experience that repairs are timely and professionally done. The five-year warranty (which is transferable - a nice touch) covers not just parts and labor, but also second-day return shipping. It is a $1000 headset, so it's good to know you are covered for many years of service.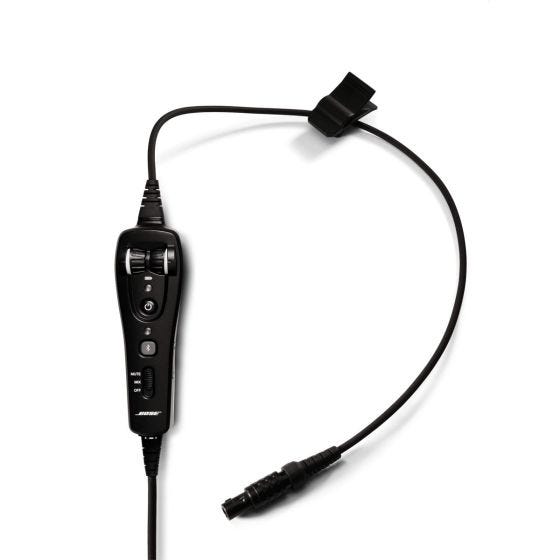 The little things. Features like comfort, Bluetooth audio, and reliability understandably get most of the attention when pilots are shopping for headsets. But during our flights - a combination of short hops and long cross countries - we found a lot of "little things" that were satisfying. For example, when flying an airplane with permanently installed LEMO plugs (which power the headset off the electrical bus), the headset automatically turns on and off. Simply turn on the avionics master and put on the headset. This is really convenient for airplane owners and is definitely worth the minimal install time with your A&P or avionics shop.
For battery-powered models (the right choice for renters or flying club members), the A20 has about the longest battery life of any headset we've tried - nearly 50 hours in one test. Battery-powered models also have auto shut-off, so if you forget to turn off the ANR, you won't find a dead battery on the next flight.
There's even a LEMO-to-twin plug adapter available, so aircraft owners can take their panel-powered headset into another airplane and plug into standard PJ plugs without losing ANR or Bluetooth features.
We also like the ability to switch the mic boom and cable from one side of the headset to another. Many pilots may not know it, but modern ANR headsets are not reversible - the left earcup goes on the left ear every time. But if you're a flight instructor or first officer, that can mean a cable draped across your body during the flight. With just a couple of screws, you can easily switch an A20 to "co-pilot mode."
Why buy your headset at Sporty's?
Test Flight Guarantee. Not sure if you've picked the right headset? We've got you covered. Take your new headset flying and make sure it's the right choice for you. If you're not thrilled, return the headset to us within 60 days and in the same condition in which you received it - we'll exchange it for another headset or refund your money. There's no paperwork and no hassle.
Expert advice. If you have questions or just want to get a second opinion before purchasing your next headset, talk to Doug Ranly, our resident expert on aviation headsets. Doug has flown with just about every aviation headset made over the last 15 years, so he can offer practical advice and real-world tips.
Free shipping. We offer free shipping on all Bose headsets, every day of the year. Plus, order by 5 pm eastern and we'll ship your order the same day. There's also no tax on orders shipped outside Ohio.