AirVenture, held annually in Oshkosh, Wisconsin, is the world's largest aviation celebration and is often considered a must-attend event for pilots from all backgrounds. Whether you're a seasoned aviator or just starting your journey in the world of aviation, Airventure is the place to be in late July.
If you are like me, the weeks preceding Oshkosh seem to drag on forever. While we can't alter the space-time continuum to get AirVenture here sooner, we can embrace our inner avgeek to fully immerse ourselves in pre-KOSH activities. Here are five things you can do to get your KOSH fix pre-AirVenture.
Disclaimer: I'm an aviation nerd. Very proud of it.
1. Read the NOTAM cover to cover… at least twice.
Sure, everyone skims the FISK arrival info, but true avgeeks memorize the frequencies: ATIS, FISK arrival, tower north, tower south, departures… I'll take Chicago VFR monitoring freqs for $1000, Ken. Printing multiples of every possible sign I need (or don't need) for taxiing. And I might not fly in a warbird, but I know the published warbird arrival by heart.
2. Fly your route in a flight sim.
Flight simulators are incredibly realistic.I can fly from my home airport and simulate all types of weather along the route. 800 foot ceilings and light rain? Bring it.Thunderstorms over Chicago? No worries. IFR (I follow roads) route 30 east to I-355 north. Winds shift active runways midway through my FISK arrival? I got this. And in the off chance that a hurricane parks itself over Lake Winnebago while aliens over take the paved runways, I can put it down at Pioneer Airport with gusts to 70 knots.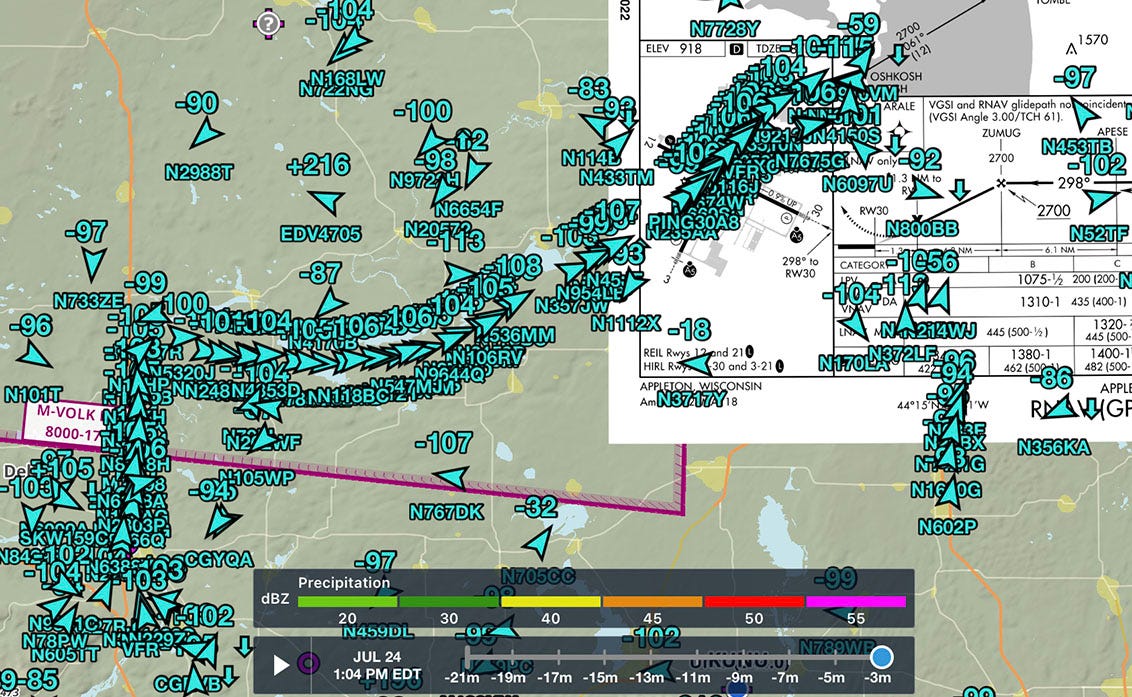 3. Watch incoming traffic with FlightAware or ForeFlight.
The volume of aircraft descending on KOSH the Saturday and Sunday before the show is nothing short of amazing. It is hard to fathom, and impossible to fully grasp from a lawn chair on the flight line. Fire up a flight tracking website or app and grab a bowl of popcorn. I sit on my couch and AirPlay ForeFlight to a big screen TV with the traffic overlay. The parade of aircraft across the screen is mind boggling. Much to my kids' annoyance, the FISK arrival is on screen most of the afternoon and evening.
4. Listen to LiveATC while watching incoming traffic.
Want to take your nerd level up a notch? Log into LiveATC and listen to the traffic while ForeFlight is on the big screen. Listen to the FISK approach freq and you'll be amazed how they can handle the volume of planes ("nice wing rock"). Head on over to tower freq for a while and see how many get cleared for the green dot vs. the orange dot. Heaven forbid we have a gear collapse and the airport has to shut down, as the radio chatter changes tone really fast and all the ants on ForeFlight go marching over to circle the lakes. Go back to FISK freq to hear each holding pattern get released. "The ants go marching back to KOSH, hurrah, hurrah."
5. AirVenture webcams.
Now that you have traffic and ATC in your KOSH command center, fire up another laptop or iPad and display one of the many webcams on the field. You can watch the green dot cam and pass judgment on all the planes that were cleared for the green dot (because you heard that transmission) but they missed it by 50 feet… rookies. Ohh look: the C-17 is pulling into Aeroshell Square with the Lancaster and Fifi in the background. IS THAT AN F-22?!?! Squirrel!
I don't know what they are calling it this year, but it will always be Aeroshell Square to me. Viva-la Sloshkosh! See ya at SOS.
Don't forget to visit Sporty's at AirVenture!