Garmin recently introduced the D2 Air X10, an updated smartwatch for pilots with a beautiful screen and dozens of useful features. It has been a huge hit so far, but apparently Garmin wasn't done: this week the company unveiled the D2 Mach 1. This all-new smartwatch has many of the same sophisticated features as the D2 Air X10, but with even more navigation tools and a number of luxury finishes. Quite simply, it's Garmin's best aviation watch ever.
When comparing the D2 Mach 1 to the previous generation D2 Delta PX, the upgrades are immediately apparent. For a start, the Mach 1 features the beautiful AMOLED touchscreen found on the D2 Air series—it's both easier to read and easier to use than the older transflective MIP screen on the D2 Delta PX. That watch face had a tendency to wash out in bright sun and most features were accessed with a series of buttons on the side; it worked, but it could be pretty clunky for some features.
The Mach 1, on the other hand, has a screen right off a modern smartphone: it's vivid, colorful, and easy to read in sunlight. It's also the main way you'll interact with the watch, making most tasks simple and intuitive. The Mach 1 is also 20% lighter than the D2 Delta PX, weighing in at 70 grams (see image below, with the Mach 1 on the right).
Aviation features
One application of that new screen is the color moving map, a key difference between the Mach 1 and Air models. This uses the watch's built-in GPS and worldwide airport database to provide a real-time look at the world around you. When connected to a smartphone with internet access, the Mach 1 can even overlay radar on the map—perfect for panning around with your fingertip.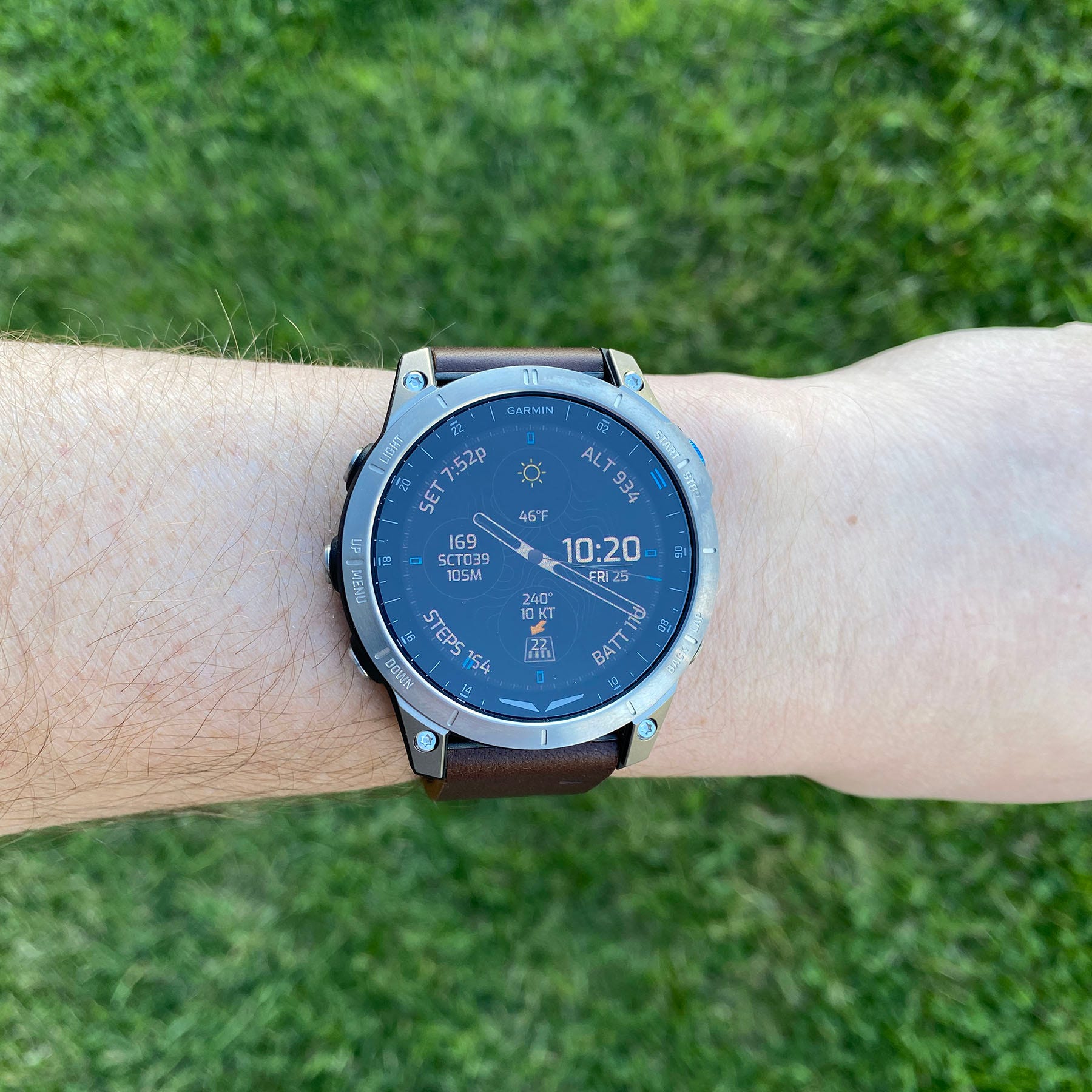 Other navigation tools include a built-in compass and pressure altimeter, which is handy for setting vibrating alerts (for example, an oxygen reminder above 10,000 feet). The familiar HSI and nearest airport screens are here as well, and the Mach 1 also adds a new emergency mode. This quick-access function, modeled on the Garmin Pilot app, quickly displays the nearest airport and calculated glide range.
Pulse oximeters, once expensive devices that required a prescription, are now increasingly viewed as a must-have for flying. The D2 Mach 1 (like the D2 Air X10) has one built-in, so it's fast and easy to check your blood oxygen percent in-flight. The watch displays a graph of recent readings, so it's easy to see at a glance whether it's time for supplemental oxygen (see image below).
Weather is another strong suit of the Mach 1. Pilots can create custom alerts for maximum crosswind or maximum density altitude, a good reminder to check your numbers before takeoff. There's also a new meteogram function, which essentially shows a graphical version of MOS forecasts. These model-driven weather reports give pilots a visual look at the next 24-36 hours, including visibility and wind, and are valuable for medium-range planning.
Avionics integration has always been a unique strength for Garmin portables, and the D2 Mach 1 is no exception. Flight plans can be synced from the Garmin Pilot app to the watch, but data can go the other way too—activating emergency mode on the watch will automatically bring up direct-to navigation on the app, a real time saver.
New for the Mach 1, there's even the option to integrate with Garmin inReach satellite communicators. These portable devices use the Iridium satellite constellation to offer connectivity around the world, including in flight. When connected to the Mach 1, automatic takeoff and landing notifications can be sent via an inReach, and pilots can even initiate an SOS message with one button push on the watch.
Smartwatch features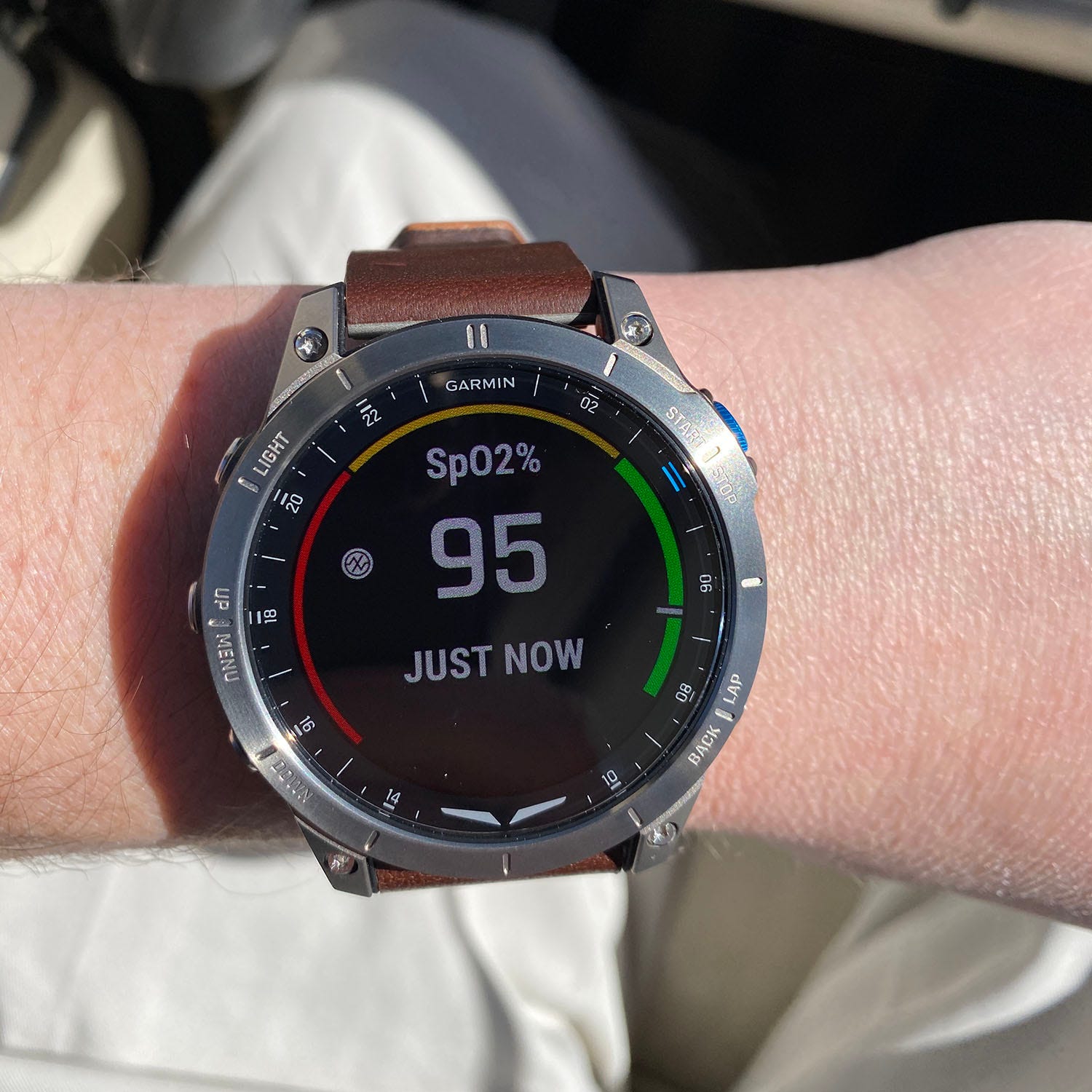 One of the best things about a Garmin aviation watch is that it's so useful outside the cockpit—this really is a watch you'll wear every day. Pair the Mach 1 to a smartphone running the free Garmin Connect app and you'll have a mini-smartphone on your wrist, complete with notifications for text messages, calendar appointments, and more. You can also store music, including Spotify playlists, on the watch. This is ideal for workouts or on-the-go listening.
The fitness tools are equally impressive, with over 30 built-in sports apps to track your run, bike, or swim. Included topo and golf course maps (for over 42,000 courses!) are nice additions, and surprisingly helpful for everyday adventures. Finally, the detailed health and wellness tracking, significantly upgraded from previous generation watches, helps you monitor your sleep, stress, and fitness level.
Premium materials
Another major difference between the D2 Air X10 and the D2 Mach 1 is the construction. The higher end Mach 1 features a titanium rear case and bezel, plus a sapphire lens for ultimate durability. Pilots have the option of an Italian leather band or a titanium bracelet, both of which complete the luxury feel of the watch. A silicone sport band is also included, and it's easy to switch back and forth if you're going from dinner party to training run.
Garmin watches are famous for their long battery life, and even with all the sophisticated features the Mach 1 continues that tradition. Pilots can expect up to 11 days on a single charge when using it for everyday tasks like smartphone notifications and time. Turn on the GPS and pulse oximeter and battery life is still an impressive 20+ hours—more than enough for a full day of flying.
D2 Air X10 vs. D2 Mach 1
Both of Garmin's new watches are powerful everyday tools with enough aviation features to make them helpful supplemental tools in the airplane. They both feature a beautiful color touchscreen and they both have a built-in GPS, so the essentials are all there. The Mach 1 really shines when it comes to materials (less plastic, more titanium) and higher end features (moving map, inReach integration). For a more detailed comparison, see our chart below.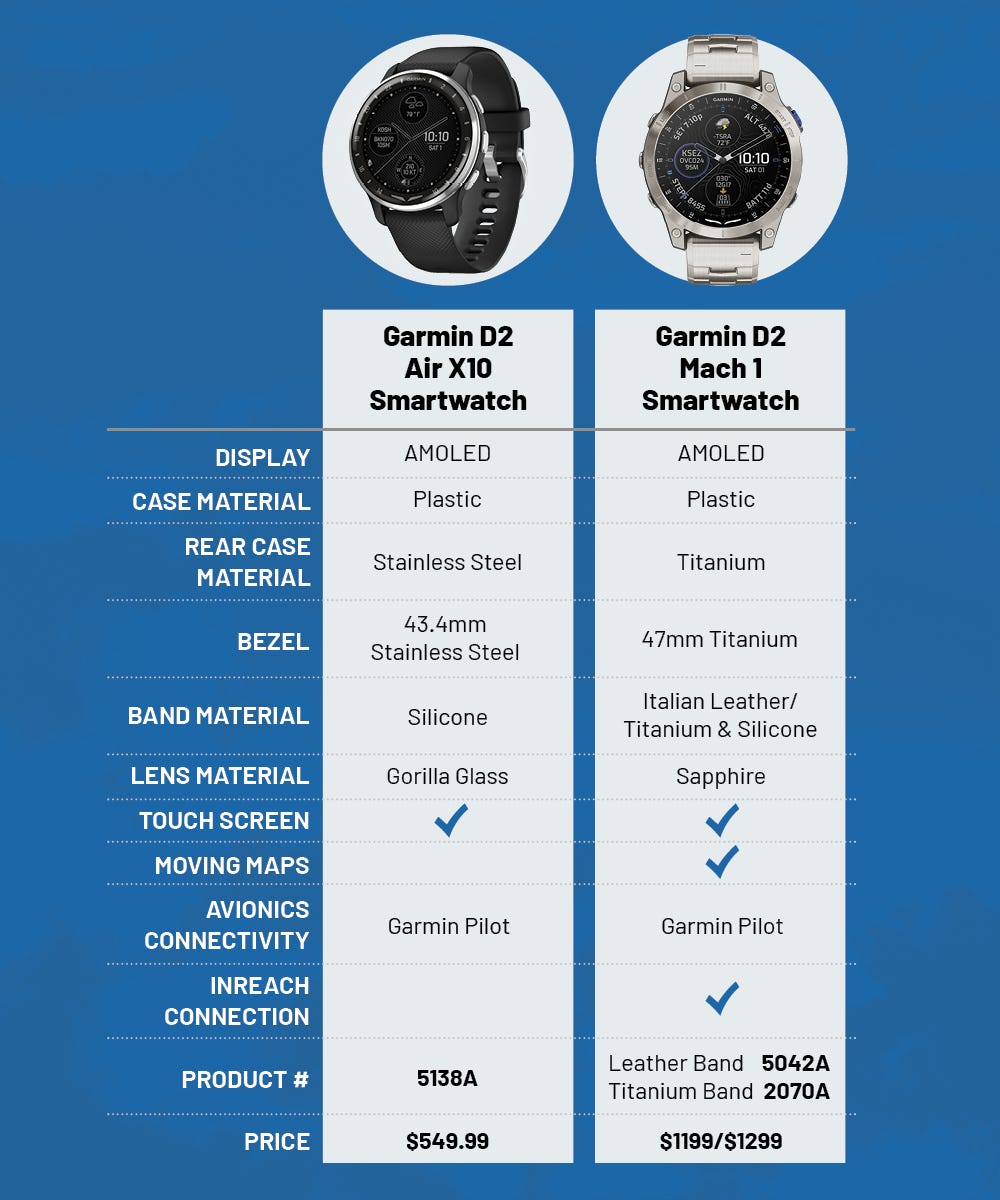 Shop Garmin D2 Mach 1 (titanium) >>
Shop Garmin D2 Mach 1 (leather band) >>
Unboxing video
Want to learn more? Watch our unboxing video below: