Lightspeed Aviation is known for thinking outside the box when it comes to headset innovation, and their latest product continues that tradition. The new Delta Zulu headset incorporates their best ANR technology ever, but this platform can do more than traditional aviation headsets. Everything from the ANR box to the integrated CO detector has been reengineered for maximum efficiency in the cockpit. As always, Sporty's team of expert pilots took the new Delta Zulu for a bunch of test flights. Here's what we found.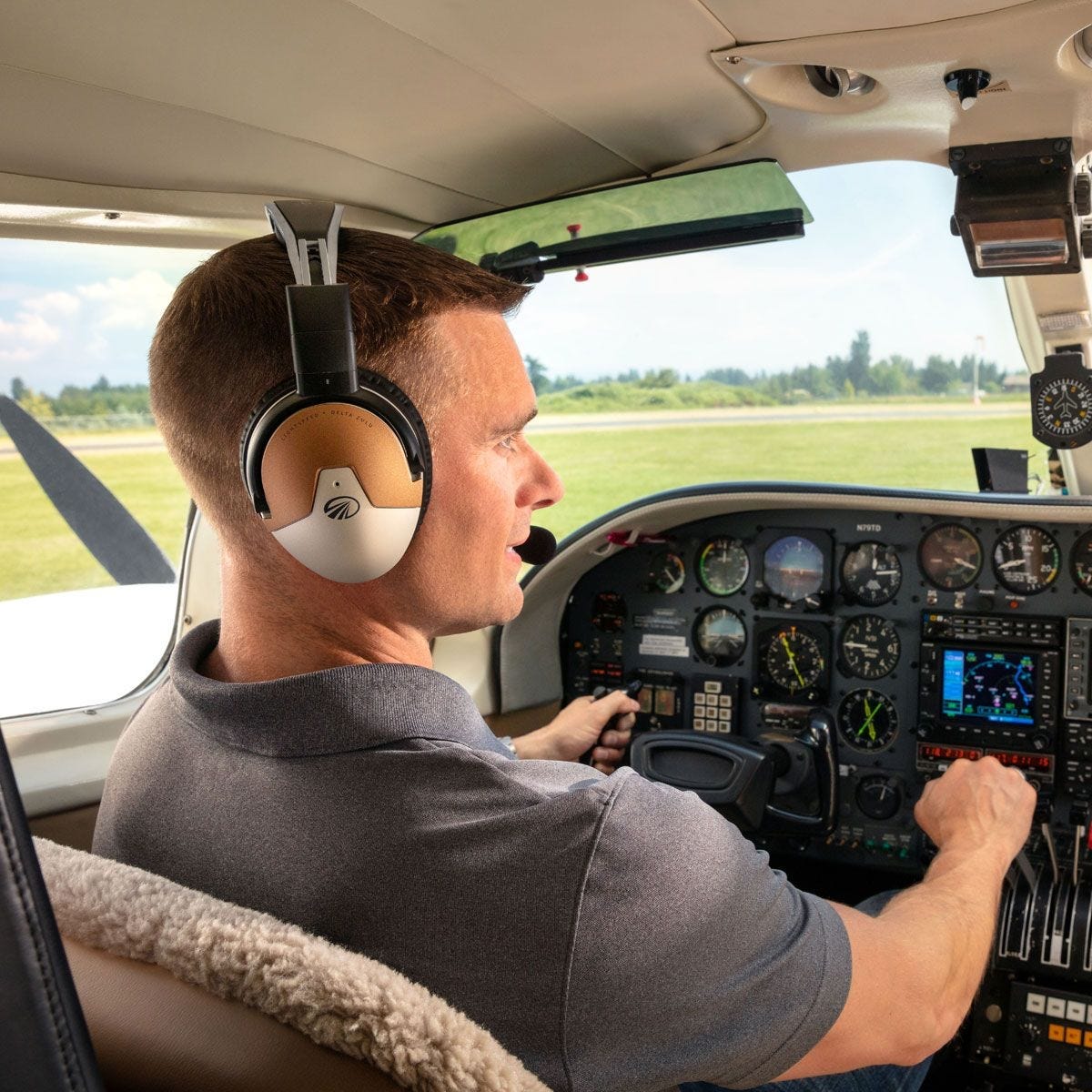 At first glance, it's easy to tell that the Delta Zulu is part of the Lightspeed pedigree—it looks and feels like a Lightspeed headset. The Delta Zulu is clearly a premium ANR headset with all the Bluetooth features you have come to know and love, but if you are already familiar with the Zulu series, you'll immediately appreciate the upgrades in the Delta Zulu.
CO Detector
The biggest bullet point for the Delta Zulu is something that we've never seen in a headset before: a carbon monoxide detector. The detector is built into the ear cup and will provide an audio alert if unsafe levels of CO are detected (something that's surprisingly common with light airplane heating systems). It's always running in the background, so there's nothing you need to do other than turn on the headset. Connect the Delta Zulu to the new Lightspeed app and you can get advanced reporting with PPM readouts and graphs.
Hearing EQity
Hearing loss is fairly common among pilots, but the Lightspeed Delta Zulu can help. It introduces a built-in audio equalization system called Hearing EQity. By using the Lightspeed app, the user can take an automated 12-frequency hearing test. This customizes the audio levels in each ear to create your individual hearing profile. It's not a hearing aid, but it can help—especially with music.
Lightspeed App
The key to maximizing utility of the Delta Zulu is the new Lightspeed app. In addition to CO reporting and Hearing EQity, the free app incorporates Lightspeed's FlightLink system. This allows you to record radio conversations, play back transmissions, draw diagrams, and archive flight recordings for post-flight briefing and training. It's not required (so don't worry if you forget your phone), but it's definitely worth trying. Note that, at least for now, this app is only available for iOS devices.
Rechargeable Battery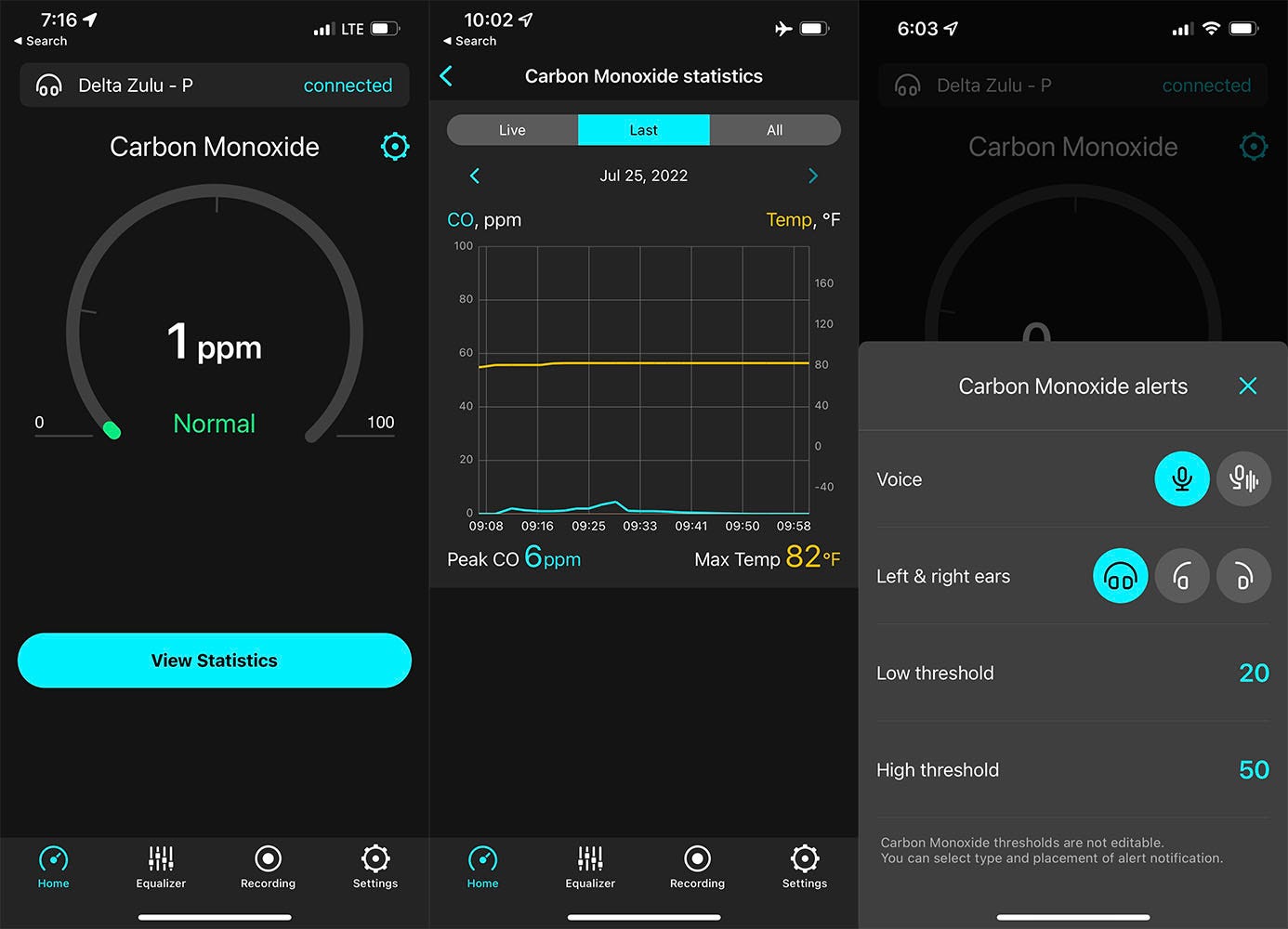 Tired of throwing away batteries? The included rechargeable battery pack can provide up to 30 hours of useful life. It can be recharged at home or on the fly with any USB power source using the included adapter cable. This is convenient since you most likely carry some type of charging product for your iPad or ADS-B receiver, so there's no need to carry extra gear. We've tested the Flight Gear iPad Backup Battery with the Delta Zulu and it works great. Just in case, Lightspeed includes an alkaline battery pack for quick changing to backup power.
Durability
The Delta Zulu takes durability seriously. A stainless steel headband with magnesium ear cups will take the abuse from even the harshest flying environments. The super strong, kink-proof Kevlar cables are nearly indestructible yet light enough not to pull on the headset. Lightspeed stands behind the Delta Zulu with an impressive 7-year warranty.
Comfort
How comfortable a headset is depends on your specific preferences and even the shape of your head. But while the Delta Zulu is not the lightest ANR headset out there (at about 15 oz.), it has a number of thoughtful comfort features. Extra soft, protein leather ear seals are designed to hug the curve of your jaw for a much more natural fit than cheap heasets provide. Wide ear cup cavities allow the entire ear to fit comfortably inside, and the lightweight cable doesn't get in your way when you're in the cockpit.
The Lightspeed Delta Zulu includes all the features you would expect in a premium headset, including outstanding active noise reduction and full Bluetooth features. It's available in three popular plug configurations: twin plug (PJ plugs), panel-powered (LEMO plug), and helicopter (U-174).
Want to learn more? Watch our Product PIREP video below:
What comes with the Delta Zulu? Watch our unboxing video below: