Sporty's Learn to Fly/Instrument Rating course has all the tools you need to prepare for the FAA Knowledge Test (sometimes called the written test). We'll even give you the flight instructor endorsement to take the test automatically - just watch all the video segments and pass two practice tests with a score of 80 or better. However, studying for the Knowledge Test without a good plan can be time-consuming and frustrating. Here's our advice for getting started the right way.
This post is written for the most recent update to Sporty's courses, the 2021 edition. If you've bought the Learn To Fly Course or the Instrument Rating Course, you have lifetime updates so this can apply to you too! Sportys.com/mycourses updates automatically but if you're using the app version, you may need to open the App Store and check for updates.
Step 1: Study each category
First select the Test Prep option from the main menu on the left side of the screen. Start out by studying specific categories of questions using the Start New Study Sessions option.
Then select Specific Categories. Go through each category, one at a time, and answer all the questions.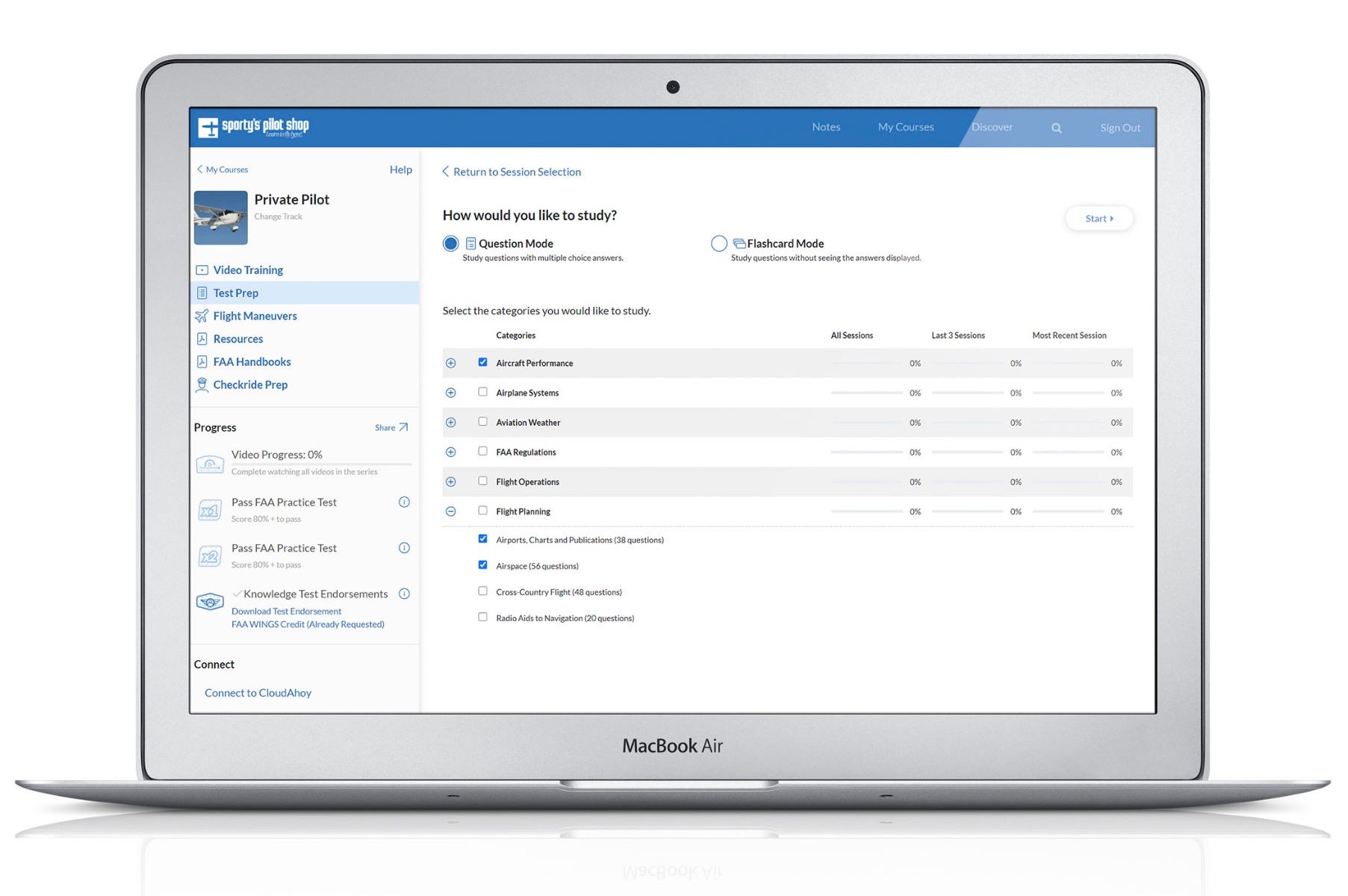 Mark any questions that are confusing or that you can't answer right away. This will allow you to come back to them for review later.
Step 2: Study marked questions
Once you've been through every category, you'll have a better feel for your strengths and weaknesses, using the Performance Analysis section.
To focus your studying, choose Start New Study Sessions and select Marked Questions. This will allow you to review those questions that were confusing the first time around.
Spend some time reading the reference documents for these questions (listed under each explanation). Once you can confidently answer a question, Unmark it.
Step 3: Study incorrect questions
Now it's down to the questions you answered incorrectly. Go back to Start New Study Sessions and select Incorrect Questions. This will show only the questions that you got wrong.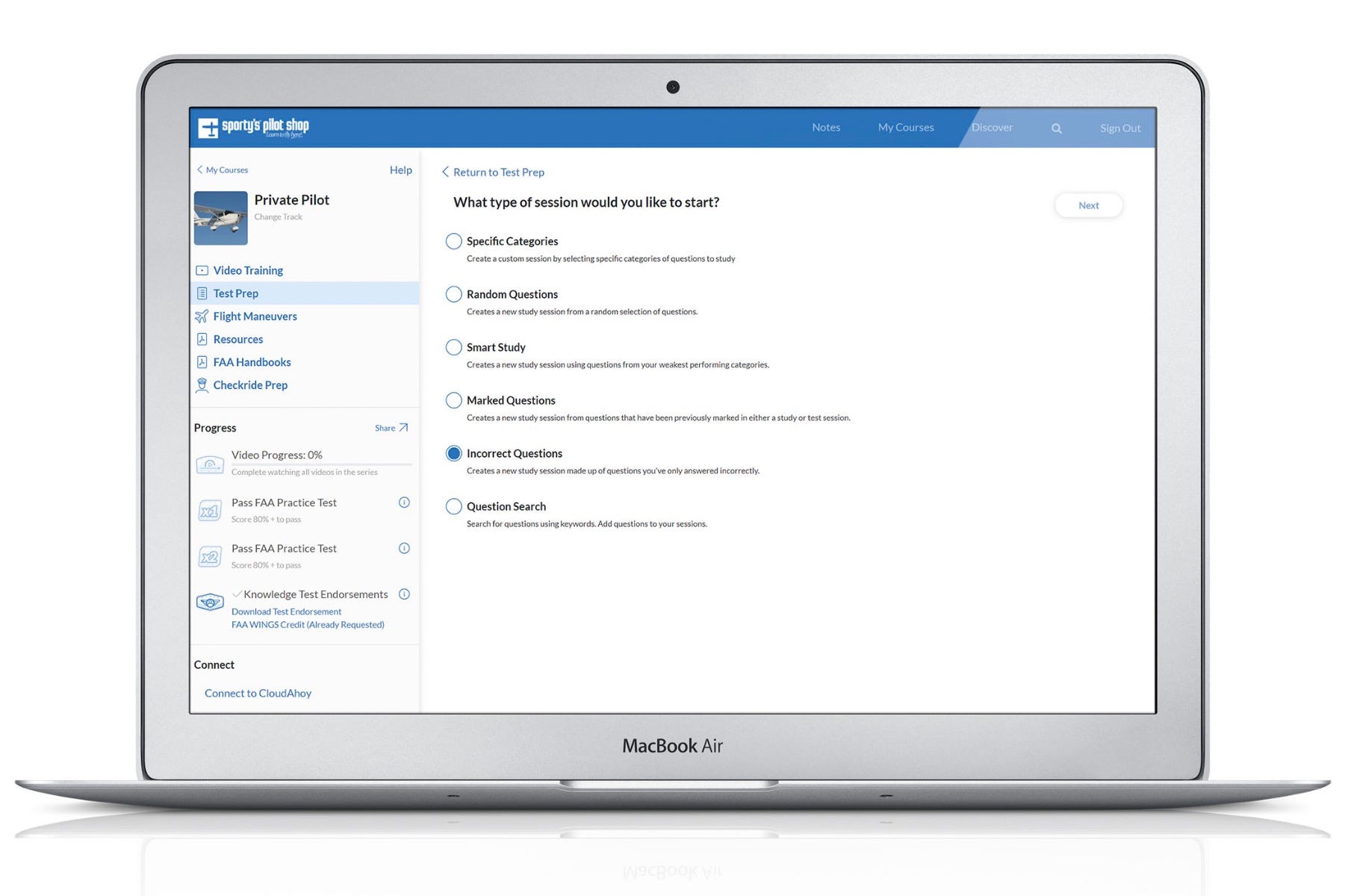 Again, read the explanations and supporting documents, then choose the correct answer when you've mastered the topic.
Step 4: Quick review options
If you don't have time for a complete study session, there are some great options for quick review. First, you can choose Random Questions from the Start New Study Sessions menu, which will display anywhere from 5 to 200 questions chosen at random. Or choose the Smart Study Session, where the course focuses on your weakest areas - this is ideal for a fast brush-up session on the go. You can also review any of your previous study sessions, including answers and explanations, with the Study History feature. Finally, remember that you can always create an instant study session at the conclusion of a previous one - just choose one of the options below your results.
Step 5: Practice FAA Tests
Once you've been through all the questions and feel ready to take the FAA Knowledge Test, go to the main Test Prep page and choose FAA Practice Test to simulate the real exam.
This will present a random mix of questions with the same time limit as the test, but without answers and explanations. When you've passed multiple tests in this mode you're ready for the real thing.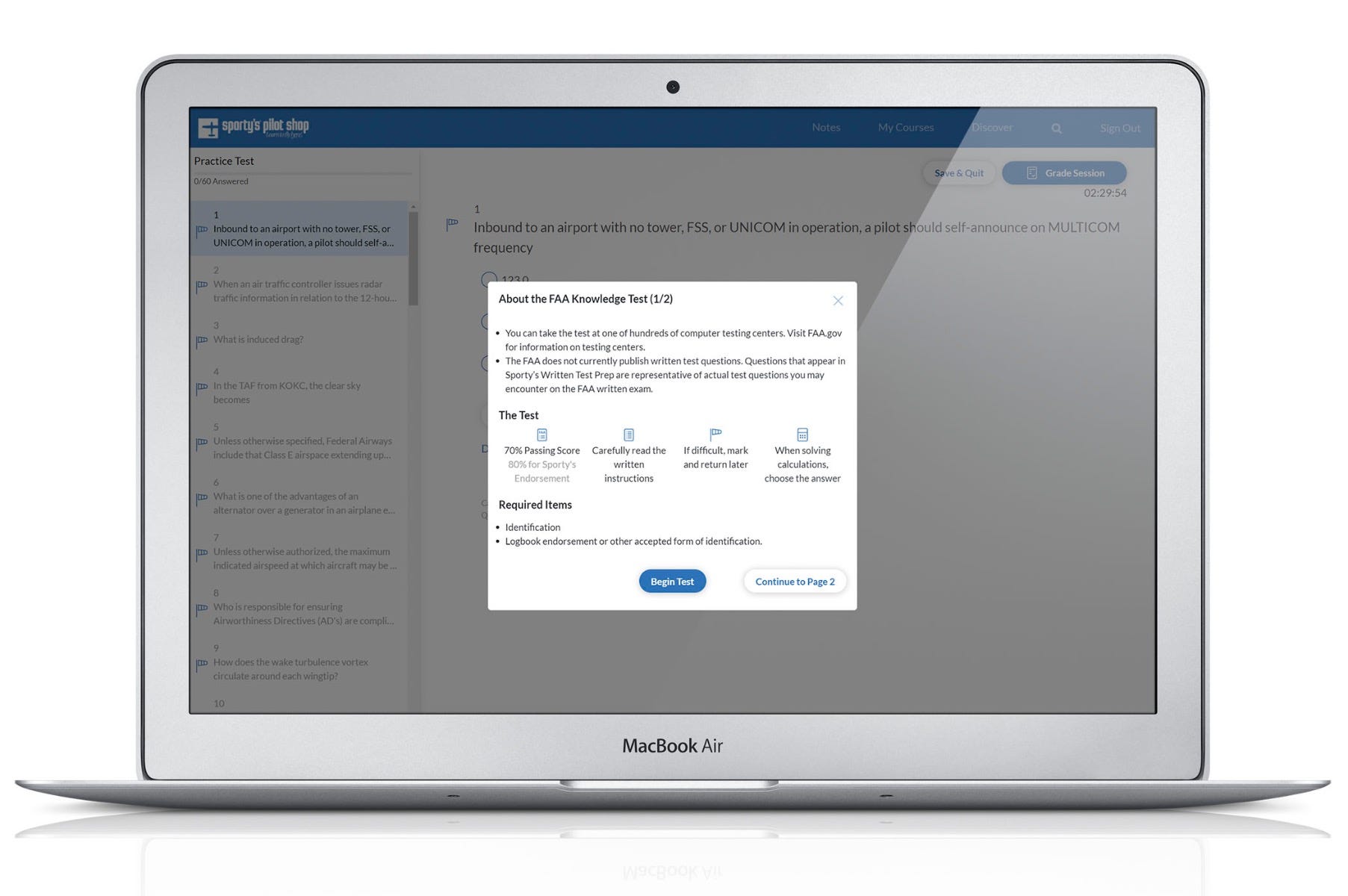 Note: we suggest you do not use this mode until you have been through all the categories. It's tempting to cheat and do a lot of practice tests, but it's not a smart study strategy.
When you've completed studying, request the exam endorsement and you're ready to schedule your test. Good luck!
Next steps
Getting prepared for the checkride will complete your prep for your pilot exam. To learn more about Sporty's included checkride prep read this article.