EARN A $25 GIFT CARD EVERY TIME YOUR STUDENTS BUY A SPORTY'S COURSE
Sporty's Pilot Shop was founded by a flight instructor over 60 years ago, and ever since we've worked hard to support student pilots and CFIs. Now, we want to give instructors the chance to earn free pilot supplies. Simply sign up for our rebate program, and every time one of your students buys a Sporty's video course, you'll earn a $25 gift card. These gift cards do not expire, and they can be used online, in store or over the phone.
There is no charge to enroll in this program and there are no strings attached!
Students should purchase their courses at www.sportys.com.
WANT TO START EARNING REBATES? SIGN UP BELOW.
* Required Fields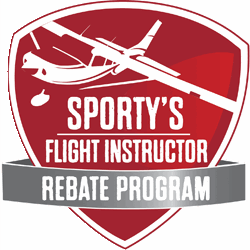 For more information, contact Sporty's Customer Service at support@sportys.com or call 513-735-9000.


THE FINE PRINT
Valid for Sporty's Learn to Fly, Instrument Rating, and Commercial Courses. Students must enter the instructor's unique referral code at checkout to receive credit. Rebates are issued monthly in the form of a $25 Sporty's Email Gift Card.