"First and foremost, Sporty's is an educational institution."
— Michael Wolf, Chairman and CEO
our history
Sporty's has been training and equipping pilots worldwide since 1961, when Hal Shevers, a flight instructor, sold his first product out of the trunk of his car. In the six decades since, we've continuously worked to develop the finest training courses and pilot supplies, all backed by fast and friendly service. Originally based at a small retail location at Lunken Airport (LUK) in Cincinnati, Ohio, Sporty's quickly grew and soon moved to a larger location at the Clermont County Airport (I69). Today Sporty's is one of the most respected names in aviation, with corporate activities in every segment of light aircraft from retail to training to maintenance to airport management. Most importantly, our company is still made up of pilots and aviation enthusiasts, just like you.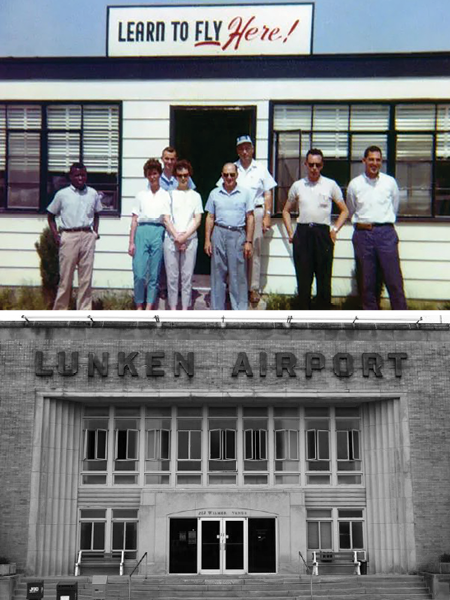 Sporty's is Founded
Sporty's was founded in 1961 by Hal Shevers, a flight instructor and engineer living in Cincinnati, Ohio. He found a radio that could pick up aviation transmissions and sold it to his students, using the trunk of his Studebaker as his first warehouse. Other pilot products soon followed and Sporty's was born.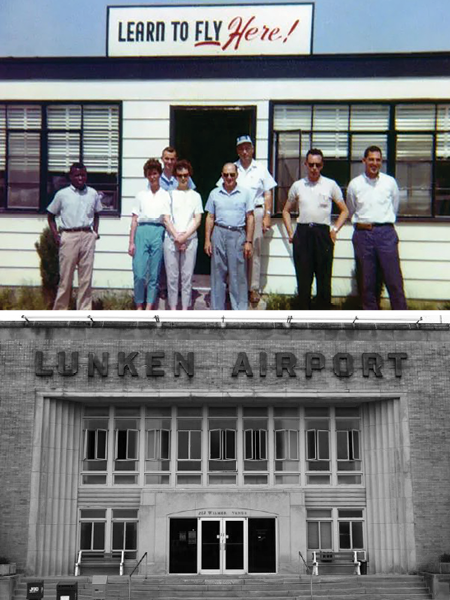 1961
Sporty's is Founded
Sporty's was founded in 1961 by Hal Shevers, a flight instructor and engineer living in Cincinnati, Ohio. He found a radio that could pick up aviation transmissions and sold it to his students, using the trunk of his Studebaker as his first warehouse. Other pilot products soon followed and Sporty's was born.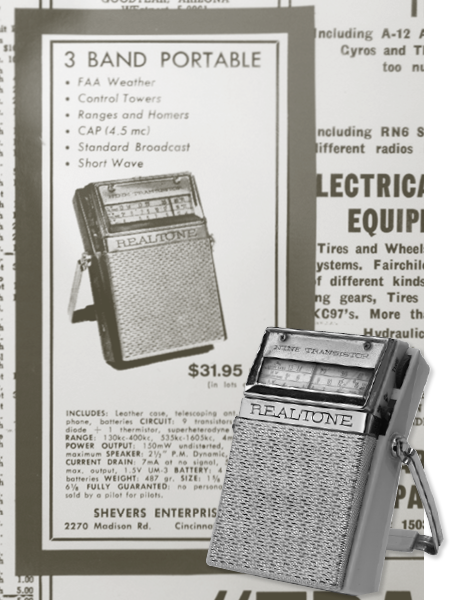 1961
Realtone Voyager TR-970
Sporty's first product was an aviation radio, and pilots quickly came to rely on us for the best portable technology. This ad, one of the first we ever ran, shows a compact receiver made by Realtone that allowed pilots to listen to weather reports and air traffic control towers—pretty high tech for the early 60s.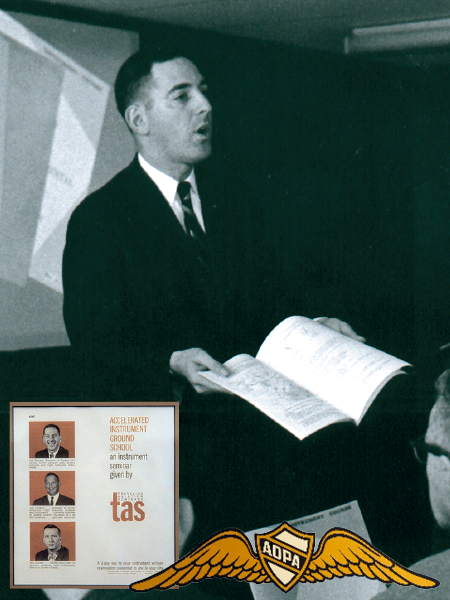 1962
Creating the 3-Day Ground School
In addition to founding Sporty's, Hal Shevers helped to found the three-day ground school with the Aircraft Owners and Pilots Association (AOPA). He taught pilots everything they needed to know to pass the FAA Instrument Rating knowledge test in just three days. In the 60-plus years since, Sporty's and AOPA have continued to partner on items critical to safety, fun, and the freedom to fly.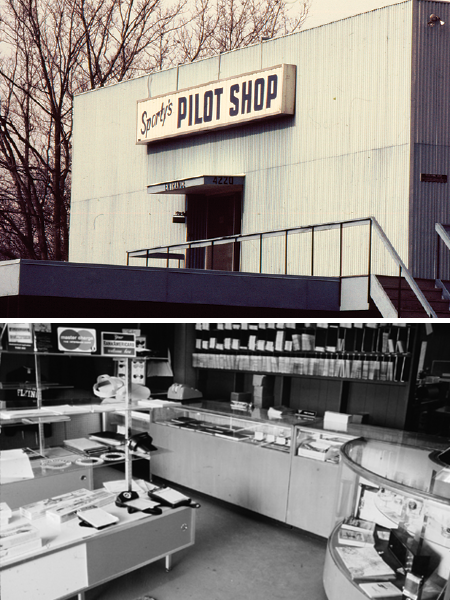 1963
First Store Opens at Lunken
As business grew, Sporty's moved into a permanent store at Cincinnati's historic Lunken Airport (LUK) terminal, the first of many moves. Now pilots could fly in and buy pilot supplies—something we still offer today.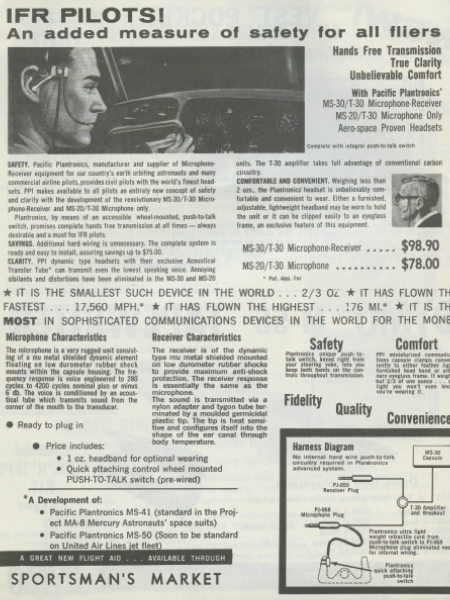 1964
Aviation Headset Pioneers
Sporty's pioneered the use of headsets in the cockpit, selling a small earpiece from Pacific Plantronics in the mid-1960s. This was a radical idea at the time, but it was a major improvement over scratchy airplane speakers.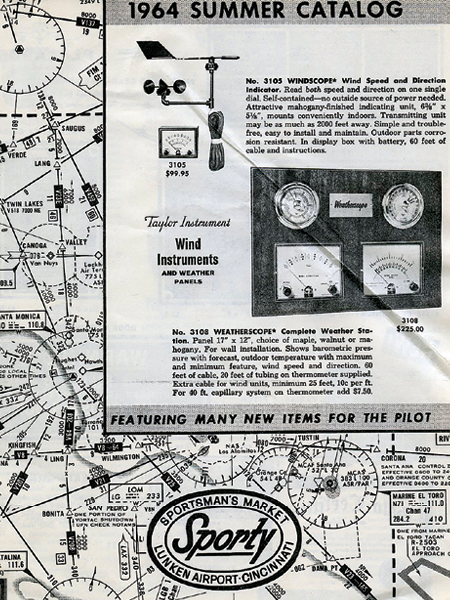 1964
First Catalog Mailed
Sporty's created and sent out its first ever pilot catalog in 1964, showcasing its growing array of aviation gear. It featured everything from chart cases to sunglasses. From the very beginning, Sporty's focused on fast, personal service.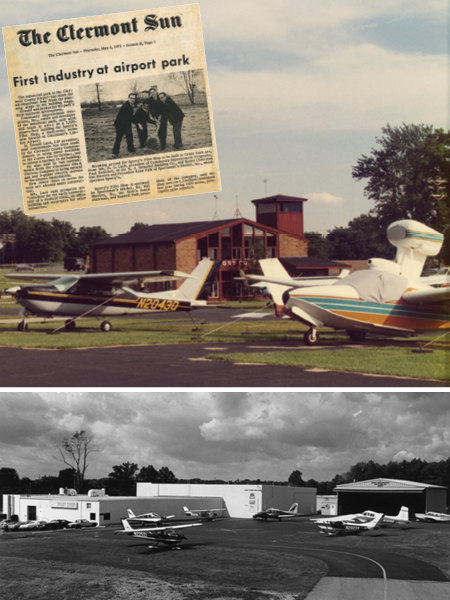 1971
Clermont County Airport (I69)
Sporty's outgrew its space at Lunken Airport and moved to the Clermont County Airport (I69) in 1971, the first of many businesses at the growing suburban airport. A small warehouse and office would eventually be expanded multiple times, but I69 is still our home.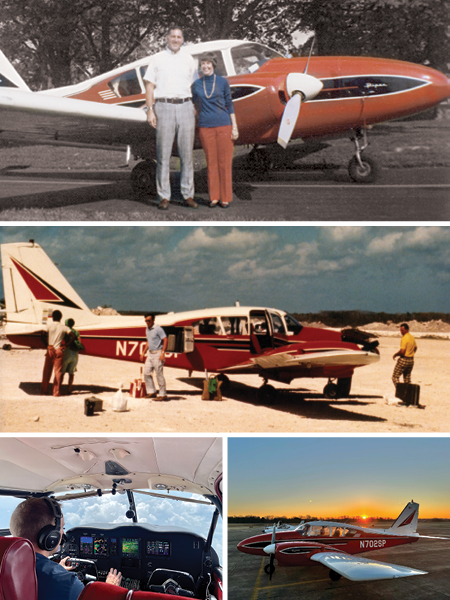 1972
Piper Aztec Joins the Fleet
A red Aztec was added to Sporty's hangar and would go on to fly countless trips and star in numerous videos over the next five decades. Sporty's Aztec is still an active fleet member and can be seen all around North America on its many flights.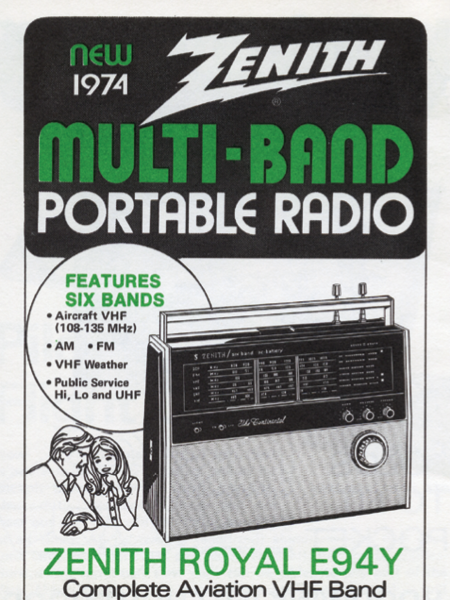 1974
Zenith Royal Radio
Radios improved rapidly throughout the 1970s, and Sporty's continued to be the place to find the best new products. This Zenith Royal E94Y model, from radio pioneer Zenith, packed a lot of features into a portable size: it could receive all aviation frequencies, weather, and UHF.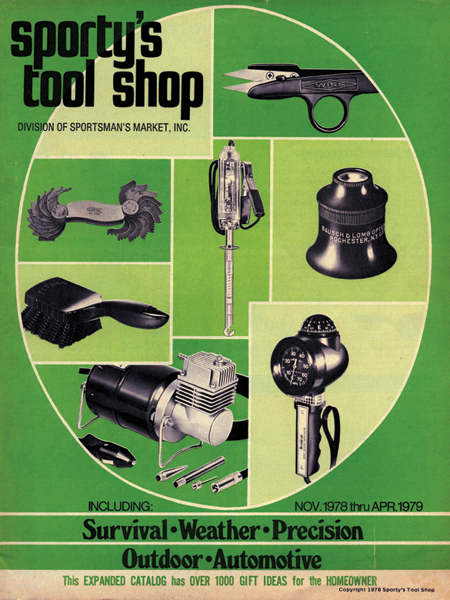 1976
Tool Shop Catalog Launched
Sporty's moved beyond aviation with Tool Shop, originally an insert into the Sporty's Pilot Shop catalog. This new brand catalog offered practical products for the home and garage, all backed by Sporty's famously high standards for quality and service.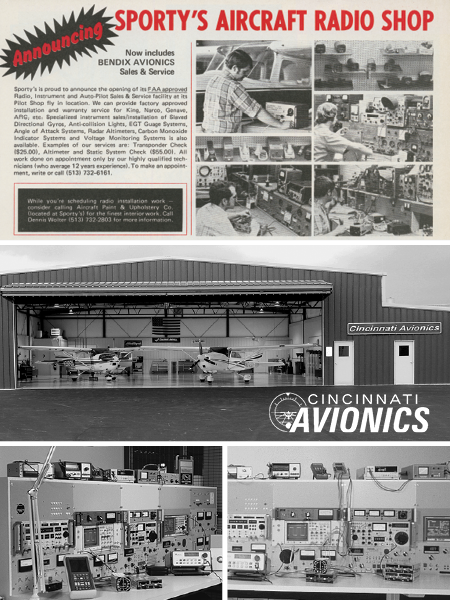 1977
Avionics Shop Founded
Extending its reach in aviation, Sporty's added an avionics shop to install and repair aircraft radios in light aircraft. Now called Cincinnati Avionics, we still pride ourselves on delivering world class service for piston airplanes, whether it's a simple upgrade or a complete panel overhaul.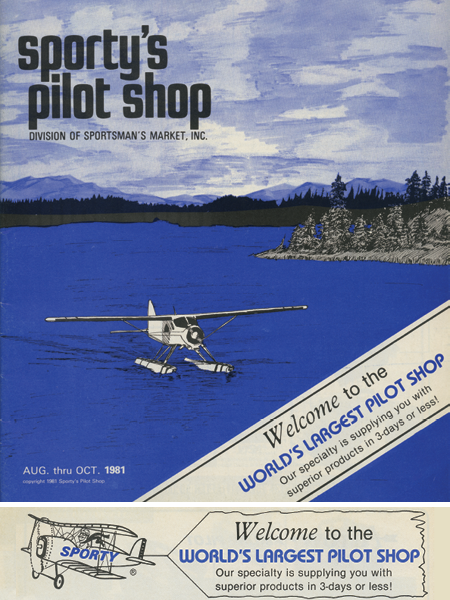 1980
The World's Largest Pilot Shop
By the 1980s, Sporty's could rightfully claim to be the "world's largest pilot shop," known by pilots everywhere for its unique selection of products.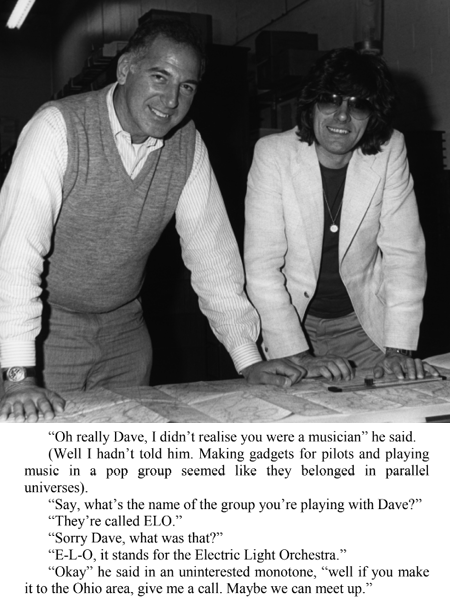 1981
Dave Morgan Visits
Dave Morgan, guitarist for the band Electric Light Orchestra and a flight instructor, visited Sporty's in 1981 to review his patented Timescale for pilots. It was just one of dozens of products where Sporty's partnered with a passionate pilot to make flying easier and safer.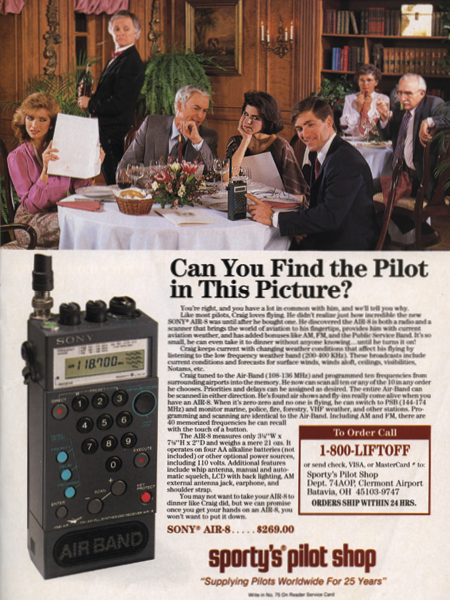 1984
Sony Air-8 Radio
Sony dominated consumer electronics in the 1980s, so when the company granted Sporty's an exclusive on the new Air-8 aviation radio, it quickly became a bestseller. This incredible device received longwave, AM, shortware, FM, public service band and aviation frequencies—all in a case that was less than 8 inches tall.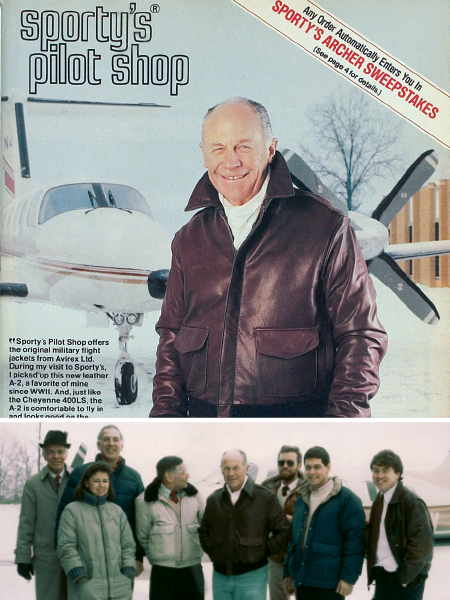 1985
Chuck Yaeger Visits
Legendary test pilot Chuck Yeager, the first person to break the sound barrier, visited Sporty's in 1985 for a catalog photo shoot. He was sporting one of our new leather bomber jackets, a growing product line in the mid-1980s.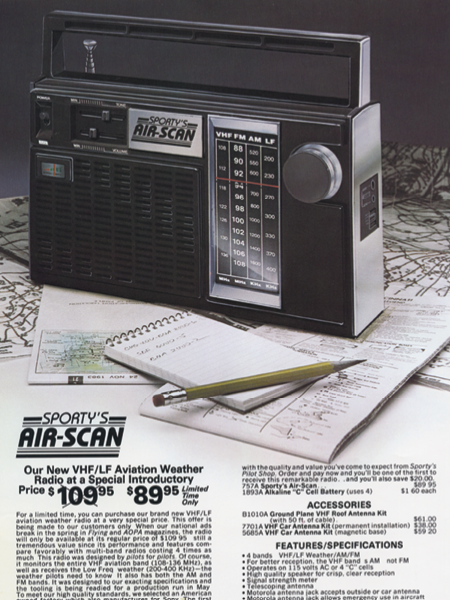 1985
Air-Scan Radio
After two decades of selling the finest radios, we decided to put our name on one. The Air-Scan was the first of many models designed by pilots and for pilots. For under $100, pilots could listen to all aviation frequencies, weather reports, plus AM and FM radio stations.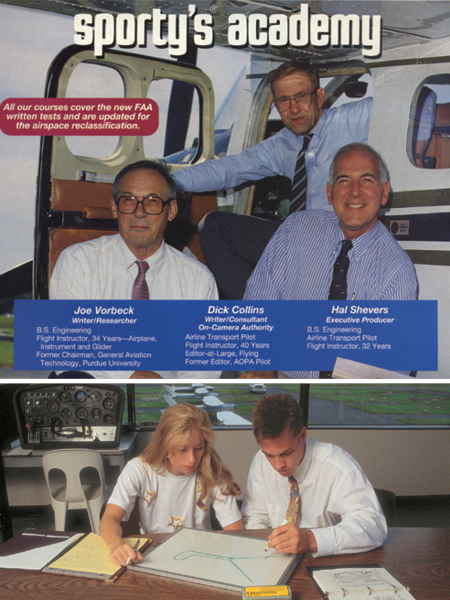 1987
Sporty's Academy Founded
By the late 1980s, Sporty's was a leader in both pilot training and supplies. To continue its growth, Sporty's Academy was founded to create a new generation of training courses. Using the latest video tools, we created over a dozen immersive training programs, hosted by well-known pilots like Rob Reider and Richard Collins. No longer limited by in-person ground schools, Sporty's was able to reach a worldwide audience with its flight training materials.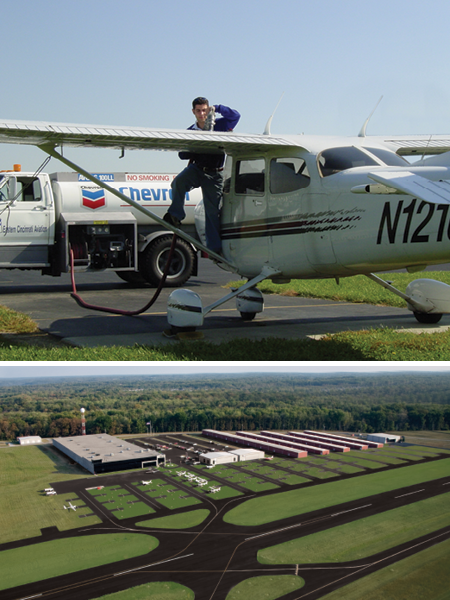 1988
Sporty's FBO Opens
Sporty's acquired Clermont Aviation, the fixed base operator at I69, and assumed airport management responsibilities. Today we still manage hangars, pump avgas, rent airplanes, and plow the snow off the runway in winter.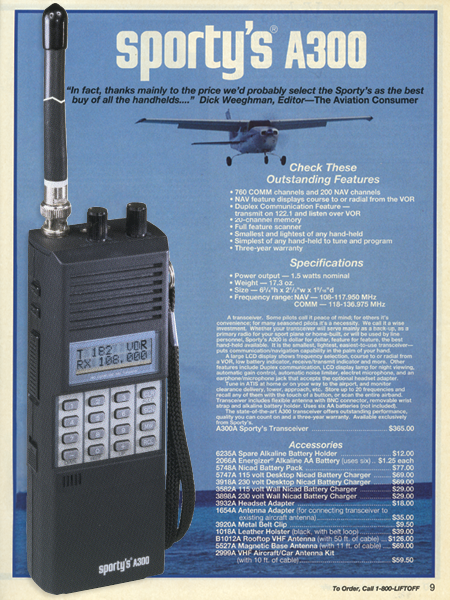 1989
Sporty's A300 NAV/COM Radio
Over 25 years after the Realtone radio, Sporty's introduced the A300, its first transceiver. The A300 was a landmark product, the first Sporty's radio that could both transmit on aviation frequencies and receive VOR frequencies. This made it a complete NAV/COM radio and the ideal backup for the traveling pilot.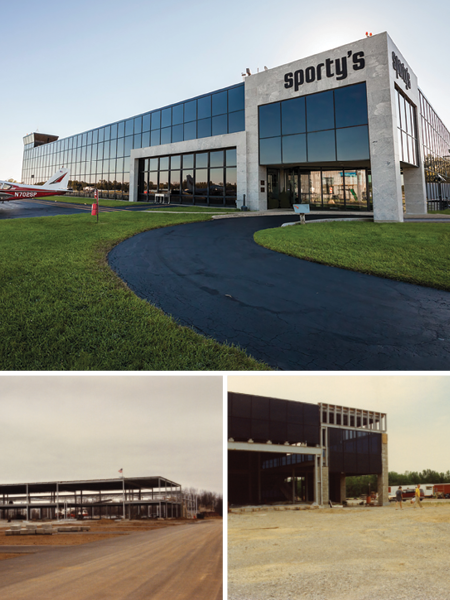 1990
A New Headquarters Building
After another decade of rapid growth, Sporty's was out of room again, so business moved into a new building across the runway at I69. This facility, with over 100,000 square feet of space, still houses our offices, warehouse, call center, and flight school—and it's right on the ramp at I69, so pilots can fly in and visit.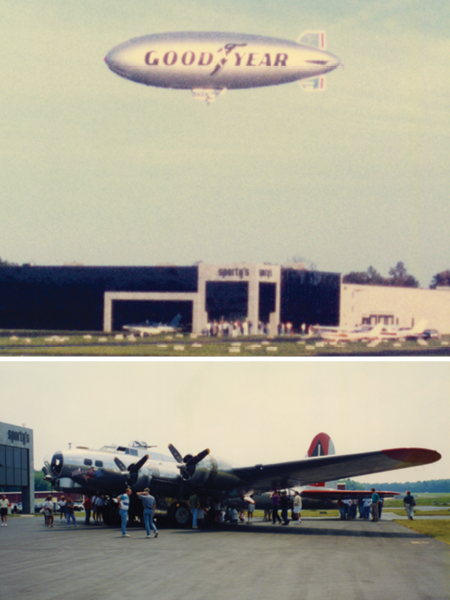 1990
Famous Aircraft Visits
Sporty's new building added a large ramp that was ideal for hosting aviation exhibits and traveling air shows. Over the years we've hosted many interesting aircraft, including warbirds, airshow planes, professional athletes' jets, and the Goodyear Blimp. The famous airship even appeared in a Sporty's video course in the 1990s.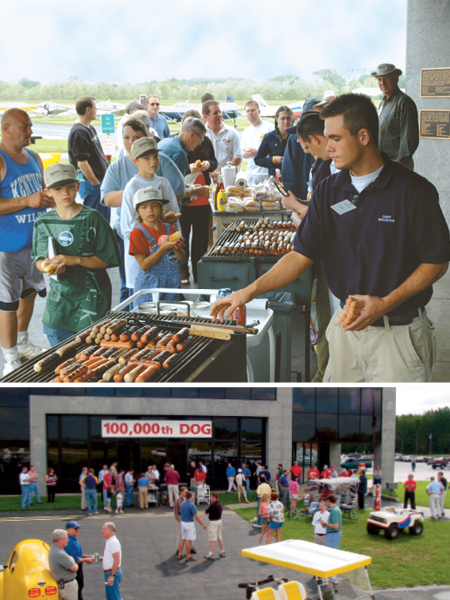 1991
Free Airport Cookouts
Sporty's began to host free cookouts on its ramp every Saturday, making it the ultimate "$100 hamburger" destination. In the decades since, flying to Sporty's for a hot dog has become a popular ritual for pilots in the Midwest. We've served up over 250,000 hot dogs!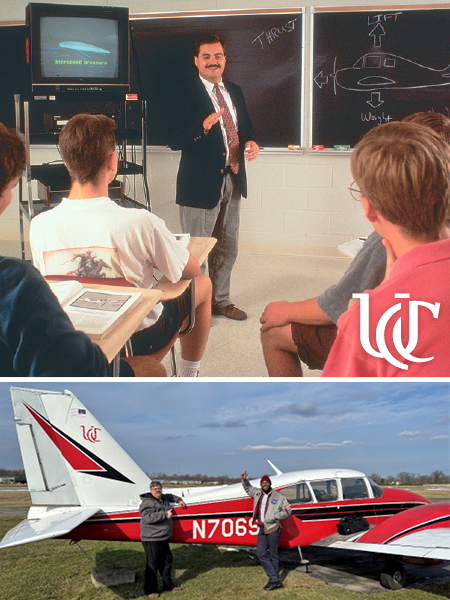 1992
University of Cincinnati Partnership
While Sporty's had operated a flight school for many years, in 1992 we added a new level of training when we partnered with The University of Cincinnati to create a professional pilot degree program at the Clermont County Airport. Today, Sporty's Academy is an FAA-approved Part 141 flight school and provides flight training for hundreds of students a year, including international students.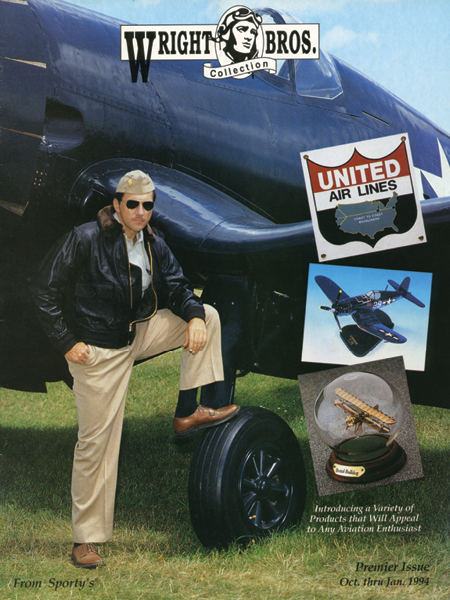 1993
Wright Bros. Collection Introduced
Sporty's has offered unique aviation gifts since its founding in the 1960s, but in 1993 we expanded our selection of models, shirts, and home decor with the launch of our Wright Bros. Collection. This new catalog featured everything for the aviation enthusiast, and is still growing today.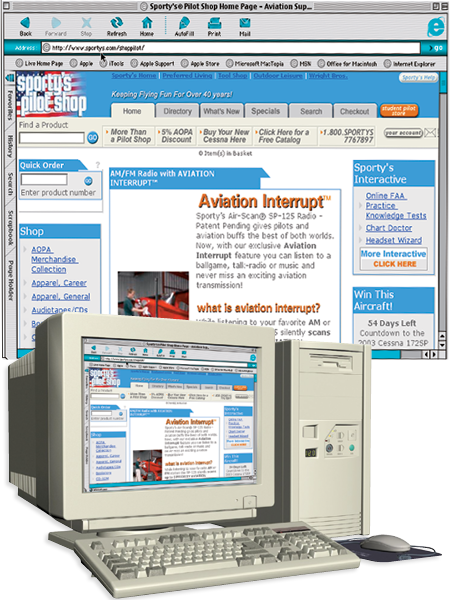 1996
Sporty's First Website
By the mid-1990s, a new idea called the World Wide Web was becoming increasingly popular so Sporty's created its first website, ushering in a new way to shop. Three decades later, sportys.com is still the place to find the best pilot supplies and training courses (no dial-up modem noises required!).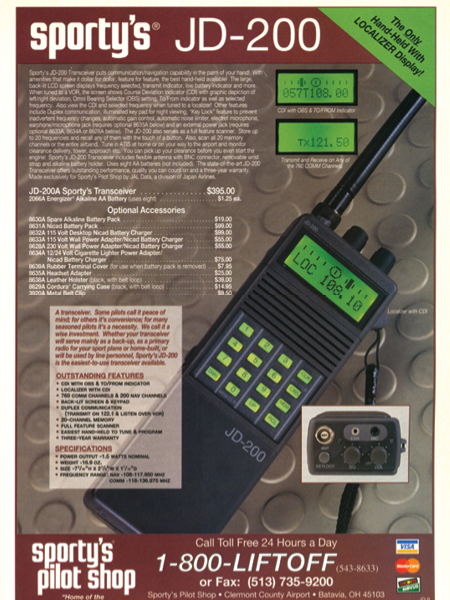 1996
JD-200 NAV/COM Radio
Building on the success of the A300, the JD-200 included full NAV/COM features but added localizer reception and a higher resolution screen. Now pilots could shoot an instrument approach with their hand-held radio—an incredible safety tool in an emergency.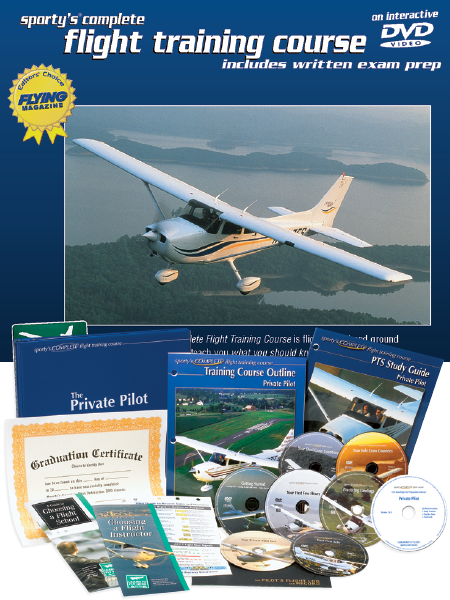 2001
DVD Courses
Sporty's was an early adopter of DVD technology, which represented a huge upgrade over VHS tapes that could wear out. The move to DVDs also allowed us to offer more learning tools than ever before, including interactive review quizzes. We were honored to win a Flying magazine Editors' Choice Award in 2001 for our new DVD courses.
2007
Flight Instructor Hall of Fame
Hal Shevers, founder of Sporty's, is proud of being a longtime flight instructor. In fact, Hal has so distinguished himself and his high standard of training that in 2007 he was inducted into the National Flight Instructor Hall of Fame at a ceremony in Oshkosh, Wisconsin—an honor granted only to a few instructors.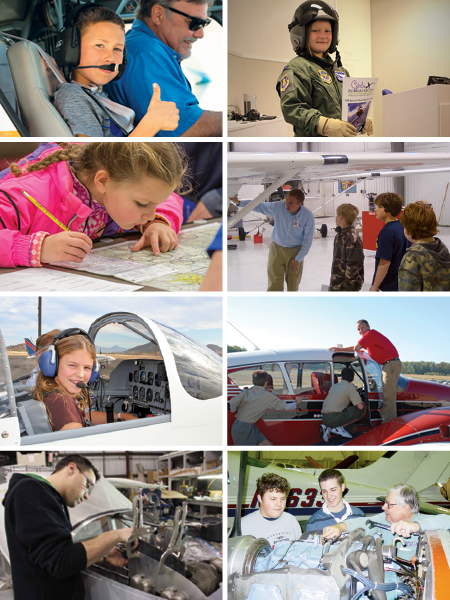 2008
Sporty's Foundation Created
Sporty's has a proud history of philanthropy, with a particular focus on youth in aviation. In 2008 we formalized our efforts with the creation of The Sporty's Foundation, a 501(c)(3) charitable organization. One of its first programs was a partnership with EAA to offer Young Eagles free access to Sporty's Learn to Fly Course. In the years since, millions of dollars have been donated to aviation causes.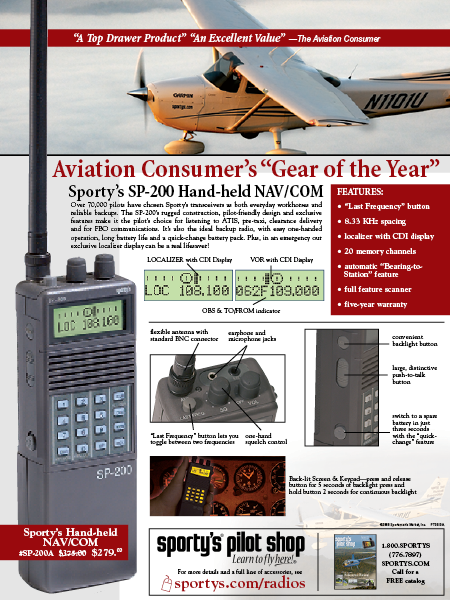 2008
SP-200 NAV/COM Radio
The SP-200 was the next evolution of Sporty's portable NAV/COM radios. It added a handy last frequency button that allowed pilots to "flip flop" between two frequencies, plus 8.33 KHz spacing for use in Europe.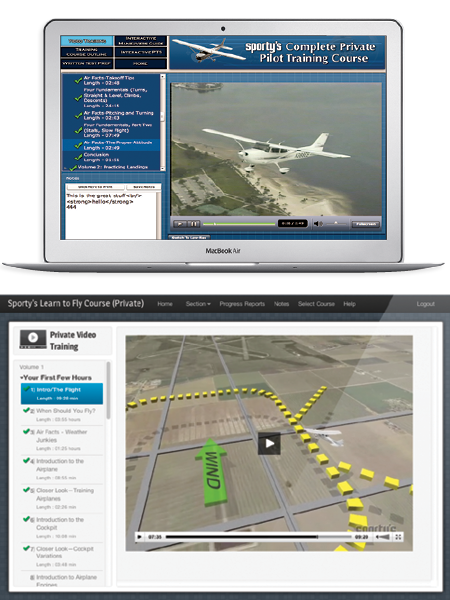 2010
Interactive Online Courses
Sporty's once again led the pilot training industry with the launch of our interactive online courses. Using the latest web browser technology, Sporty's online pilot training courses made it easier than ever to learn from home—no software to install and no DVDs required. We even pioneered high definition video in aviation.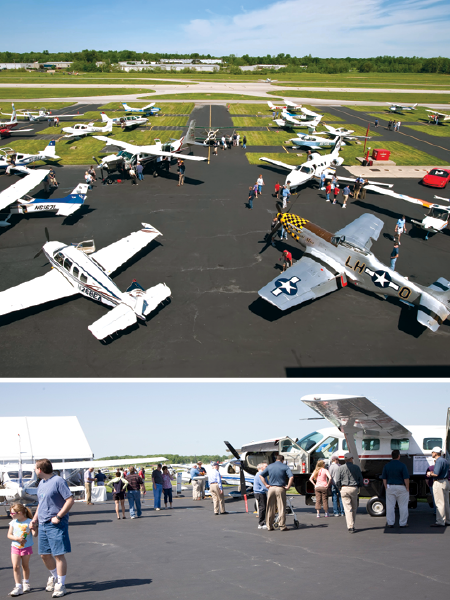 2010
Sporty's Fly-In
Clermont County Airport has always been an active general aviation airport, but in 2010 we upgraded our weekly cookout when we hosted a fly-in. This all-day event welcomed hundreds of airplanes and thousands of pilots.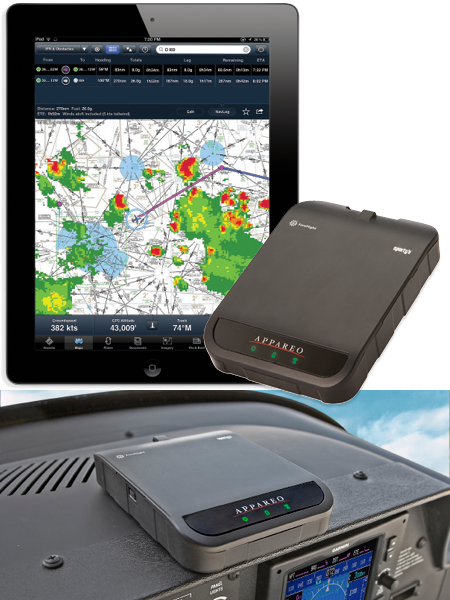 2011
Stratus ADS-B Receiver
Continuing our commitment to innovative technology that makes flying easier and safer, Sporty's partnered with ForeFlight and Appareo to launch Stratus, a portable device that delivered subscription-free weather to pilots' iPads. Upon its introduction in 2011, it instantly became a sensation and changed how pilots flew cross-country flights.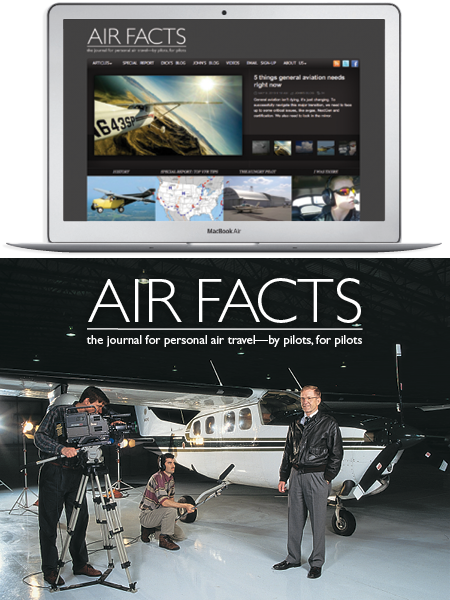 2012
Air Facts Relaunch
Air Facts, a magazine founded in 1938 by Leighton Collins, was relaunched by Sporty's as an online magazine. While famed aviation journalist Richard Collins was the editor of Air Facts when it relaunched, most articles are written by readers. Today, it's just one of many online publications produced by Sporty's.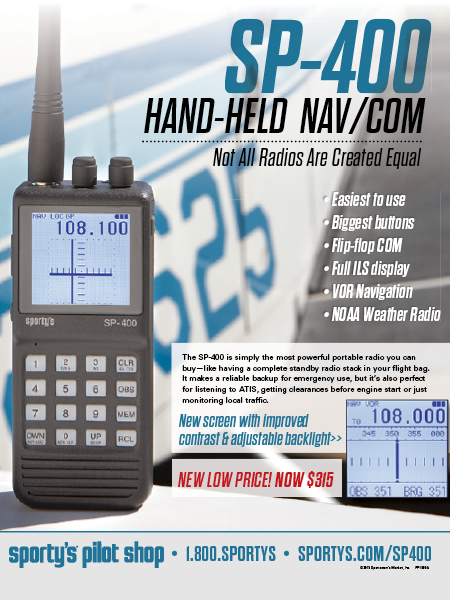 2015
SP-400 NAV/COM Radio
After adding VOR and localizer reception, the next step in Sporty's radio series was clear: full ILS approach capability. That's exactly what the SP-400 did, showing both the localizer and glideslope on its large, backlit screen. It truly was a portable avionics stack.
2017
Cirrus Vision Jet Auction
Sporty's is always looking for creative ways to support aviation charities, and in 2017 we partnered with Cirrus Aircraft for a truly unique fundraiser. We auctioned off one of the first Cirrus Vision Jets at Oshkosh and raised over $650,000 for worthy causes.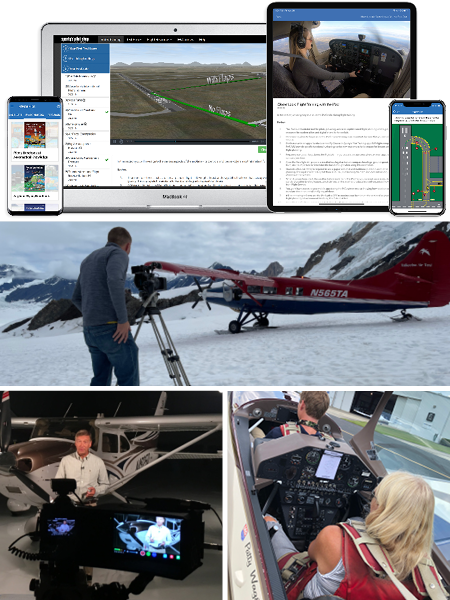 2020
Major Course Updates
Technology has never moved faster than it does now, and Sporty's Pilot Training platform continues to take advantage of all the latest tools. Now pilots can study online on our custom learning platform or in our dedicated mobile apps for phones and tablets—we even offer smart TV apps. Our course library has grown to over 25 titles, covering everything from primary training to aerobatics.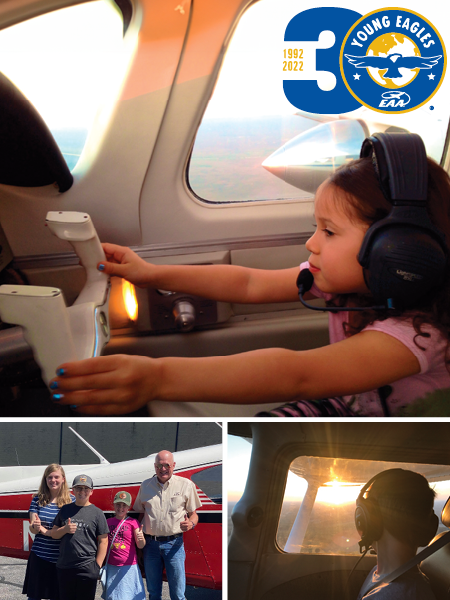 2022
Young Eagles 30th Anniversary Kickoff
Sporty's, a longtime supporter of EAA Young Eagles, hosted the kickoff of the program's 30th anniversary in 2022. In those 30 years, more than 2 million young people have been introduced to flying with a free airplane ride—the most successful youth program in aviation history.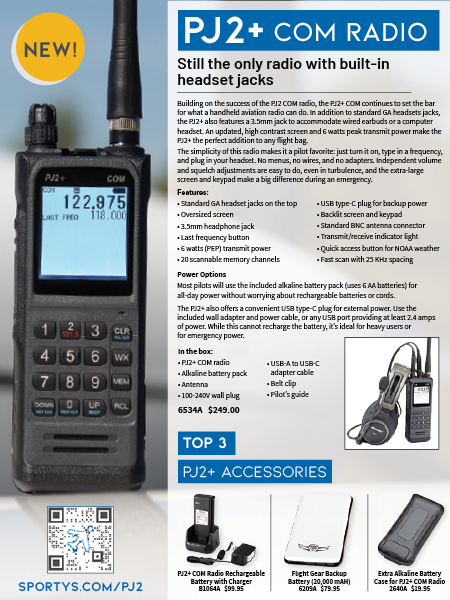 2023
PJ2+ COM Radio
Sixty years after the Realtone, Sporty's is still making aviation radios. With the popularity of electronic flight bag apps, pilots increasingly use portable radios for backup— and that's exactly the role we had in mind when we designed the PJ2+. Its patented design has built-in headset jacks, so pilots can save time and plug right into their radio.
our future
While everyone at Sporty's is proud of our rich history, we stay focused on the future. Our goal is to make flying safer, easier, and more fun— so we're always creating new products to do just that. We're also passionate about supporting the next generation of pilots, maintenance technicians, and engineers. The Sporty's Foundation, a registered 501(c)(3) organization, partners with EAA's Young Eagles, the Aircraft Owners and Pilots Association, Aviation Exploring, and Women in Aviation International, and many other organizations who share the vision to help young people with an interest in aviation
Want to know more about Sporty's?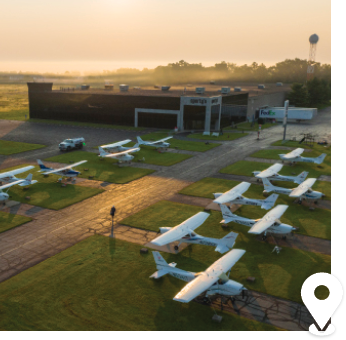 Visit Us
Whether you arrive by car or by airplane, the welcome mat is out for our customers. Learn how to visit our airport store.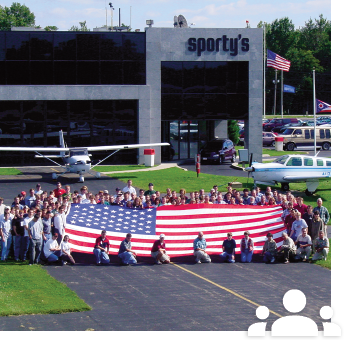 Meet Our Team
Get to know our team members and learn about their product recommendations, what plane they fly, and more.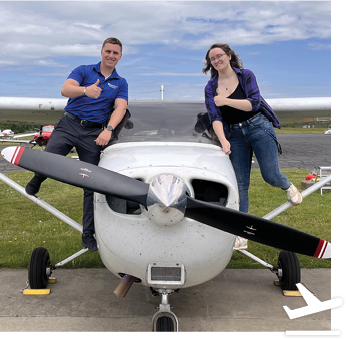 Flight School
Want to learn how to fly? Sporty's Academy provides the best available flight training to our students.