Smartwatches are one of the hottest categories in the consumer electronics business, with over 100 million sold in 2021 alone. While behemoths like Apple and Fitbit get much of the attention from the media, Garmin has also carved out a successful niche, in its case with GPS-enabled smartwatches that combine fitness tracking with powerful navigation features. That makes them perfect for pilots, who can use them both inside the airplane and at home.
The latest model from Garmin is the D2 Air X10, which replaces the best-selling D2 Air. It retains the vivid touchscreen and pulse oximeter from its predecessor, but adds new smart assistant features so your watch can now integrate seamlessly with Siri or Google Assistant. After testing it for the last week, we think it's the best pilot watch yet.
Pros
+ Hands-free integration with Siri and Google Assistant
+ Lightweight and comfortable for wearing all day
+ Bright, vibrant screen and easy-to-use touch interface
+ Incredible 7-day battery life in smartwatch mode
+ Built-in pulse oximeter, GPS, and altimeter
Cons
— Requires smartphone for some features
— Lacks higher end running tools
— No moving map or radar on the watch
— Not as many app options as Apple Watch
Garmin's best screen yet
The first thing you notice about the D2 Air X10 is the weight, or the lack of it. One of our complaints about the otherwise-impressive D2 Delta has always been size and weight—if you have a smaller wrist, the watch dominates. Compared to that, the D2 Air series is almost 50% lighter (less than 2 ounces) and thinner, while maintaining the same screen size. It's really a normal watch size and we found it quite comfortable to wear all day long. No more "big pilot watch" jokes! It comes with a comfortable silicone band for sports use (available in white or ivory), and it's easy to switch to other bands with Garmin's quick-disconnect fitting.
Here's a comparison of the D2 Delta PX (left) and the D2 Air (right).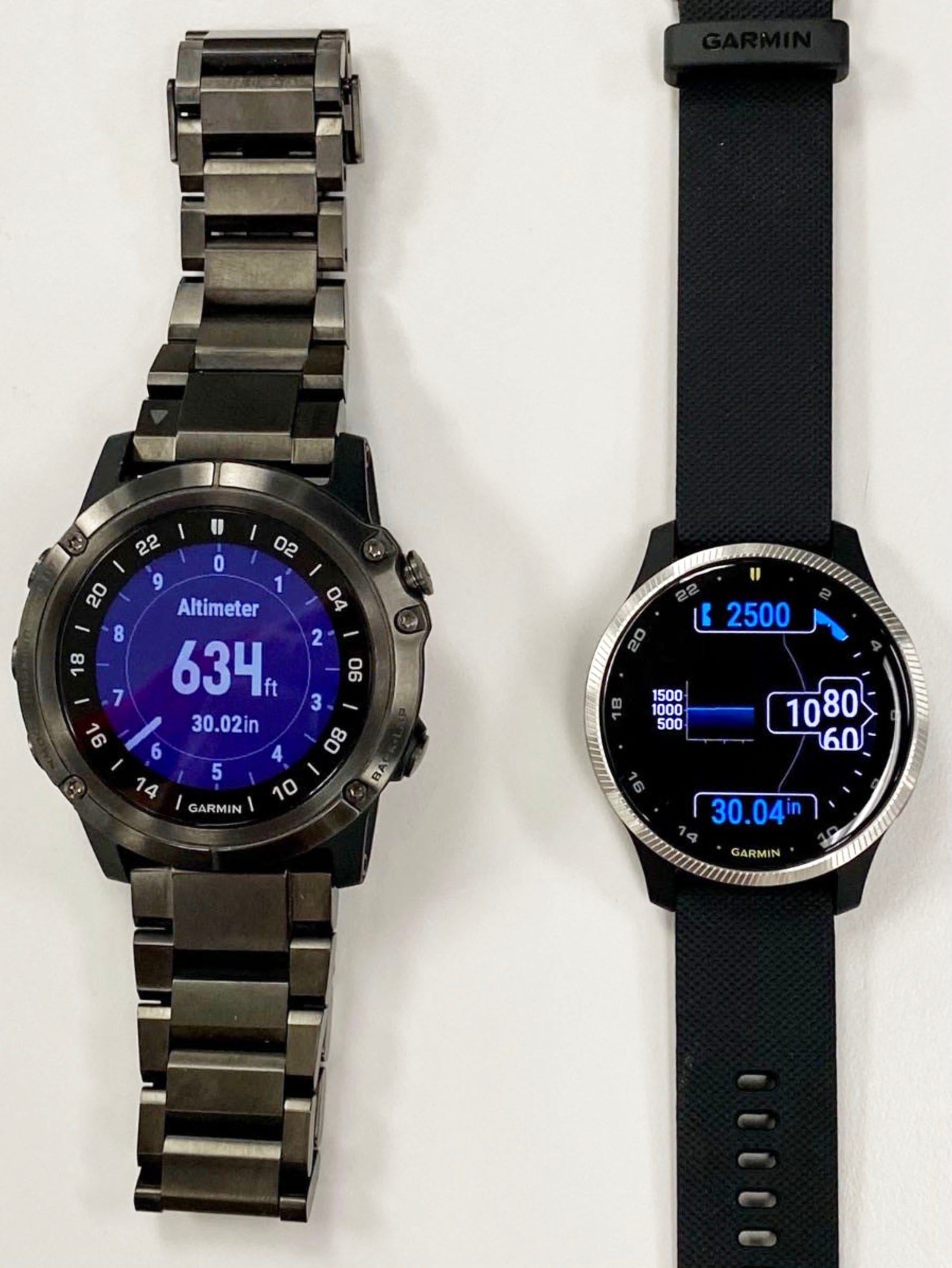 The next thing you notice about the D2 Air is the screen, which uses AMOLED like you see on high end smartphones. It's a huge step up in performance, both higher resolution and brighter than the D2 Delta and Charlie. The customizable watch screens are much more vivid and easier to read in varying light conditions, with a huge variety of colors and sharp text. We took it out in direct sunlight and, while there was some glare at certain angles, it was completely readable. On the other hand, there's a night mode that makes the watch darker to protect night vision. There's even an option to have the screen stay on full time. This will reduce battery life, but it's a nice option if you plan to recharge your watch every night. Otherwise, the screen turns on when you tap it or raise your wrist.
Besides being brighter and easier to read, the display changes the interface from mostly buttons on the bezel to mostly touchscreen. This is much easier to use—we're all used to smartphones and tablets, and this watch operates pretty much like you'd expect. Swipe up and down from the main clock screen to see new screens (Garmin calls them widgets) and tap to select features. In fact, we were able to use all the main functions without reading the instruction manual, something we can't say for the D2 Charlie and Delta series, which require a lot of button pushes.
So what can the D2 Air X10 do? Almost anything you can imagine for a smartwatch. The main watch screen shows local time and date, Zulu time, wind direction and speed, local METAR conditions, and the local weather forecast. Press and hold the top right button to open the full list of activities, including aviation mode, music, or payments.
Aviation features
For flying, it comes with a worldwide database built in, so you can navigate direct-to a waypoint or choose the nearest airport. A built-in GPS means it's a totally independent backup navigator, with no need for a connection to your phone, tablet, or avionics. You can see data fields, with distance, time en route, etc., or use the HSI screen. This certainly isn't ideal for everyday navigation, but in an emergency situation or as a backup to situational awareness, it would work.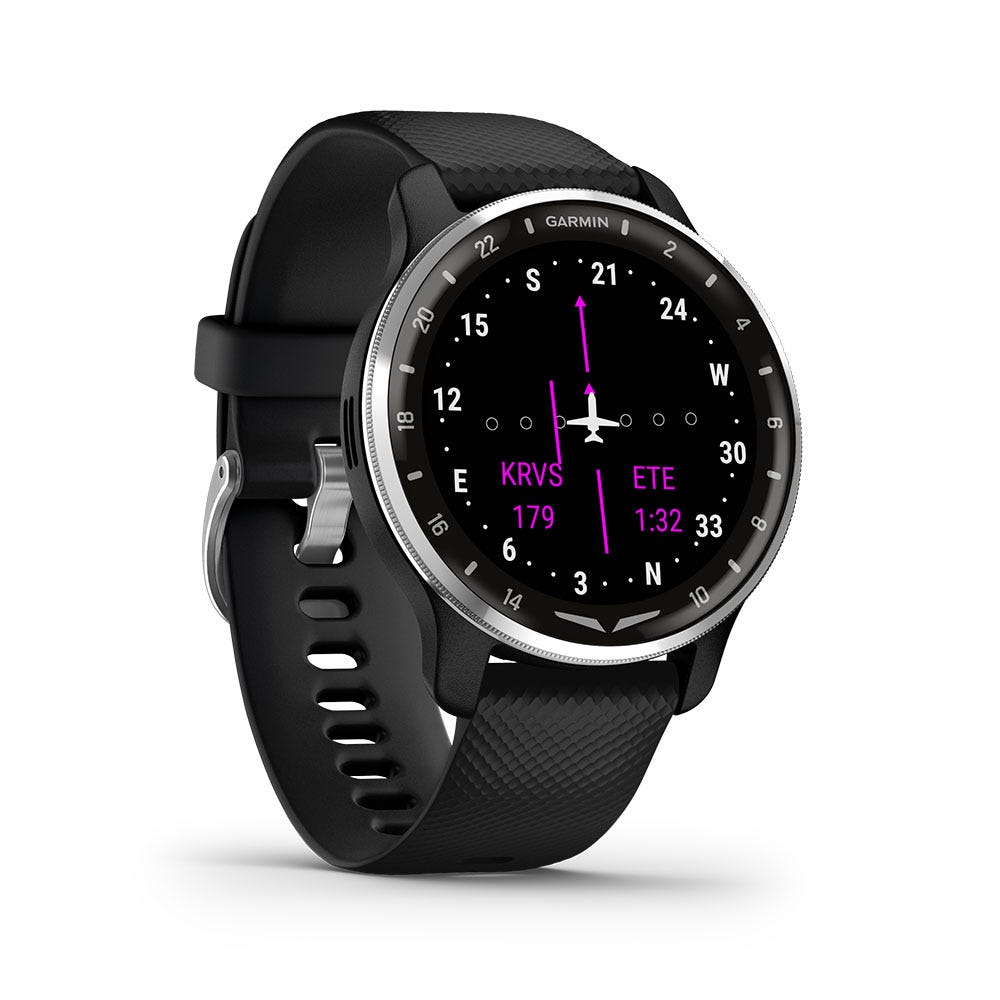 Also notable is the built-in pulse oximeter to track blood oxygen levels, a feature that is quickly becoming a must-have for pilots. This takes readings directly from your wrist, so you can just swipe to the pulse ox screen and wait about 15 seconds for a reading. In our testing it was comparable to finger-tip sensors, although all of these devices should be used for trend monitoring rather than extreme medical accuracy. In general, if the reading says less than 92% it's probably time to think about oxygen and if it gets much below 88% it's time to take immediate action. Your mileage may vary, but we like having this sensor on our wrist. If you haven't flown with a pulse oximeter before, you'll probably find that you need oxygen lower than you expected.
There's yet another built-in sensor on the D2 Air X10: a barometric pressure sensor shows real-time altitude. This is viewable on a dedicated altimeter screen, and can be used to create vibrating alerts. For example, you can get an alert as you climb through 12,500 feet, reminding you to use oxygen. Or you could set your cruise altitude to make sure you don't drift up or down. The altimeter can even be corrected for the local barometric pressure setting using a nearby METAR.
Those vibrating alerts are also useful as an in-flight fuel timer. If you need to switch tanks every 30 minutes, it's easy to set this up and get regular alerts in flight.
To really unlock the full list of aviation features, pair the D2 Air X10 to your phone. This allows the watch to display current METARs and TAFs, or show the current wind as a small data block on the main watch screen. There's even an automatic flight logging feature that will detect new flights and sync that data with Garmin Pilot. Flight plan sharing is also an option, so you can create a complicated IFR route in Garmin Pilot then send it instantly to your watch.
One other minor feature that we find very helpful: the D2 Air X10 can serve as a GPS position source for a tablet without its own GPS built in. So if you're flying with a WiFi-only iPad, you can get moving map features without another wireless device.
Smartwatch features
Beyond flying, this is a full-featured smartwatch that's right at home completing daily tasks. Using the free Garmin Connect app, you can get email, text, and phone alerts right on your wrist. You can also review upcoming calendar appointments and pay at stores with Garmin Pay, a contactless payment option that's fast and easy once you complete the initial setup.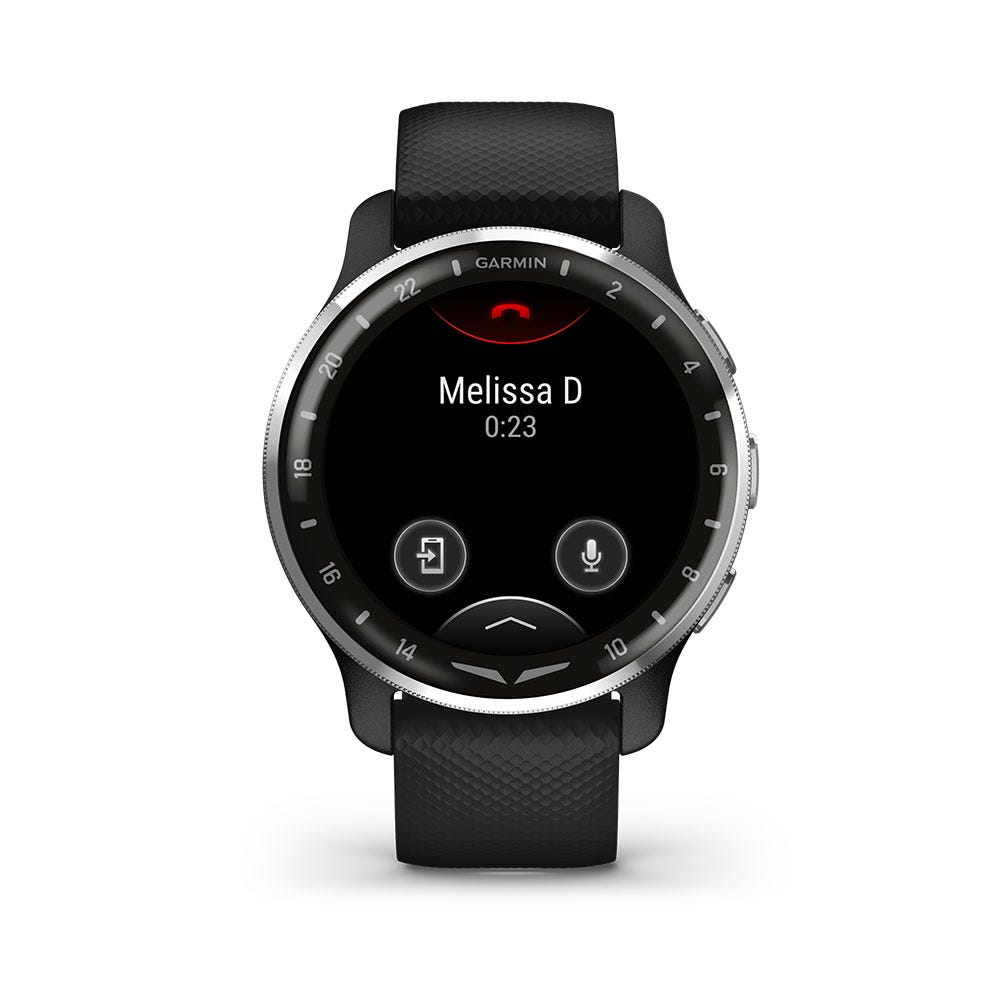 New on the D2 Air X10 model, you can make and take phone calls from your watch (and leave your phone in your pocket) with the built-in microphone on the watch bezel. Voice assistant control is also new, which means you can use Siri, Google Assistant, or Bixby to send texts or ask questions.
The D2 Air can also download music for offline playback, ideal for your next run or bike. This works with Spotify and Amazon Music (no Apple Music), and is a surprisingly helpful feature for anyone who likes to carry fewer devices. You can pair the watch to wireless headphones like the Bose SoundSport for workouts.
Switch into fitness mode and this multi-talented watch does pretty much everything you could ever want. Dedicated modes help you track your next run, swim, or bike ride, complete with heart rate and GPS-derived speed. It doesn't have all the high end training features of Garmin's premium running watches, but it's plenty for all but the most hardcore runners, including heart rate zones and alerts, pace and cadence tracking, and VO2 max. It will even function as a rangefinder on your next golf round.
Battery life is quite good for such a small watch with a bright screen. Garmin advertises seven days in smartwatch mode and 20 hours if you're going all out with GPS and pulse oximeter mode—that's about what we saw in our testing, and much better than the Apple Watch.
After listing everything the D2 Air X10 can do, it's pleasantly surprising to learn that the price is only $549. Compared to well over $1000 for some analog "pilot watches," we think it's a great value. While it lacks the huge App Store of the Apple Watch and is about $100 more expensive, it's a worthy competitor in terms of screen, build quality, and everyday features. Add in Garmin's aviation-specific tools and long battery life, and the D2 Air X10 is easily the best aviator watch we've ever tried and gets our enthusiastic endorsement.