Staying organized and staying connected to students is essential for any flight instructor who wants to be their best. Sporty's CFI Portal, part of our Learn to Fly Course, makes this easier than ever. Available free to any active flight instructor, this suite of tools includes lesson plans, a free refresher course, FAA library, and more. No trial, no credit card, and no catch—just sign up and enjoy these exclusive benefits.
1. Student progress sharing.
Flight instructors can monitor the progress of their students in Sporty's pilot training courses, including video segments and test prep sessions. Detailed reporting makes it easy to review missed questions during a ground lesson, and CFIs can also watch the entire course to stay in sync on key topics. Power user options are ideal for flight schools: create classrooms, bulk invite students, and export your roster to a .csv file.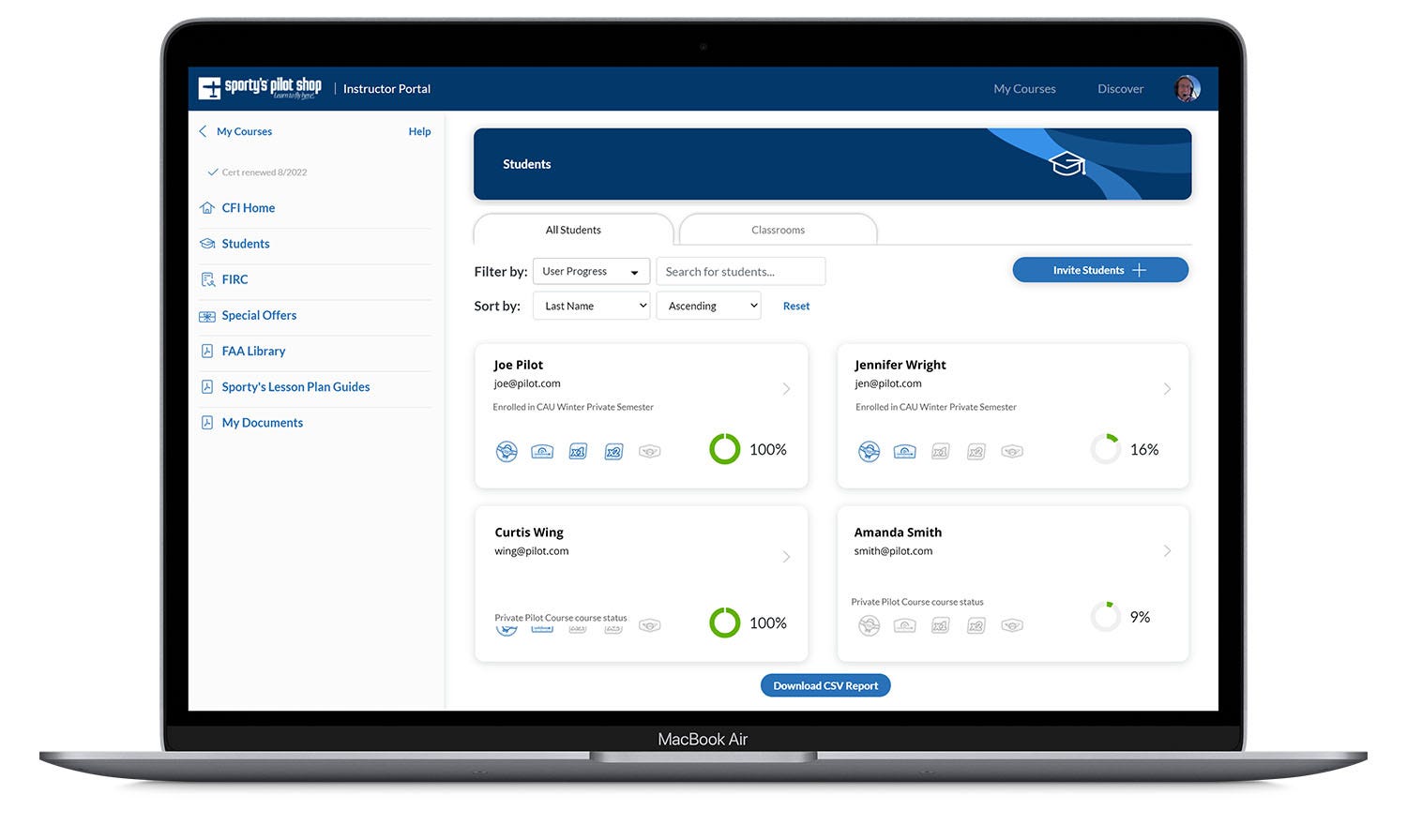 2. Sporty's lesson plans and endorsement guides.
Developed for use in Sporty's own flight school, these detailed outlines will save CFIs hours of time. The lesson-by-lesson syllabus offers a structured plan for training, while ground lesson guides and maneuver guides make each lesson more productive. Also included is Sporty's guide to FAA endorsements, with templates for the most common endorsements, from first solo to complex sign-off.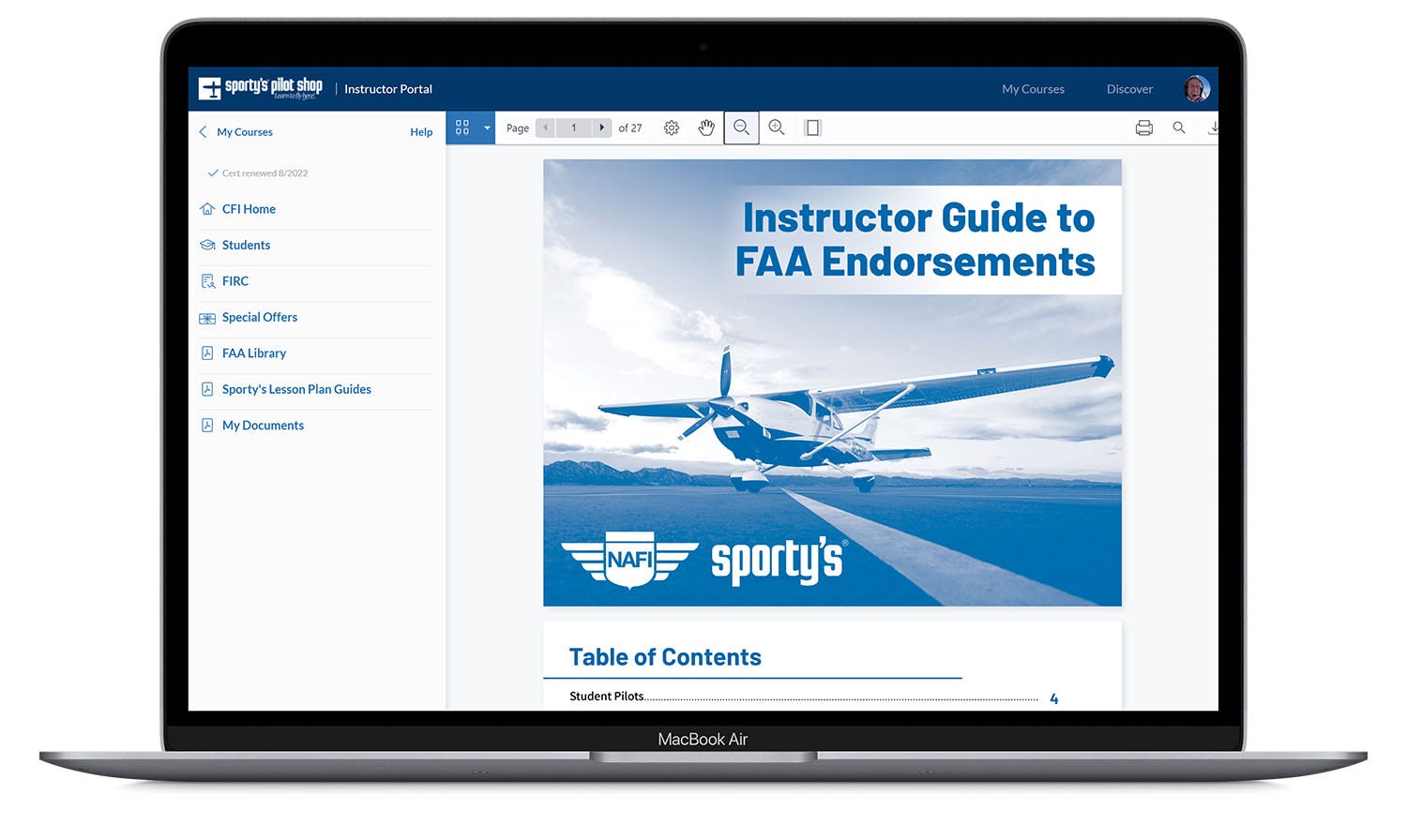 3. Flight Instructor Refresher Clinic (eFIRC).
Sporty's online FIRC satisfies the requirements to renew your CFI and will vastly improve your teaching skills. Best of all, CFI Portal users get it completely free. Delivered in a convenient online format, it's universally accessible for PC, Mac, and mobile devices.This comprehensive course contains 17 lessons broken down into learning modules for ease of study.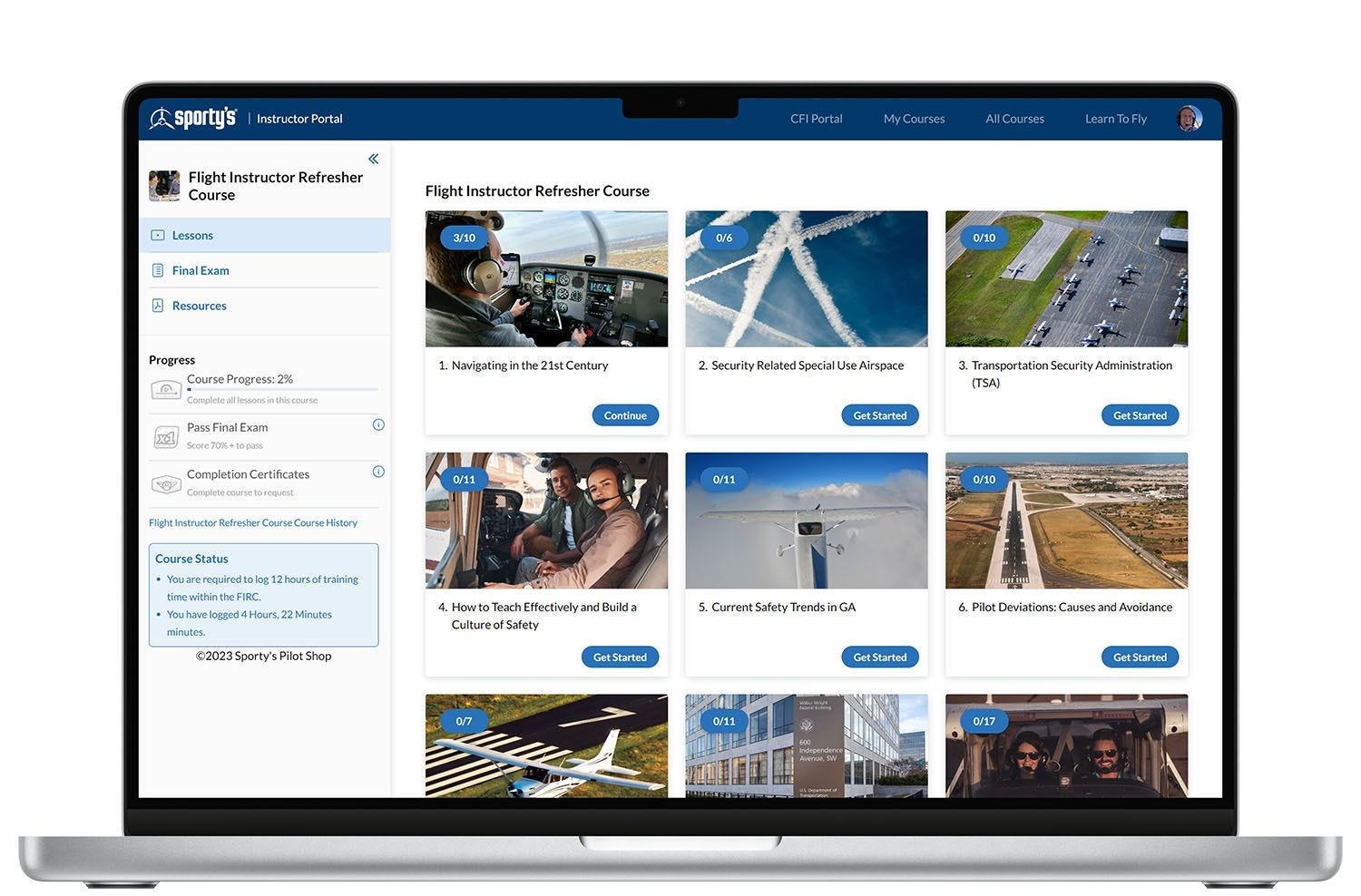 4. Comprehensive FAA library.
Access the latest editions of essential FAA books, including the Airplane Flying Handbook, Pilot's Handbook of Aeronautical Knowledge, Aeronautical Information Manual, and much more. Each document is indexed and includes powerful search and annotation options to make teaching more meaningful. Instructors can even upload their own documents, like standard operating procedures or checklists, making for a complete resource library.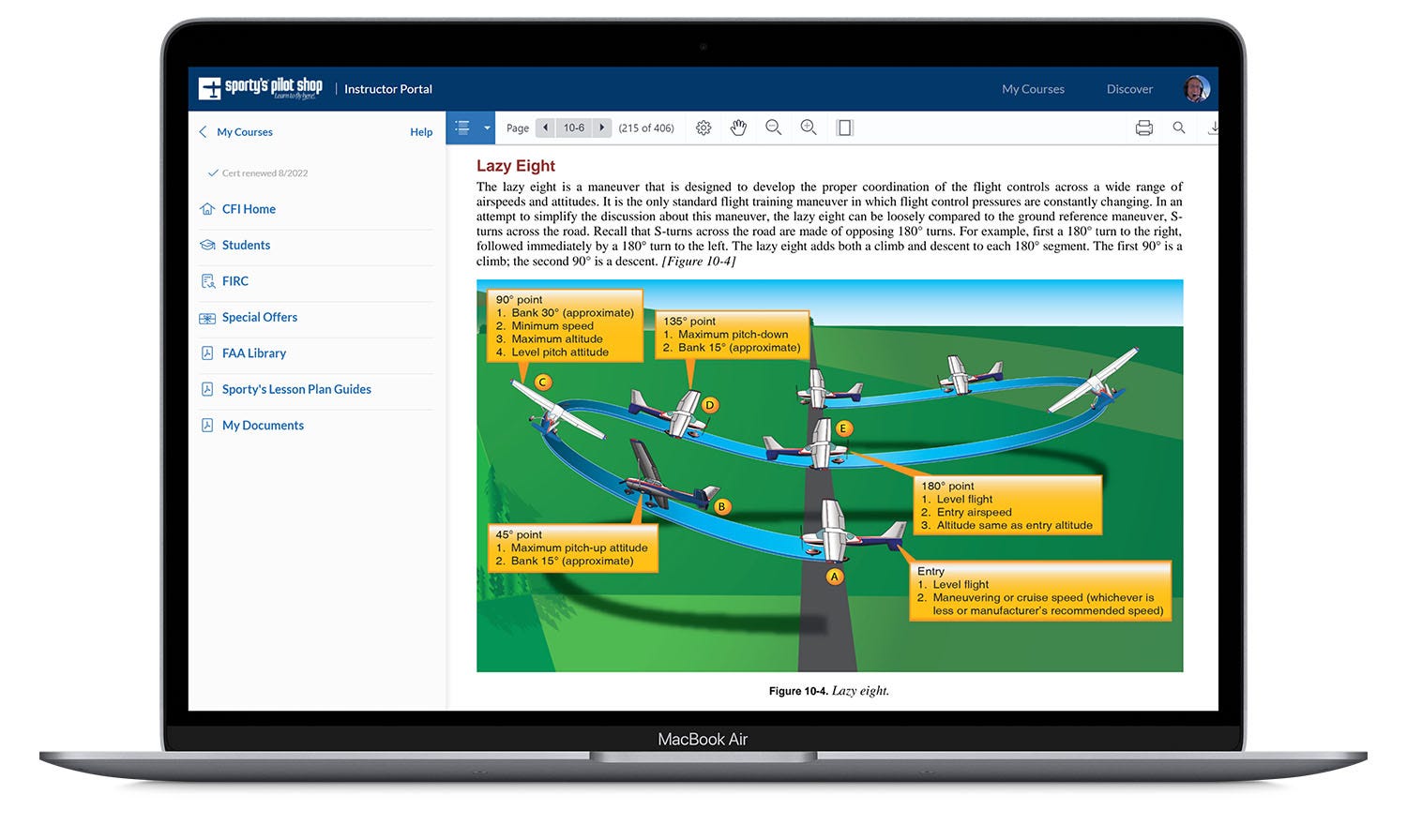 5. Special offers for CFIs.
Flight instructors even get access to unique savings on top-rated pilot supplies. Sporty's CFI Portal includes special offers on Bose and Lightspeed headsets, flight bags, kneeboards, and more. There's also the option to earn a $25 gift card for every Sporty's course a student buys.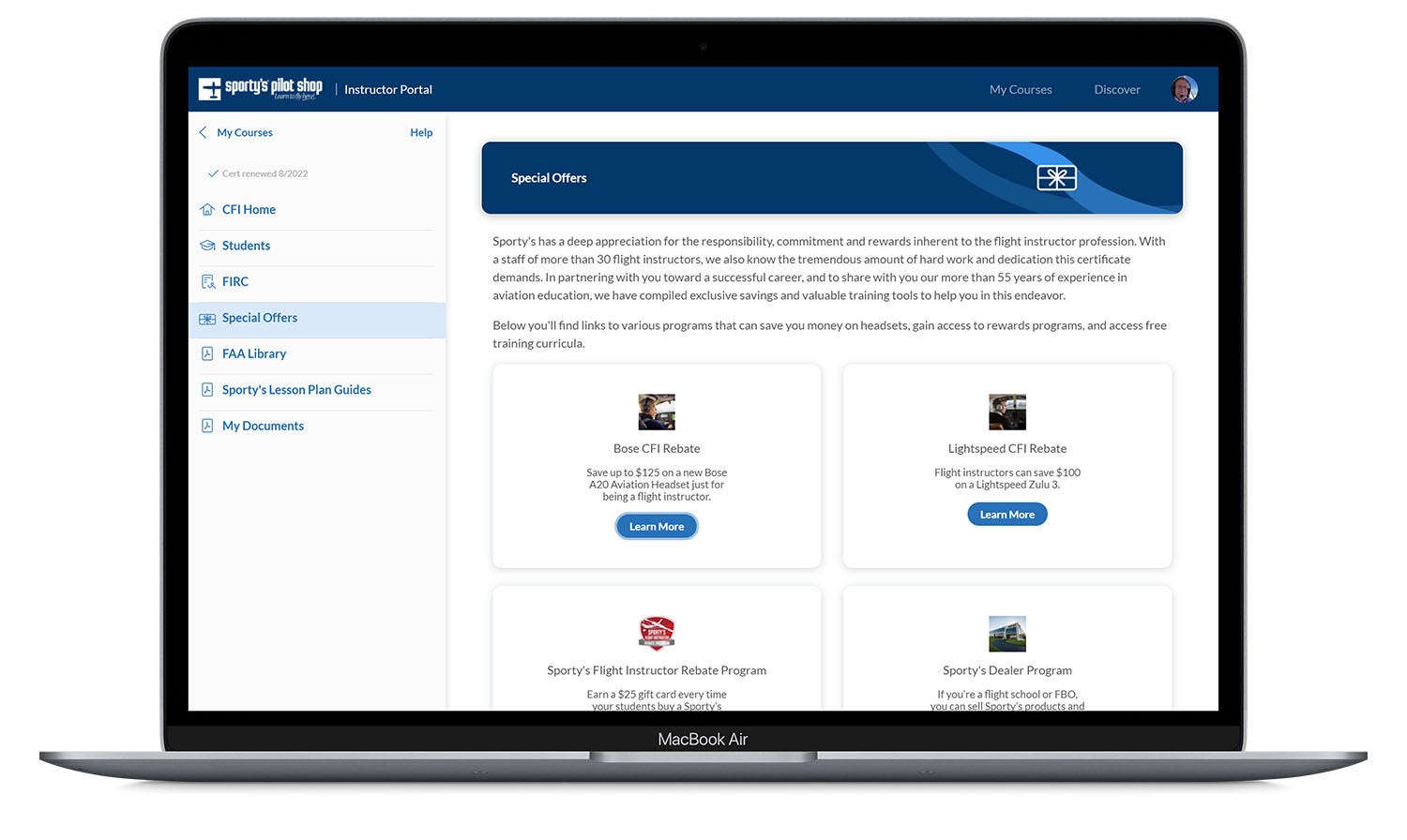 Flight instructors - sign up for free >>
Students - purchase the Learn to Fly Course >>