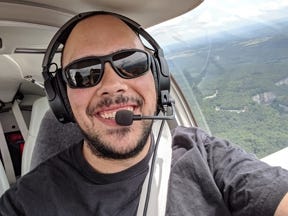 Josh is a nurse practitioner and has previously served as a volunteer firefighter and EMT. He aims to continue his volunteerism in aviation through Civil Air Patrol and by participating in medical relief flights. Josh plans to put his scholarship toward the completion of his Private pilot studies and checkride before transitioning to Instrument training.
Josh describes his lifelong affinity for aviation: "I have wanted to fly since I was a kid, originally hoping I would someday fly for a commercial airline. I pursued a different career path, but have finally decided to take the plunge into aviation. I plan to use flying to help others."
Sporty's Flight Crew is a three-level customer benefit program that rewards customers with access to training programs, unlimited free shipping, an on-call personal Sporty's shopper, and more. The top two levels (gold and platinum) include the opportunity to apply for a $2,500 flying scholarship, which is awarded three times per year.
It's easy to enroll as a Sporty's Flight Crew member, starting at $49.99/year, by visiting sportys.com/flightcrew.