Find your model number
The easiest way to determine your iPad model is to go to the Settings app > General > About. You'll see it listed here on the Model line. If you see a different format of the model number (something like MTFL2LL/A), tap on it once to view it in the format below.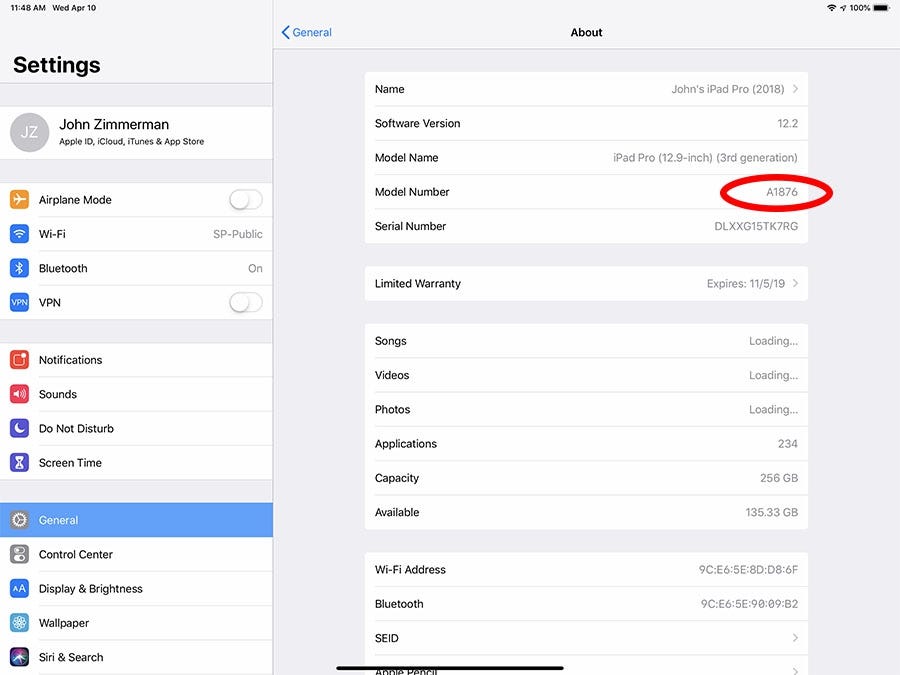 Find your iPad name
Once you've found your 5-digit iPad model number, reference this chart to find out which one it is.
Name

Introduced

Model Number

iPad Mini(original)

2012

A1432 (WiFi) or A1454, A1455 (cellular)

iPad Mini (2nd Gen)

2013

A1489 (WiFi) or A1490, A1491 (cellular)

iPad Mini (3rd Gen)

2014

A1599 (WiFi) or A1600 (cellular)

iPad Mini (4th Gen)

2015

A1538 (WiFi) or A1550 (cellular)

iPad Mini (5th Gen)

2019

A2133(WiFi) or A2124, A2126, A2125 (cellular)

iPad Air (original)

2013

A1474 (WiFi) or A1475, A1476 (cellular)

iPad Air (2nd Gen)

2014

A1566 (WiFi) or A1567 (cellular)

iPad Air (3rd Gen)

2019

A2152 (WiFi) or A2123, A2153, A2154 (cellular)

iPad Air (4th Gen)

2020

A2316 (WiFi) or A2324, A2325 (cellular)

iPad (original)

2010

A1219 (WiFi) or A1337 (cellular)

iPad (2nd Gen)

2011

A1395 (WiFi) or A1396, A1397 (cellular)

iPad (3rd Gen)

2012

A1416 (WiFi) or A1430, A1403 (cellular)

iPad (4th Gen)

2012

A1458 (WiFi) or A1459, A1460 (cellular)

iPad (5th Gen)

2017

A1822 (WiFi) or A1823 (cellular)

iPad (6th Gen)

2018

A1893 (WiFi) or A1954 (cellular)

iPad (7th Gen)

2019

A2197 (WiFi) or A2198, A2200 (cellular)

iPad (8th Gen)

2020

A2270 (WiFi) or A2428, A2429, A2430 (cellular)

iPad Pro 9.7" (original)

2016

A1673 (WiFi) or A1675 (cellular)

iPad Pro 10.5" (original)

2017

A1701 (WiFi) or A1709, A1852 (cellular)

iPad Pro 11" (original)

2018

A1980 (WiFi) or A2013, A1934, A1979 (cellular)

iPad Pro 11" (2nd Gen)

2020

A22289 (WiFi) or A2068, A2230 (cellular)

iPad Pro 12.9" (original)

2016

A1584 (WiFi) or A1652 (cellular)

iPad Pro 12.9" (2nd Gen)

2017

A1670 (WiFi) or A1671, A1821 (cellular)

iPad Pro 12.9" (3rd Gen)

2018

A1876 (WiFi) or A2014, A1895, A1983 (cellular)

iPad Pro 12.9" (4th Gen)

2020

A2229 (WiFi) or A2069, A2232 (cellular)