Every year my wife and I take at least one trip to the beach and fly ourselves in a small GA airplane. We've been to both the East Coast and the panhandle of Florida many times, which can be done non-stop in a Cessna 182 or Piper Aztec from our home in Cincinnati, Ohio. Earlier this summer we flew to the Santa Rosa Beach area along the scenic 30A highway, which is east of Destin, Florida, in a 1963 Piper Aztec.
This year's trip brought along an entirely new set of challenges, as we would have a special new passenger along for the ride, our 8-month-old son, Jacob. This would be my son's first time in a small airplane, so I wanted to prepare as much as possible in advance so that both he and my wife would have a safe and comfortable trip. I also wanted to have the cockpit as organized as possible, so that all of my gear was secured and within arm's reach so that I could focus on flying the airplane and help attend to Jacob if needed.
This preparation paid off immensely, as it was one of the more challenging single-pilot IFR flights I've flown in recent years, thanks to the need to cross three different weather systems churning between Ohio and Florida.
As with any flight, no matter how long or complex, one of the keys to success (and comfort) is preparation. For this flight, it started with figuring out how to secure a car seat manufactured in 2022 with an airplane seat and seat belt manufactured in 1963 (spoiler, you'd have better luck installing an Android app on an iPhone). After some trial and error, I finally got the car seat base locked down to the seat anchors on the floor using a boat trailer ratchet strap—go figure.
The rest of the rear cabin and passenger prep was fairly routine, so now it was time to prep my flight bag. I wanted the best for this flight so I went out on a search for what I considered the ultimate pilot gear, looking for the best combination of quality, convenience and safety features.
Ultimate Pilot Flight Gear
Flight Gear iPad Bag
Bose A20 Headset
iPad Mini 6
Sentry Plus ADS-B Receiver
RAM Cradle for iPad Mini 6
USB-C cable with digital display
Boost O2 bottles
Flight Gear battery backup
ACR personal locator beacon
Disposable Travel John
Flight Bag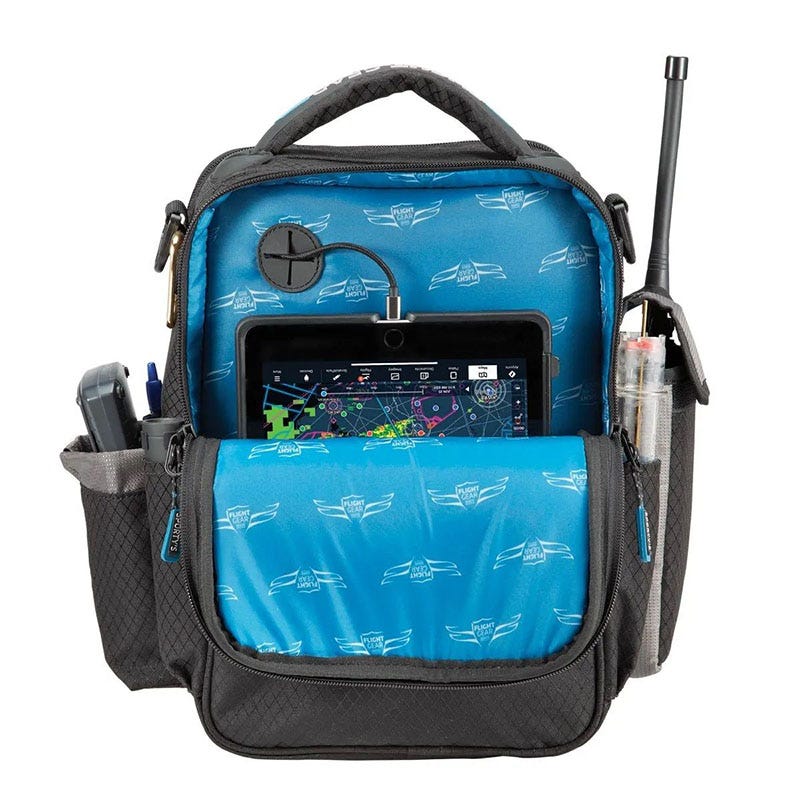 Name
Why?
My first flight bag 20 years ago was the size of a large gym duffel bag, with the primary mission of carrying 50 pounds of aviation handbooks, VFR sectionals, and copies of the green Airport/Facility Directory. The gear requirements have changed dramatically since then, where all of my resources are digital and protecting sensitive electronics is the top priority.
I use the Flight Gear iPad Bag for both my personal flying as a crewmember in a corporate flight department, thanks to its compact size and organization for headsets, iPads, ADS-B receiver, handheld radio and much more.
Favorite feature
This bag is slim but still stands up on its own, making it a great fit in the cockpit on the floor between the two front seats. This keeps it within arm's reach and also allows it to serve as an in-flight gear organizer.
Headset
Name
Why?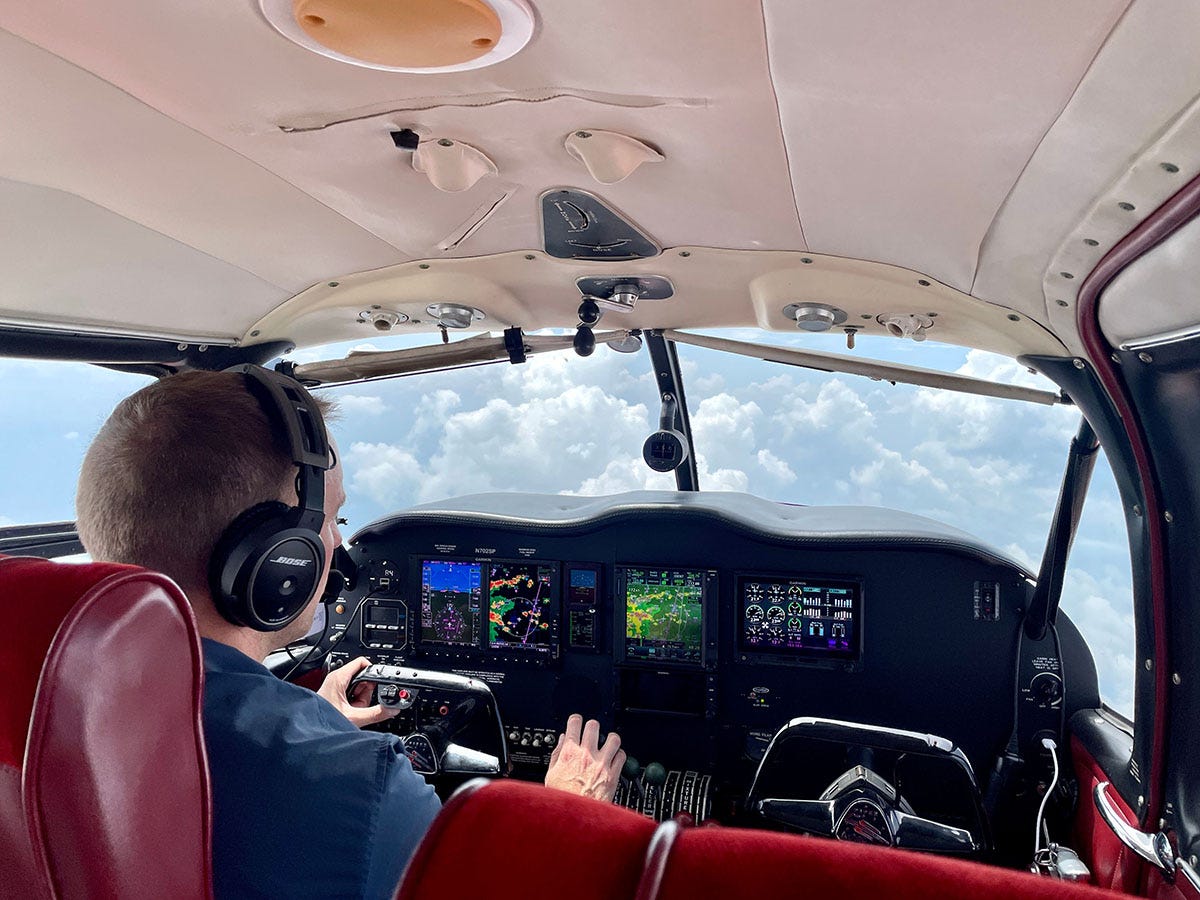 I've flown with just about every aviation headset manufactured over the past 30 years, from basic passive noise reduction headsets to the fanciest active noise reduction models with all the bells and whistles. At the end of the day (literally), what matters most to me is comfort and the A20 does the best job at balancing excellent noise reduction with a comfortable design that can be worn for 4+ hours without giving me a headache. The Aztec is the loudest airplane I've ever flown and the active noise reduction all but eliminates the droning of the twin 250 HP engines.
Favorite feature
Bose has long been known as one of the best manufacturers of high-end audio speakers and they've brought this technology to their aviation headsets as well. The Bluetooth feature allows you to easily pair the headset to your iPad and listen to high-fidelity music on longer flights. You'll also hear all the audio alerts from ForeFlight right in your headset over Bluetooth, making sure you never miss a traffic, runway, or obstacle alert in flight.
iPad
Name
iPad Mini 6 (256GB and Cellular Data option)
Why?
The iPad Mini 6, in my opinion, is the best iPad for pilots today. It is the perfect compromise when it comes to size and performance, featuring a sunlight readable 8" screen, which is larger than previous iPad Mini models thanks to thinner side bezels. It uses the modern USB-C port for charging and includes TouchID for effortless unlocking in the cockpit with a single finger tap (this is more reliable in the airplane than FaceID, especially when wearing sunglasses and a headset). I'd also recommend the model with cellular data, even if you never plan to add service through AT&T or Verizon, since this also includes a high-performance GPS receiver.
Favorite feature
The iPad Mini 6 can be used in just about any airplane with a kneeboard, suction, or clamp mount thanks to its compact size, providing the best flexibility among all iPad models.
iPad Mount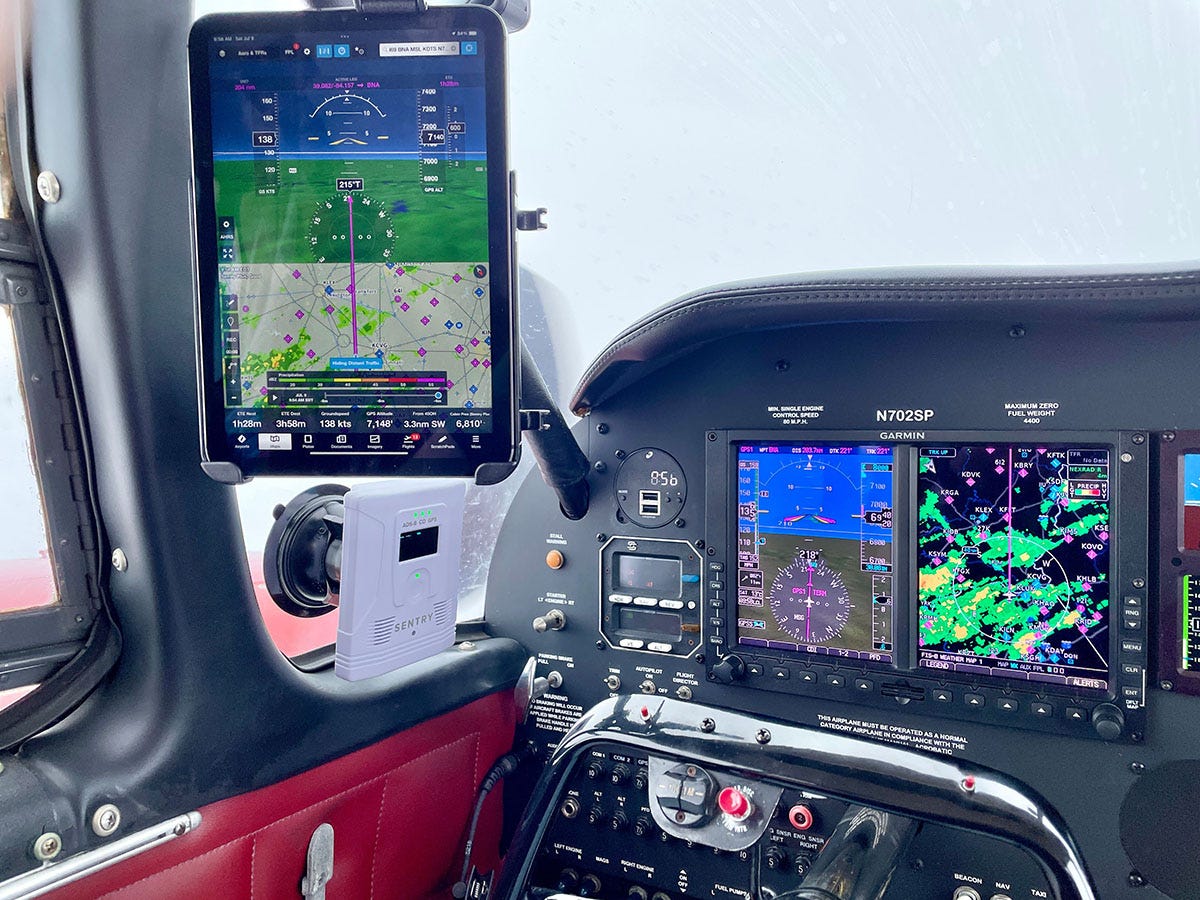 Name
RAM iPad Mini 6 Perfect Fit Cradle
Why?
RAM's custom mold was designed to securely hold the iPad Mini 6 in the cockpit without obscuring any of the iPad controls or edges of the screen. After tightening each of the ball joints, I know the iPad will remain firmly in place for the entire flight, regardless of turbulent flight conditions.
Favorite feature
The universal 1" ball mount on the back of the cradle provides nearly endless mounting flexibility. In the Aztec, I use RAM's clamp mount to secure it to the support brace, which extends from the far left side of the panel. I also carry along an extra RAM suction cup mount, which can be quickly swapped and works well in Cessna single-engine airplanes.
ADS-B Weather Receiver
Name
Why?
Just about every ADS-B weather receiver does the essentials well, providing subscription-free datalink weather radar, traffic, and GPS position. Sentry Plus goes above and beyond these core features and incorporates an OLED status screen that displays essential status information like battery status and a new G-meter. It also includes a carbon monoxide detector, which is essential equipment when flying piston airplanes. It also includes an onboard flight data recorder to track all the stats and GPS data from your flights.
Favorite feature
Sentry Plus includes an 18-hour battery life, providing peace of mind that it will last all day and well into the night for those long days of flying.
Backup power
Name
Flight Gear iPad Backup Battery
Why?
I won't launch on any flight without having some type of power contingency on board the airplane for my iPad and electronic accessories. My go-to resource for this is the Flight Gear backup battery, which features a large 20,000 mAh capacity in a compact and slim form factor. It includes three USB type-A ports and one USB type-C and is powerful enough to charge three devices simultaneously. On longer flights like this one, I leave my iPad plugged into the battery the entire time, which maintains the iPad battery at 100% even at full-screen brightness.
Favorite feature
This battery can be charged with any of the cables you likely already carry in your flight bag, including Micro-USB, USB-C or Lightning (iPhone) cable, so you don't need to worry about bringing another proprietary cable to keep this charged. It also includes the ability to charge a device while simultaneously receiving a charge from another source like a wall plug (pass-through charging).
USB Charging Cable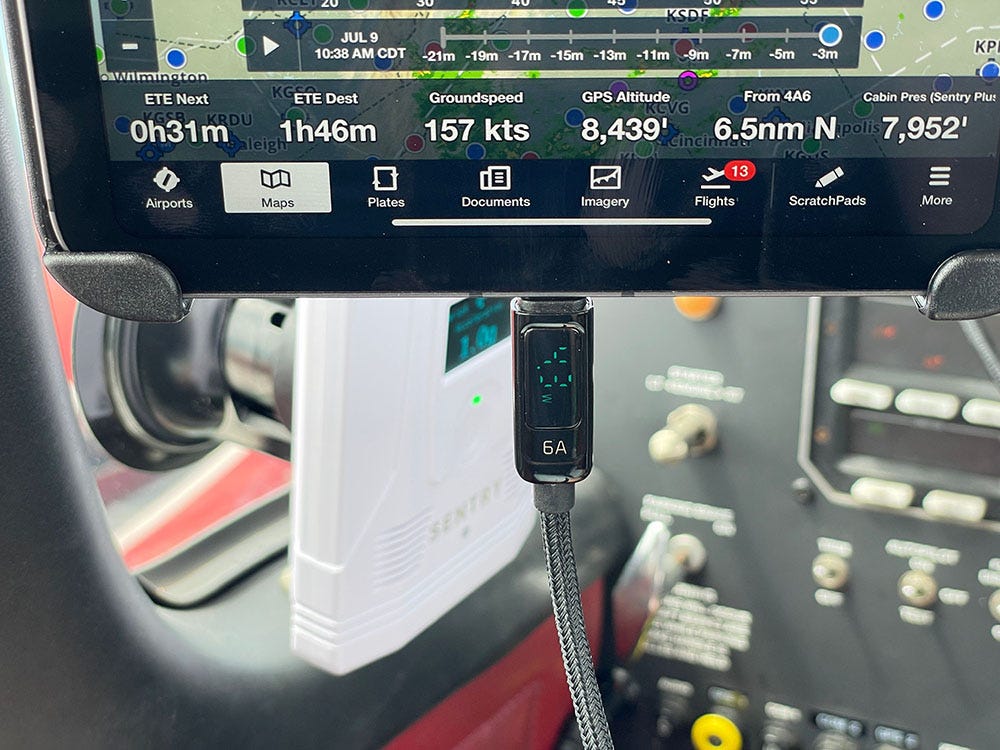 Name
Why?
These high-quality, braided USB cables feature a screen indicating in real-time the amount of power your device is receiving from a charger/battery. For the USB-C version, this can range from just a few watts coming from an inexpensive 12v charger, all the way up to 100 watts when charging a laptop from a high-wattage plug-in power supply. There are two options: USB-A to USB-C and USB-C to USB-C.
Favorite feature
From a practical perspective, the screen confirms that your iPad is plugged into the best possible power source (like a Power Delivery source, or PD for short) when you have multiple USB ports or backup batteries on board.
Portable Oxygen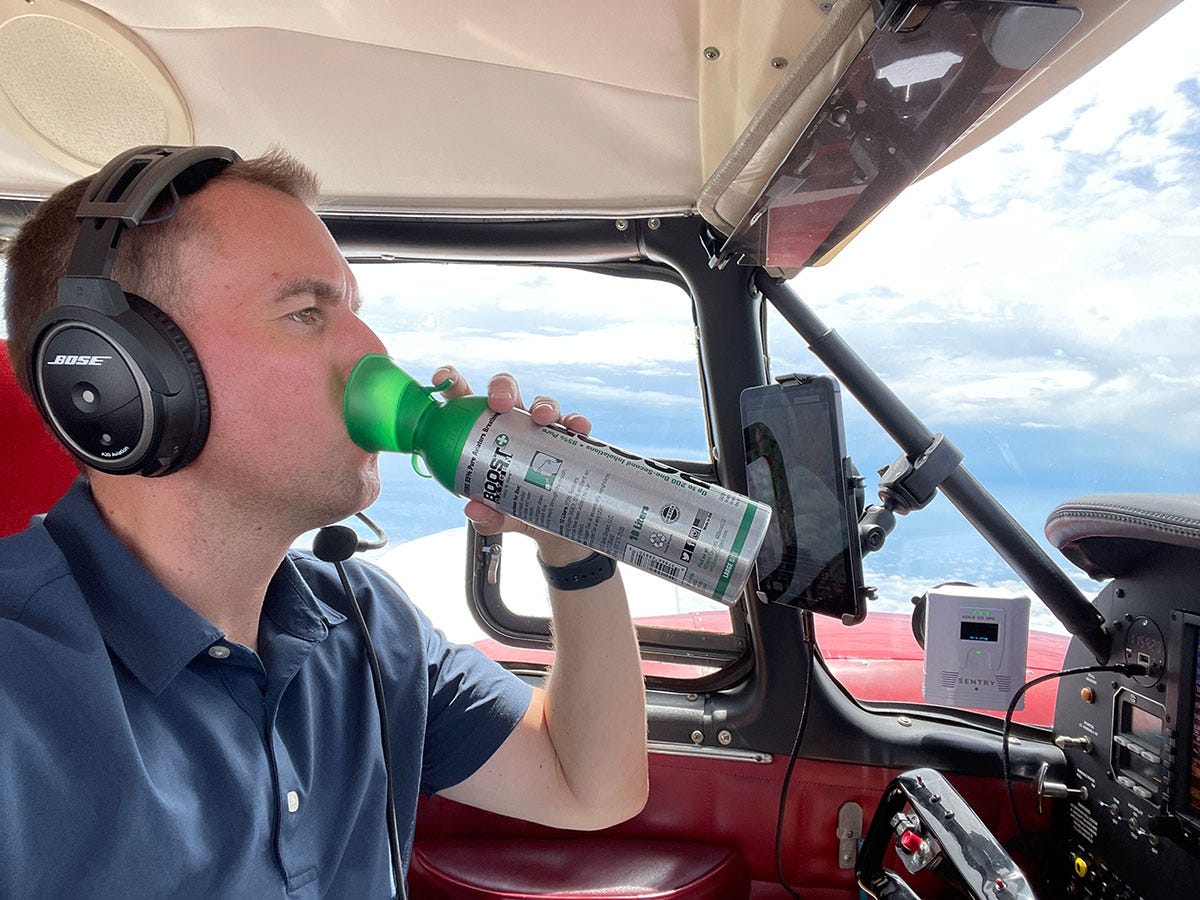 Name
Why?
I flew this trip at a lower altitude than normal (7,000 ft. MSL) out of caution to try to avoid excessive pressure changes for Jacob on his first flight. While not required, I typically take some form of supplemental oxygen on these longer flights to help maintain alertness and reduce fatigue. At a lower altitude like this, I bring along several cans of Boost Oxygen for me and my passengers to use throughout the flight. For flights at and above 10,000 ft., I bring along the SkyOx 4-place Cannula Oxygen System. It requires a little more preparation, but I feel so much better after a three or four-hour flight at these higher altitudes.
Favorite feature
One word—simplicity. After removing the plastic seal, the disposable bottles are immediately ready for use. Simply hold the integrated green mask up to your face, squeeze the trigger, and inhale. One 10-liter bottle was more than enough for me to last for the round-trip flight.
Personal Locator Beacon (PLB)
Name
Why?
I consider a PLB another piece of required equipment on longer flights over sparsely populated areas, even in a twin-engine airplane. It's not something I ever plan on using, but it provides peace of mind that I could be found by search and rescue forces in remote parts of the country without cell phone coverage. It'll work anywhere in the world and sends your GPS position when activated so that rescuers will know your position within 100 meters.
Favorite feature
I keep this in the airplane all the time since it requires no maintenance or pre-flight prep, and the integrated battery has a shelf-life of five years.
In-Flight Relief
Name
Why?
You know why.
Favorite feature
These absorbent pouches convert that uncomfortable feeling on longer flights after too much coffee instantly into gel, destroying odor and bacteria and leaving a compact bag to easily dispose of in the trash after landing. They're even puncture-proof after use, so you don't have to worry about leaking.
The result of all my prep work and gear? Happy passengers: