SP-400 NAV/COM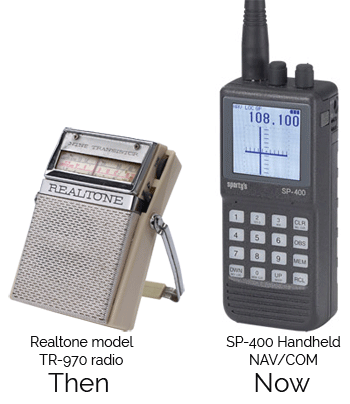 Sporty's first product was the Realtone model TR-970 radio. It was cutting-edge for its time, combining SW, MW and LW bands, and allowing pilots to listen to air traffic control and transcribed weather reports on a portable radio. Sporty's SP-400 shows how far technology has moved. This portable radio is like a complete avionics stack in the palm of your hand. It includes flip-flop communications, NOAA weather radio, VOR navigation, localizer and even a full ILS display. It took years to develop but after countless approaches and test flights, the result was a robust radio with amazing capabilities. With 5 watts of transmit power and an industry-leading 5 year warranty, it is the ultimate back up radio.
Flight Gear Bags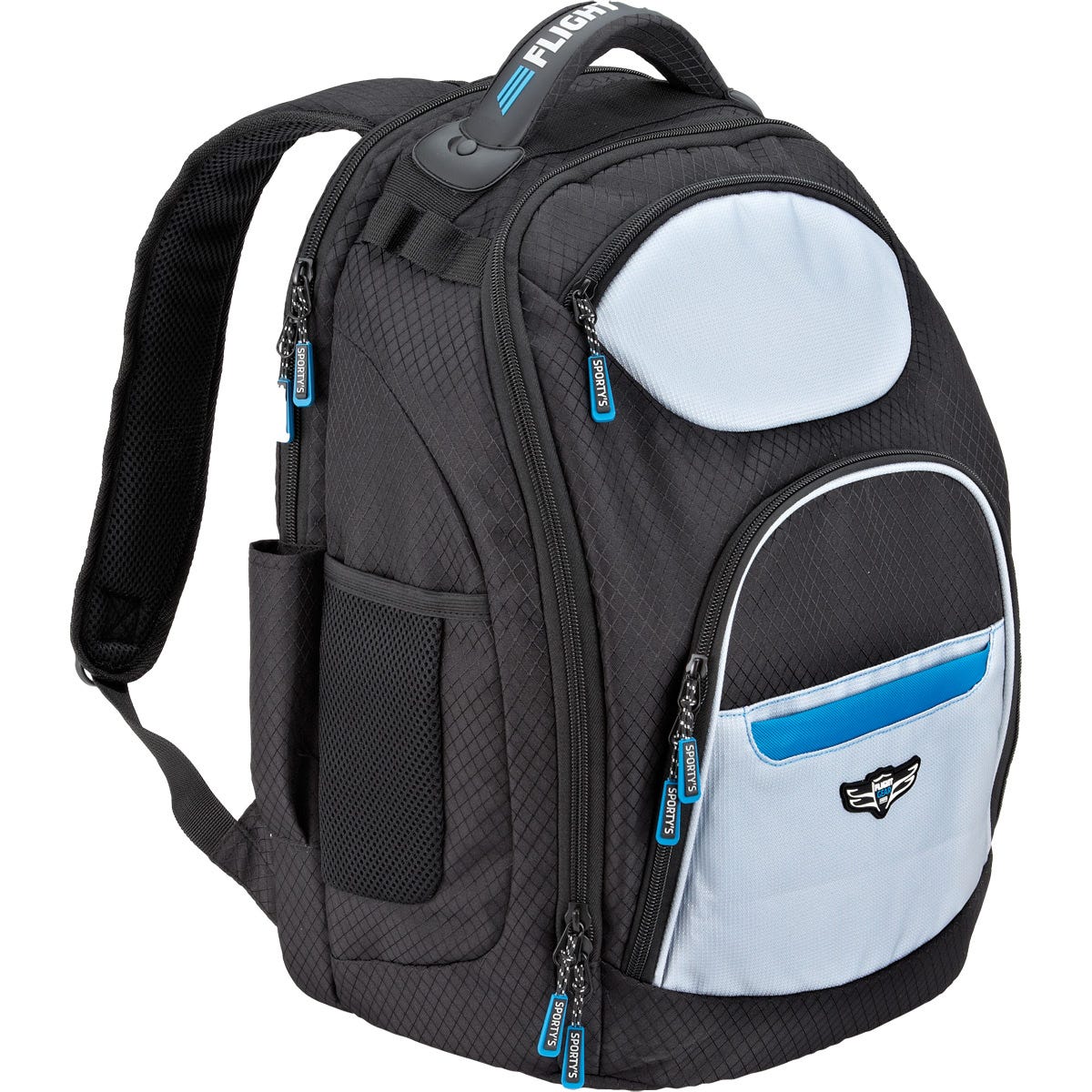 One of Sporty's early products was a chart case that was specifically created for U.S. Coast and Geodetic charts, the forerunner to today's FAA-issued maps. This hard-sided case resembled an attaché case, which were standard issue for businessmen at the time. Pilot preferences in flight bags have changed a lot in 50 years, moving from hard-sided chart cases to soft-sided duffel bags. Today, Sporty's exclusive line of Flight Gear bags is a unique combination of modern materials, light weight, and lower prices. Packed with pilot-specific pockets, these bags have set the bar in quality and functionality. Protect your expensive aviation gear with a Flight Gear bag.
Learn to Fly Course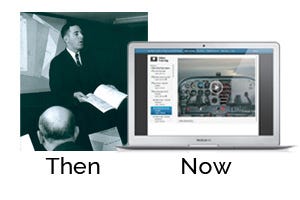 Sporty's Founder Hal Shevers created the first three-day ground school courses in the 1960s. He traveled the country teaching pilots everything they needed to know for the written test—in just a weekend. Sporty's still offers flight training solutions for student pilots, now in the form of its Learn to Fly Course. This interactive training platform brings Sporty's team of flight instructors into your home—online and on your phone, tablet, or smart TV. In place of slides, viewers watch exciting in-flight video and sophisticated animations. Used daily in our Part 141 Professional Pilot Program at the University of Cincinnati, this course is constantly being updated and your access never expires.
Flight Gear Flashlight
This robust light lives up to the Flight Gear reputation. A focusing bezel provides both flood and spotlight options, and independent buttons for both red and white light mean you won't have to scroll through one to get to the other. In addition, if one color of light is on and you want to switch to the other, the first color automatically shuts off. Both colors have a high and low setting, for maximum flexibility. One final bonus? Logging night flight and landings can be confusing, so we printed the two most relevant FARs to flying at night right on the body of the light. You don't have to go find special batteries for it, either: three AAA batteries power the light.
Electronic E6B
The traditional "whiz wheel" slide-rule calculators were popular for decades, and the E6B model became the preferred one for pilots. With just two concentric dials, pilots could quickly calculate fuel burn, true airspeed, time en route and much more. They are still called E6B Flight Computers today, but they look quite different. Electronic flight computers provide many of the same calculations, without the complex learning curve. Sporty's latest E6B provides an easy-to-use interface, with a backlit screen. We have also designed E6B apps for the iPhone, iPad, and Android devices.
Stratus 3
Our test pilots loved the iPad from the beginning, but it was just a static document viewer at first. So we set out to design a product that would add GPS position and subscription-free ADS-B weather, without a mess of wires or complicated setup. The result was Stratus, a portable receiver that makes the iPad much more powerful, and has won numerous awards. The latest version includes backup attitude, a flight data recorder, and support for multiple apps. It's the best-selling portable weather receiver in aviation.