An aviation headset is a critical part of any pilot's flight bag—it can protect your hearing, improve communications, and reduce fatigue. Just about every pilot flies with one, so it's no surprise that we get a lot of questions at Sporty's about aviation headsets. One of the most popular questions is: "I'm shopping for a new headset, and I want the best one. What do you recommend?"
Picking the best pilot headset seems like a simple question, but it leads to a complicated answer. The right choice for you depends on what you fly (noisy biplane or quiet jet?), your personal preferences (do you prefer active noise reduction or passive?), and your budget. Our quick advice is to buy as much headset as you can afford—you generally get what you pay for in terms of performance and quality.
At the top end of the market, though, three headsets dominate: the Bose A20, the David Clark ONE-X, and the Lightspeed Zulu 3. All three are great ANR headsets that will serve any pilot well for many years, but there are important differences. Here's a look at each one, with comments from our team of pilots and from our customers.
Bose A20 Aviation Headset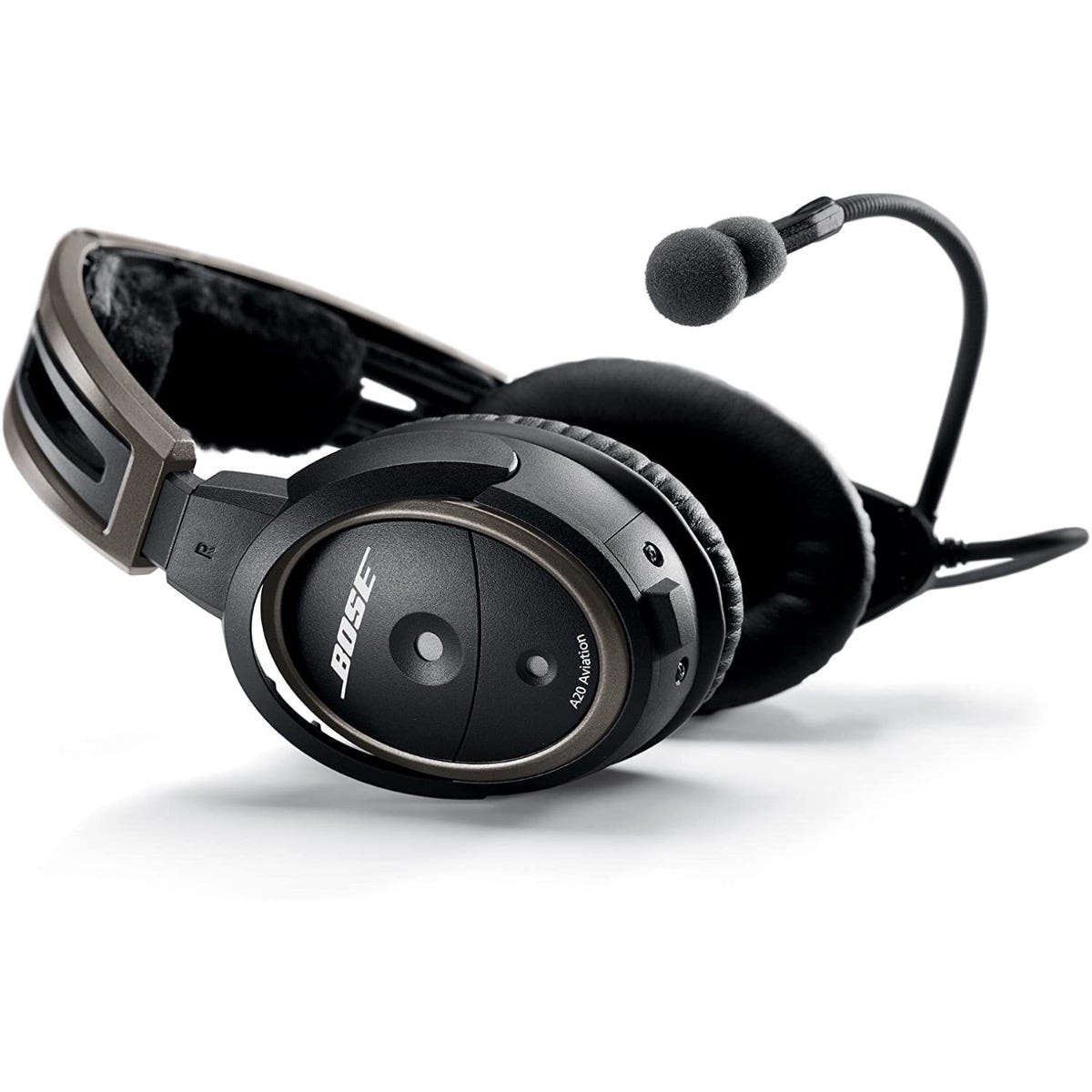 A household name for home audio products, Bose has also been a long-time player in aviation, introducing the first active noise reduction headset for pilots in 1989. Bose's latest generation, the A20, incorporates a number of lessons learned since then, including lighter weight, better ear seals, and Bluetooth connectivity. Even with all the recent innovations, the focus remains the same: use the latest electronic noise cancelling technology to improve quiet, comfort, and clarity. It's the most expensive headset we sell, but it's also the highest rated headset we sell.
Sporty's test pilot comments: "It's simply the most comfortable headset I've worn. The overall weight is lower than almost every other headset, but it's more than just the specs that makes a difference. The Bose A20 has really comfortable ear seals that relieve pressure, and a center headband spring that doesn't squeeze you like traditional headsets. I can wear a Bose headset for a full day of flying and not get a headache. It's not cheap, but I've been flying with my A20 for over five years now without any issues, so it's a great long-term investment."
Customer rating: 613 total reviews - 543 are five stars (89%).
"I've worn them for a six hour flight and they were just as comfortable at hour six as they were at minute one. I've now bought a total of three sets so my passengers can have the same quality headsets as their captain."
- Mark R.
"I work as a sound engineer for my day job and the first time putting on the A20's my eyes went wide open! Phenomenal at music too! ATC audio is clear and I haven't needed to transmit 'Say again' yet. Worth the investment, especially in GA aircraft."
- Ioane B.
"Been a user of Bose products for decades. Yes the price is sometimes hard to swallow but quality and performance never fail to justify the cost in the end."
- John H.
"The noise canceling makes long and short trips less stressful… The ForeFlight call outs of traffic and altitude when landing were a welcome surprise!"
- David K.
David Clark ONE-X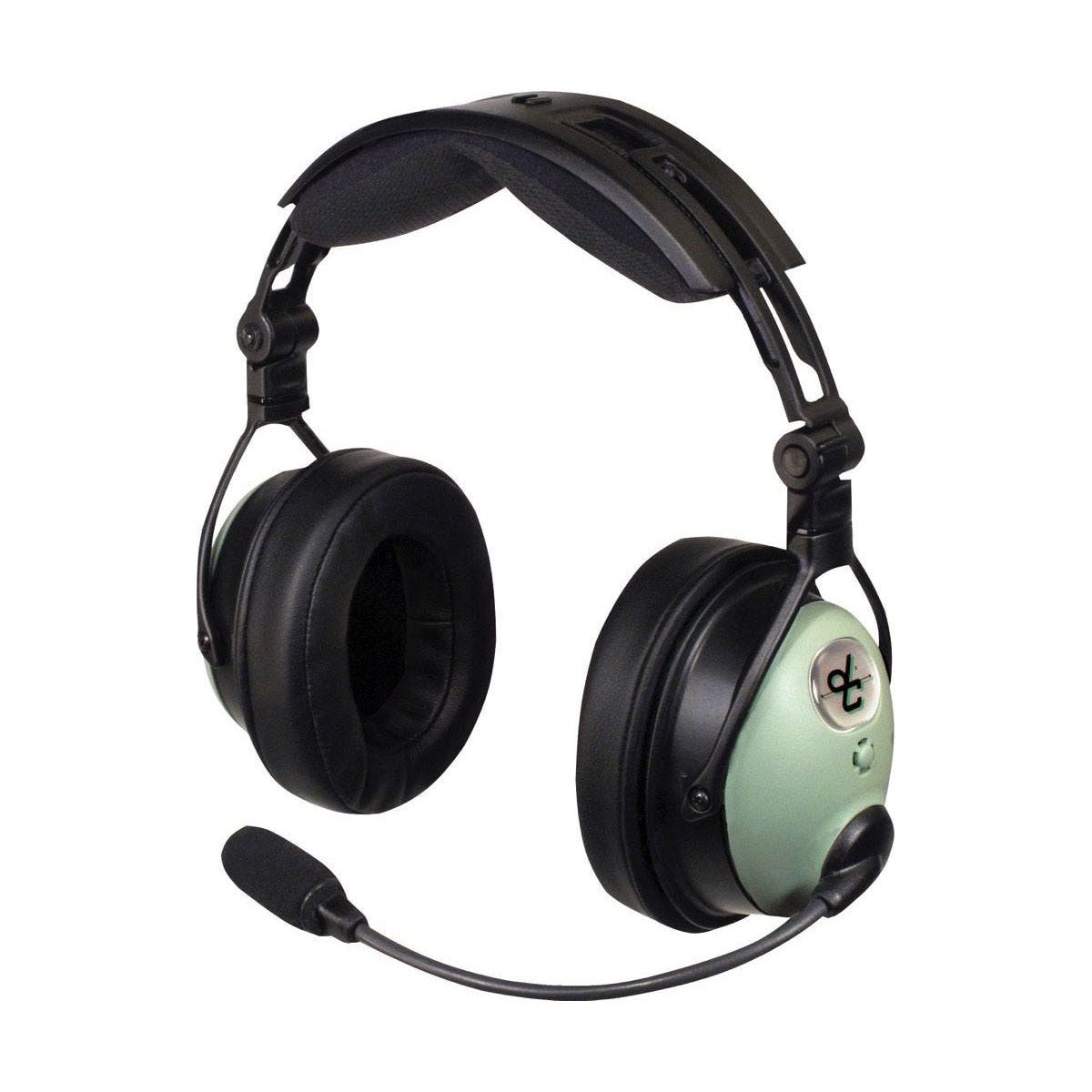 As one of the original aviation headset companies, David Clark has a legendary reputation among pilots. Each headset is made in the USA and meets the FAA's TSO requirements (although that may not matter unless you're an airline pilot). The ONE-X is a clean sheet design that takes a completely different approach noise cancelling compared to David Clark's older models. It features a lightweight headband, compact ear cups, and full Bluetooth connectivity—so it goes toe-to-toe with Bose and Lightspeed on features.
Sporty's test pilot comments: "I grew up in aviation using David Clark headsets, so I was thrilled when they released an all-new ANR headset a few years back. The ONE-X is surprisingly lightweight, so I barely know it's there, but the noise reduction is enough to keep up even in a noisy airplane like a piston twin. I'm also really impressed with the microphone quality—even in a loud airplane it cancels noise and comes through crystal clear, better than any other headset I've tried."
Customer rating: 108 total reviews - 92 are five stars (85%).
"All the finest quality I've been used to from DC for forty-six years. Had several models of DC. They've kept the quality as they've evolved the tech… Light, yet sturdy. Really nice mic. They're still made in the US."
- Amy E. G.
"Super comfortable headset. Once I put them on I forget they are even on my head. Definitely recommend and they are $200 less than the A20 and IMHO as good if not better. Super happy."
- Nick F.
"Spent 4.5 hours in a very loud Aztec and it worked well. It's a very sturdy headset and the power consumption has been good. Got about 10 hours of use and still have not changed the battery yet."
- Christopher R.
"This headset is more compact which keeps the carrying case small enough to fit in the backpack that I use as a flight bag."
- Jeremy F.
Lightspeed Zulu 3
Lightspeed upended the headset market in the early 2000s with its line of innovative and affordable active noise reduction headsets. Since then they have continuously upgraded their products with new materials and new features, with the Zulu 3 representing the latest evolution. It has some thoughtful design choices, including a stainless steel headband and a Kevlar-wrapped cable, that really pay off in terms of long term durability. Even with those premium materials, the Zulu 3 costs less than both the Bose A20 and David Clark ONE-X.
Sporty's test pilot comments: "It feels really solid when you take it out of the case. From the ear cups to the headband to the cable, it can stand up to daily use, and it's backed by the best warranty in the industry. I find it a little heavier than the other two headsets here, but the noise cancelling is outstanding and I think Lightspeed has the best overall audio features."
Customer rating: 154 total reviews - 128 are five stars (83%).
"I now have 35 hours using this headset and have ZERO complaints. I love the fact that I can Bluetooth my phone into the headset to make calls on the ground and listen to music while flying. The radio priority is great. Even when in busy airspace, I listen to my music and jam on, yet never miss a radio call."
- Mike D.
"Best performance per dollar."
- Amanda E.
"My wife and I did a 4500 mile flying vacation in 2019, it was as if they weren't even on our heads. The sound quality was and is amazing. Made our trip like a car ride but quieter."
- Sam W.
"Zulu's 7 year warranty is a plus and I like the free compatible Flightlink app"
- George K.
Final results
There is no wrong answer here—each of these headsets represents a major upgrade over the previous generation and will provide years of reliable service. They all feature active noise reduction, Bluetooth connectivity for iPad alerts, and reliable support from companies that have been in aviation for decades. As one test pilot told us, "it's like picking between a Porsche, a Ferrari, and a Lamborghini—they're all amazing!"
Having said that, customers usually ask us to pick just one headset, so we'll do our best to be definitive. Remember—this is our opinion, based on many years of flying on the part of dozens of Sporty's pilots, plus reading thousands of customer reviews. Your priorities and experience may be different.
Best overall: Bose A20
The Bose A20 seems to have the best balance of the three most important features for pilots: quiet, comfort, and clarity. Pilots can (and do!) debate which headset is the quietest, but the reality is that all three of these headsets provide excellent noise reduction. We think the Bose is as good as any other headset on the market (and maybe better), but quiet is not enough to make a great headset.
The A20 stands out because it manages to reduce engine and propeller noise without squeezing your ears or weighing down your head. Add in a great microphone and full Bluetooth audio features and you have a great all-around headset. We have flown with the Bose A20 in taildraggers, two-seat trainers, high performance piston singles, Sporty's Aztec (a notoriously noisy airplane), turboprops, jets, and even helicopters. It works well in a wide variety of aircraft.
Are there any downsides? Yes. The A20 is the most expensive headset on the market. It's also perhaps not quite as rugged as the Lightspeed Zulu 3, with its steel headband. But neither of these minor squawks have prevented the Bose A20 from becoming our best-selling and top-rated headset.
Best value: Lightspeed Zulu 3
While the Bose A20 may win the award for best overall headset, we think it's worth highlighting the Lightspeed Zulu 3 as a uniquely good value. If you can't bring yourself to spend over $1,000 for an aviation headset, this headset deserves a look. For about $250 less than a Bose A20, the Zulu 3 offers the same core features, including active noise reduction, full Bluetooth connectivity, and excellent customer support.
The Zulu 3 is a little heavier than the A20 and some test pilots reported feeling more side pressure than the Bose, but it's still a very comfortable headset. It also beats the A20 in terms of durability, at least by a bit. The headband, earcups, and cable are really industry-leading in terms of materials and construction.
Ready to buy?
Whichever headset you choose, the pilots at Sporty's are here to make your purchase fast and easy. We offer same day shipping on orders placed by 5pm eastern (weekdays) and all three of the headsets above ship for free. If you have questions, contact our headset experts for honest advice: just email headsets@sportys.com.
Learn more
Nine reasons Sporty's makes it easy to buy a headset
How to find the right headset plug
How to maintain your aviation headset